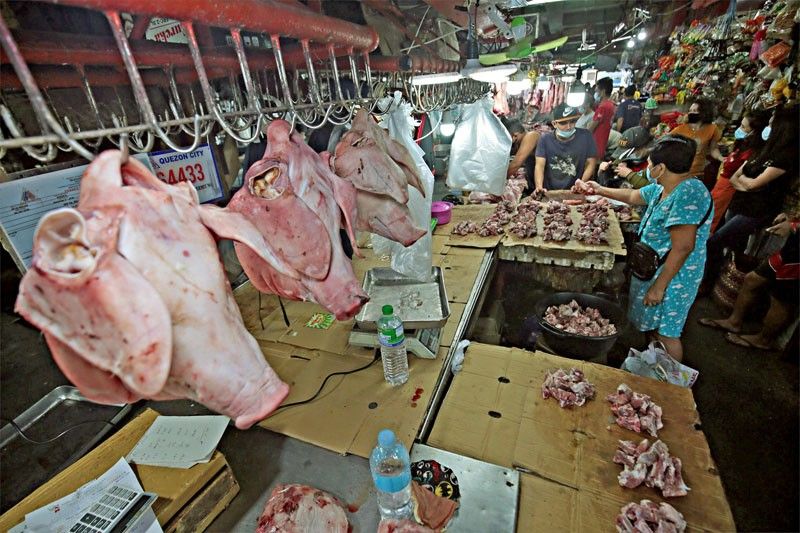 Customers buy pork at the Commonwealth public market in Quezon City for at least P350 per kilo on Jan. 7.
Michael Varcas
ASF to further push up pork, chicken prices
MANILA, Philippines — Consumers would have to further tighten their belts as prices of pork and even chicken show no signs of going down, especially now that African swine fever (ASF) has crept into the Visayas.
Agriculture stakeholders have agreed that retail prices of pork and chicken, Filipinos' main protein sources, will likely be more expensive once ASF has spread further in the Visayas, just like it did in Luzon and Mindanao.
The first case of ASF in the Visayas was recently confirmed in Abuyog, Leyte. While Leyte is not a major hog producing area, the Pork Producers Federation of the Philippines (ProPork) noted that current supplies continue to be thin.
"It may jump to other areas, that's why producers have to be vigilant and not lower their guards. It is human-driven, like COVID," ProPork president Edwin Chen told The STAR.
"It really depends on the law of supply and demand. It could increase further but it is hard to say. Consumers also jump to other protein sources like chicken and eggs. Prices of these can also increase," he said.
The Samahang Industriya ng Agrikultura (Sinag) echoed the same sentiment, saying that as long as the Department of Agriculture (DA) will not check frozen pork coming into the country, ASF will continue to spread.
Out of the 13 million in the hog inventory, Luzon is around 6.9 million, and only 30 percent of that has been left. "Visayas and Mindanao have lost an estimated 800,000 already. So, we do not see prices going down," Sinag chair Rosendo So told The STAR.
"All local borders are checking live pigs, but frozen meat continues to pass through borders. In a few months' time, Visayas will stop sending pork to Luzon. It's like a ticking time bomb," he said.
According to the price monitoring of the DA, as of Jan. 13, per kilo prices were as follows: liempo (pork belly) at P420, pigue (rump) at P450, whole chicken at P180, cabbage at P220, Baguio pechay at P180, red onion and garlic at P140, and sili (pepper) can go as high as P1,000.
At the Tandang Sora Market in Quezon City, galunggong (round scad), which is considered "the poor man's fish" increased to P300 per kilo from last December's P260.
"Even the ASF in Visayas is already beside the point. The breeder base for broilers has shrunk so much. Chicken prices will likely still go up," United Broiler Raisers Association president Elias Jose Inciong told The STAR.
"The DA has dug a really deep hole for producers. It will be very difficult to recover based on supply. Imports are coming in but the impact of ASF for pork and the involuntary retreat of broiler producers have taken their toll," he said.
Even the DA has acknowledged that the ASF in the Visayas will eventually affect supply and prices.
"This will definitely impact if and when we will have a case in Visayas. But we cannot tell as yet," National Meat Inspection Service director Reildrin Morales said.
On the possible further increase in prices, "It's too early to speculate. We would rather focus on strengthening the overall control strategies, repopulation initiatives and intensifying swine production in green areas," Bureau of Animal Industry director Ronnie Domingo said.
Strict monitoring needed
The national government should strictly monitor food prices and try to stem the price increases monitored at the start of the year, by ensuring that the food supply chain and distribution remain unbroken and smooth, Sen. Francis Pangilinan said yesterday.
"There's very little P500 can buy in the wet market. The prices of food went up this new year," he said.
Our people's livelihoods have been severely affected by the pandemic. Let's ensure that what little they earn now goes a long way," Pangilinan added. "If we can't raise wages, let's focus on lowering prices."
Aside from ASF, food prices are on the rise because the supply dropped due to pandemic lockdowns, destroyed crops from successive typhoons in late 2020, and the closed fishing season during the cold months, he said.
The senator said rising food prices may also be due to the glut of food imports. He said more Filipino farmers seem discouraged from planting after consecutive losses as cheaper imports ease their produce out of the market.
Pangilinan insisted that the government must continue to revive farmers' livelihood to encourage them to plant more.
Aside from regulating food imports and addressing ASF, the former presidential assistant on food security and agricultural modernization also urged the faster implementation of the Sagip Saka law, which was signed into law in 2019.
The Sagip Saka law or Republic Act 11321 is a comprehensive approach to the weak Philippine agriculture sector by pegging the standard of success of agriculture not only to yields, irrigated lands, mechanized farms and similar results but also to the incomes and general well-being of Filipino farmers.
Pangilinan reiterated that agriculture, which was the only sector that grew during the pandemic in 2020, should serve as a major driver of economic growth. – Paolo Romero