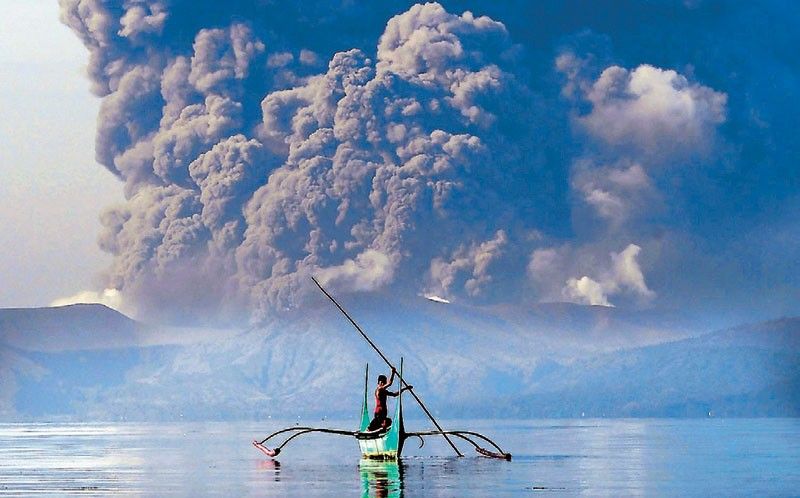 Photos show a boy paddling a banca as Taal Volcano spews ash as seen from Tanauan, Batangas on Jan. 13
STAR/File
2020: The year everything changed
Yearender
MANILA, Philippines — The year that was supposed to herald perfect vision turned out to be one of the worst in a century as the entire world was gripped by a pandemic for the first time since 1918.
The novel coronavirus apparently originated from an exotic market in Wuhan, China in late 2019, and before 2020 was over could spell the deaths of over a million people. In the Philippines, more than 9,000 and counting have died, though around 90 percent of cases are said to be mild, but this hasn't stopped the virus from wreaking havoc on the economy.
The Year of the Rat started inauspiciously enough, with the eruption of Taal Volcano in January. Ashfall blanketed towns and cities in Batangas and Cavite, reaching as far as Metro Manila. Residents rushed to buy face masks that would soon be a prized commodity, if not a fixture in the lives of Filipinos in months to come as protection against COVID-19. Tourism ground to a halt in Tagaytay and neighboring scenic towns with resorts, only to pick up late in the year with the volcano long quieted down. Filipinos soon familiarized themselves with various types of masks – N95, surgical, the one with gaskets – because it could be a matter of life and death.
In California, retired basketball superstar Kobe Bryant died in a helicopter crash along with his daughter and several others, as basketball fans the world over grieved as one Laker nation, and in several malls in Manila tribute walls were set up for people to write their messages, and some communities painted Kobe and Gianna murals in barangay halls and basketball courts.
On the first of February came another omen: the first nCoV death was recorded outside China, that of a Chinese who recently did a tour of the Visayas. There were immediate calls to close the borders to Chinese tourists, but this was thumbed down as it might hurt China's feelings.
By mid-February the President declared the abrogation of the Visiting Forces Agreement, caused in large part by the US' canceling of the visa of administration ally Sen. Ronald dela Rosa, the former chief of national police who was main implementor of the war on drugs. The visa issue seemed to be the last straw after constant criticism from the West of the extrajudicial killings due to the anti-narcotics campaign. The VFA, however, was granted new lease as its eventual invalidation in six months to a year from notice was deferred as the parties reviewed terms and conditions, especially in a time of pandemic when a nation needs all the help it can get and an uneasy peace in the South China Sea.
Middle of March saw the great lockdown after a day of dry run, with an enhanced community quarantine or ECQ for the next two months that was to turn the lives of Filipinos upside down and inside out, with no public transportation, mandatory use of face masks, sold out stocks of rubbing alcohol and vitamin C, work from home, resurgence of bicycles, online transactions and the digital economy, curfews and liquor bans, institution of ayuda or help to tide over immobilized households, quarantine passes and QR codes for easier passage at checkpoints for the select few, a nearly traffic-less EDSA that finally realized the five-minute travel time from Cubao to Makati envisioned by the President.
The Inter-Agency Task Force for the Management of Emerging Infectious Diseases became the virtual politburo that ruled Filipino lives, with daily briefings by the Cabinet secretary and late Monday night addresses by his boss, such that the Holy Week seemed to extend into May, when things began to ease up slightly with a modified ECQ.
In the summer also the franchise of broadcast giant ABS-CBN expired, and Congress debated in socially distant session halls whether to renew it, but by July was overwhelmingly rejected by self-styled anti-oligarchs, indeed a term we hadn't heard much of since the Marcos years, and before you could say kapamilya their programs and channels and stations were off free TV and radio, forced to migrate fully into digital through cable and online and satellite, the reach significantly reduced and thousands of the network's employees laid off particularly in regional offices.
In June it was general community quarantine with a partial, gradual, calibrated return of public transportation even as traffic schemes were all but rearranged – bus lanes transferred to the innermost lane closer to the MRT along EDSA, concrete barriers set up to separate the augmentation buses in face of the drastically reduced railway train capacities, as well makeshift barriers on motorcycles to observe social distancing between pillion riders.
The economy began to open piecemeal with various establishments allowed to operate with limited capacity, malls and barbershops soon to see their first customers in months, companies instituting rapid antigen tests for employees about to return to work in improvised bubbles and the intermittent social amelioration drizzling from the steadfast barangay and municipal hall.
Just as experts predicted COVID-19 cases surged along with the eased quarantine and an imminent second wave forced authorities to revert to MECQ for two weeks in August upon appeal of overworked and stressed-out health workers and hospitals were threatened to be overwhelmed by the coronavirus. Doctors and health officials and businessmen and economists argued and debated on the best way forward, this time with face shield as additional layer of PPE, how best to dance with SARS-CoV-2 and strike a delicate balance between health and livelihood. Contact tracing czar and isolation and testing among other czars were designated in the fight versus COVID.
Science continued to make inroads on what more to learn about the novel disease, with rapid, RT-PCR and later saliva tests to detect presence of the virus, which the Palace pronounced veerus, by all means to be avoided like dog-do. The economy suffered from its worst contraction in decades, with two consecutive quarters of negative growth, as companies retrenched employees or shut down, workers suffered pay cuts to keep their job, travel and tourism among the worst hit, overseas Filipinos sent home or were stranded either abroad or locally, and another term was coined unique to the pandemic: LSI or locally stranded individual, in a kind of limbo birth of the new bohemian.
Classes finally started in October although in a blended and distance learning mode as schools remained closed, modules were distributed and learning gadgets now a requirement to facilitate one's education. Private schools suffered a significant migration of their students to public schools, even as overall enrollment was down a few million, and when it came to attendance, actual learning and comprehension under the new setup left much to be desired.
When things were thought not to get any worse came the series of fourth quarter storms in Luzon and Central Philippines, Quinta (Molave), Rolly (Goni) and Ulysses (Vamco) wreaking havoc on a population already reeling from the coronavirus, and raising concern on the situation in evacuation centers prone to overcrowding.
Quinta hit several provinces south of Manila in late October, but it was Super Typhoon Rolly that was compared to Yolanda, barreling through the Bicol region on All Saints weekend, however losing steam by the time it skirted the capital, inflicting much damage to life and property that the name was decommissioned from use for any future storm. On Nov. 12 Ulysses caused rains in eastern Metro Manila, resulting in the worst floods since Ondoy. Up north in Cagayan and Isabela unexpected floods occurred when Magat Dam had to release water following continuous rains and the Cagayan river overflowed.
The anti-terror law was signed, countered by around 30 petitions for its vagueness and sweeping generalization in some parts, and government started seeing red all around in a slow reversion to the Cold War.
An understatement then to say that 2020 was horrible, as the countdown to 2021 and MGCQ signaled the partial, gradual, calibrated arrival of the first vaccines against a pandemic of a hundred years.