Vicky leaves 7 dead, 4 missing
December 21, 2020 | 12:00am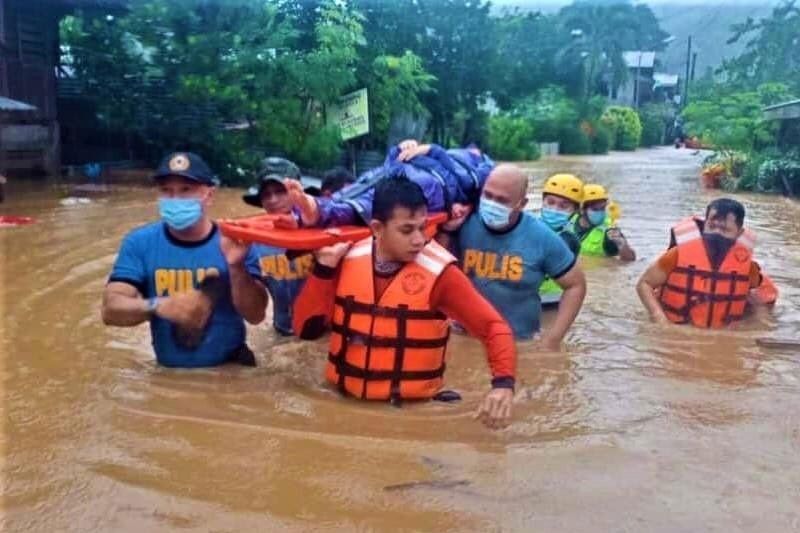 MANILA, Philippines — At least seven persons were killed and four others remained missing due to the onslaught of tropical depression Vicky that spawned floods and landslides in southern Philippines over the weekend, the Philippine National Police (PNP) reported yesterday.
In its consolidated partial report, the PNP said five of the fatalities were from Caraga region, which had seen floods and landslides, whille the other two were from Eastern Visayas.
Two persons each from Davao region and Caraga were also reported missing, while an injury was reported in Eastern Visayas.
The PNP said at least 39 areas were flooded due to rains in Central Visayas and Caraga. Personnel on the ground also reported 15 areas without electricity in Caraga and 24 areas in affected regions whose cellular communications are down.
Nine rescue operations conducted simultaneously by over a thousand police search and rescue personnel were able to save 825 stranded individuals in affected regions.
At least 4,370 individuals were also evacuated in Central Visayas, Davao and Caraga. Of the figure, 3,262 were from various parts of Caraga.
Based on the situational report of the Regional Tactical Operations Center of the Police Regional Office (PRO)-13, some 2,257 families or 3,262 individuals from various areas in the region had been taken to 1,608 evacuation centers across Caraga as of yesterday.
The entire PNP in Caraga is on full alert status in areas that experienced sudden rise of floodwaters, according to PRO-13 director Brig. Gen. Romeo Caramat Jr.
The PNP said it had deployed 244 personnel in Caraga evacuation centers to ensure the safety of the families from hazards, including the spread of COVID-19.
The PNP also assured evacuated residents that it had deployed personnel in vacated areas to prevent looting. As of yesterday, police said no looting incidents had been reported.
P100 M worth of damage
Meanwhile, Vicky has left over P100 million worth of damage in infrastructure in Caraga, according to the National Disaster Risk Reduction and Management Council (NDRRMC).
Some 83 houses were also reported totally and partially damaged in Cebu.
Vicky displaced an estimated 1,590 families, or over 6,700 individuals, in Regions XI and Caraga.
As for fatalities, the NDRRMC said it is still verifying reports that at least three people were killed each in Leyte, Surigao del Sur and Agusan del Sur.
The council added that a total of 16 flooding incidents and one landslide were reported due to Vicky.
As of yesterday, only P13,140 worth of assistance was extended to affected families in Butuan City in Agusan del Norte.
Vicky leaves PAR
Vicky left the Philippine area of responsibility yesterday, but as of 5 p.m. tropical cyclone wind signal No. 1 remained hoisted over Kalayaan Islands as the tropical depression continued to bring strong winds to near-gale conditions over the area, according to the Philippine Atmospheric, Geophysical and Astronomical Services Administration (PAGASA).
No new tropical cyclone is expected to affect the country until Christmas Eve, PAGASA senior weather forecaster Chris Perez said.
As of 4 p.m., the center of Vicky was spotted 70 kilometers southeast of Kalayaan, Palawan, packing winds of 55 kilometers per hour near the center and gustiness of up to 70 kph. It was projected to move west at 15 kph.
Elsewhere, gusty conditions continued to affect most of Luzon, especially in coastal and mountainous areas, due to the surge of the northeast monsoon last night.
Moderate to heavy to at times intense rains were still experienced over mainland Cagayan Valley, Apayao, Kalinga, Mountain Province, Ifugao, Aurora, Quezon, Bicol region, northern portion of Palawan including Calamian Islands, and Kalayaan Islands last night due to the combined effects of the tail-end of a frontal system and Vicky.
Today, moderate to heavy rains will prevail over Babuyan Islands, mainland Cagayan Valley, Aurora, Apayao, Kalinga, Mountain Province, Ifugao and the northern portion of Quezon.
PAGASA also warned against rough to high seas of up to six meters over the entire seaboards of Northern Luzon due to the combined effects of the surge of the northeast monsoon and the tropical depression.
Safety officer at evac centers
To prevent spread of COVID-19 and other diseases in areas affected by Vicky, the Department of Health (DOH) has deployed safety officers at evacuation centers.
The DOH also raised code alert and prepositioned over P10 million worth of logistics for Mimaropa (Mindoro, Marinduque, Romblon, Palawan), Zamboanga peninsula, Northern Mindanao, Davao region and Caraga.
Based on DOH data, Vicky has affected over 1,500 families from 57 barangays.
DOH said safety officers were deployed at evacuation centers to conduct symptom screening of evacuees.
The safety officers shall immediately isolate those who will be found to have symptoms of COVID. Symptomatic individuals shall be taken to a separate area at the evacuation center or be brought to a temporary treatment and monitoring facility.
The DOH reminded those from Vicky-affected areas to strictly adhere to minimum health protocols.
People were also advised not to wade in floodwaters and must ensure that their food and water are clean. – Ben Serrano, Romina Cabrera, Helen Flores, Mayen Jaymalin, Raymund Catindig, Ramon Efren Lazaro, Rainier Allan Ronda