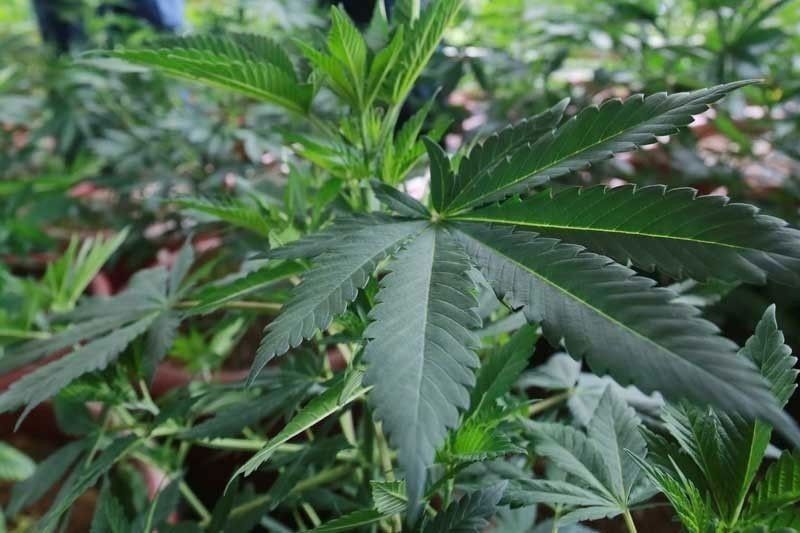 The UN Commission on Narcotic Drugs (CND)'s decision, leading to changes in the way cannabis is internationally regulated, including its reclassification, was rejected by the Philippines' top diplomat, calling the legalization of illegal drugs a "surrender."
STAR/Michael Varcas/File
UN reclassifies cannabis as less dangerous drug
MANILA, Philippines — A United Nations policymaking body has voted to downgrade cannabis (marijuana) for medical use, removing it out of the most dangerous category of drugs.
The UN Commission on Narcotic Drugs (CND)'s decision, leading to changes in the way cannabis is internationally regulated, including its reclassification, was rejected by the Philippines' top diplomat, calling the legalization of illegal drugs a "surrender."
Foreign Affairs Secretary Teodoro Locsin Jr. said, "Cannabis legalization: a small step for small dealers; a giant leap for the cartels."
"If some in UN think they can disarm strong responsible states from expunging the drug trade, it should think again," Locsin tweeted. "ASEAN is dead set against illegal drugs and legalizing them is just surrender."
In reviewing a series of World Health Organization (WHO) recommendations on marijuana and its derivatives, the CND decided to remove cannabis from Schedule IV of the?1961 Single Convention on Narcotic Drugs?— where it was listed alongside addictive opioids, including heroin.
The CND's 53 member states voted to remove cannabis – where it had been placed for 59 years – from the strictest control schedules that even discouraged its use for medical purposes.
With an historic vote of 27 in favor, 25 against, and one abstention, the CND has opened the door to recognizing the medicinal and therapeutic potential of the commonly used but still largely illegal recreational drug.
The decision could also drive additional scientific research into the plant's long-heralded medicinal properties and act as catalyst for countries to legalize the drug for medicinal use, and reconsider laws on its recreational use.
In January 2019, WHO unveiled six recommendations?surrounding the scheduling of cannabis in UN drug control treaties.
While the proposals were originally set to be voted on during the CND's March 2019 session, many countries had requested more time to study the endorsements and define their positions, according to news reports.
Among WHO's many points, it clarified that cannabidiol (CBD) – a non-intoxicating compound – is not subject to international controls. CBD has taken on a prominent role in wellness therapies in recent years, and sparked a billion-dollar industry.
Currently, more than 50 countries have adopted medicinal cannabis programs while Canada, Uruguay and 15 US states have legalized its recreational use, with Mexico and Luxembourg close to becoming the third and fourth countries to do so.
Still illegal
For the Philippine Food and Drug Administration (FDA), cannabis is still considered an illegal drug.
"Our local laws still classify it as an illegal drug and there is no change to that," FDA director general Eric Domingo said in reaction to the UN-CND decision.
The decision opened the door to recognizing the medical and therapeutic potential of cannabis.
Domingo said the FDA has yet to see the resolution delisting marijuana as a risky narcotic.
The Dangerous Drugs Board (DDB) meanwhile said it will undertake necessary actions following the UN decision to reclassify cannabis .
The DDB said the reclassification only covers medical use relating to changes in scope of international drug control for cannabis and that it remains illegal in the country.
"Cultivation and recreational use of the substance is still prohibited as its abuse brings negative health and social impacts. This is also reinforced under the Comprehensive Dangerous Drugs Act of 2002 or Republic Act 9165," it said.
The DDB said it is waiting for the official transmittal of the CND resolution to determine which recommendations could be adopted and would have possible ramifications.
It added that they will continue to work with experts to support the effective implementation of such drug control treaties, including "submission of proposed amendments of laws and policies to reflect the recommendations of the United Nations body."
The medical use of marijuana derivative cannabidiol has been recognized by the DDB.
Early this year, a regulation was passed allowing the use of medical products containing CBD with no more than 0.1 percent of tetrahydrocannabinol. – Mayen Jaymalin, Romina Cabrera, Emmanuel Tupas