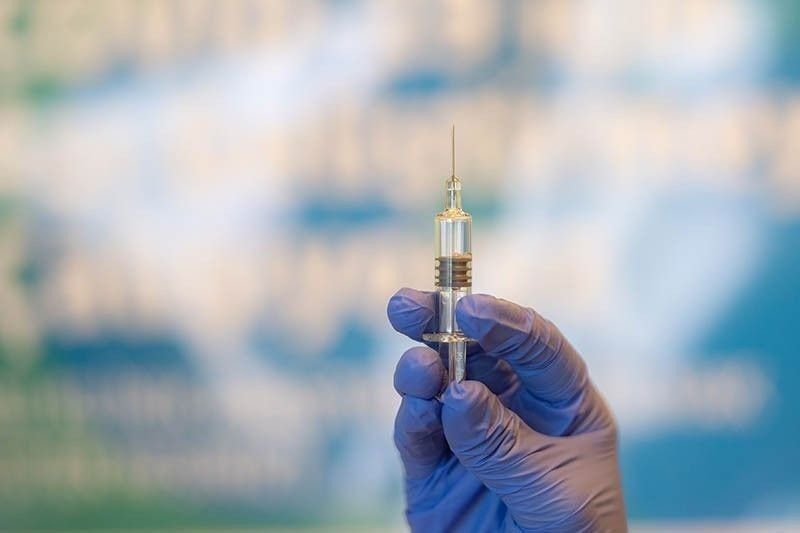 "We now have two safe and highly effective vaccines that could be authorized by the Food and Drug Administration and ready to distribute within weeks," US Health and Human Services Secretary Alex Azar said during his briefing on the government's Operation Warp Speed program for COVID-19 vaccines and treatments.
AFP/Yaksin Akgul
US vaccines may be used in weeks
Duterte OKs early payment for vaccines
MANILA, Philippines — Coronavirus vaccines from Pfizer and Moderna could be ready for US emergency authorization and distribution within weeks, setting the stage for inoculation to begin as soon as this year, US Health and Human Services Secretary Alex Azar said Wednesday.
States and territories are prepared to begin distributing the vaccines within 24 hours of receiving regulatory authorization, according to news service Al Jazeera.
Officials told reporters complex cold storage requirements will not impede ensuring all Americans have access to the vaccines.
"We now have two safe and highly effective vaccines that could be authorized by the Food and Drug Administration and ready to distribute within weeks," Azar said during his briefing on the government's Operation Warp Speed program for COVID-19 vaccines and treatments.
Pfizer said Wednesday that new test results show its coronavirus vaccine is 95 percent effective, is safe and also protects older people most at risk of dying — the last data needed to seek emergency use of limited shot supplies as the catastrophic outbreak worsens across the globe.
The announcement from Pfizer and its German partner BioNTech, just a week after they revealed the first promising preliminary results, comes as the team is preparing within days to formally ask US regulators to allow emergency use of the vaccine.
Anticipating that, an FDA advisory panel is on standby to publicly debate the data in early December.
The companies also have begun "rolling submissions" for the vaccine with regulators in Europe, the UK and Canada and soon will add this new data.
Pfizer and BioNTech had initially estimated the vaccine was more than 90 percent effective after counting a group of the earliest infections that occurred in its final-stage testing. With the new announcement, they have accumulated more infections — 170 — and said only eight of them occurred in volunteers who got the actual vaccine rather than a comparison dummy shot. One of those eight developed severe disease, the companies said.
"This is an extraordinarily strong protection," Dr. Ugur Sahin, BioNTech's CEO and co-founder, said.
Even if regulators agree, he dispelled any notion that an end to the pandemic is around the corner, warning "we are now awaiting a hard winter."
"The available vaccine doses are just too small to ensure that we could make a significant difference to the society" right away, Sahin said. But next year if several companies' vaccine candidates also work, "we might be able to get control of this pandemic situation late summer 2021."
Earlier this week, competitor Moderna Inc. also announced similar effectiveness of its own COVID-19 vaccine candidate, which is made with the same, brand-new technology — using a snippet of the genetic code of the coronavirus to train the body to recognize if the real virus comes along.
For both, "there's every reason to be enormously optimistic," said Dr. Paul Offit of Children's Hospital of Philadelphia, one of FDA's advisers.
"When these vaccines roll out, you're only going to know it's effective for a limited period of time," he cautioned, adding that more follow-up information will come. "You don't want to oversell it, but you don't want to undersell it."
All eyes are on the progress of potential vaccines as the grim infection toll jumps in the US and abroad as winter weather forces people indoors, in the close quarters that fuels viral spread.
While initial supplies will be scarce and rationed, as the supply grows Sahin said the companies have a responsibility to help ensure access for lower income countries as well.
In the US, officials expect enough doses of both Pfizer's and Moderna's vaccines to vaccinate only about 20 million people at first. The Centers for Disease Control and Prevention will determine who is first in line, expected to include health workers and older adults.
Advance payments approved
President Duterte has finally agreed to advance supply agreements and make early payments to COVID-19 vaccine manufacturers in an effort to make the vaccine accessible to Filipinos.
Presidential spokesman Harry Roque said the President has accepted the proposal of Carlito Galvez Jr., chief implementer of government policy against coronavirus disease 2019 to enter advance market commitments with private foreign developers and provide advance payments to ensure the Philippines will secure vaccine doses once these are cleared for widespread use.
"If we don't agree to advance payments, we will be left out as other countries secure vaccines," Roque said in a press briefing yesterday.
The President actually initially expressed reservations and at first rejected the idea of advance supply agreements.
The Chief Executive reportedly changed his mind upon seeing how other countries are racing to get their vaccines through early procurement.
The President also approved the suggestion to allow the Food and Drug Administration to authorize the emergency use of vaccines.
However, Roque said Duterte is yet to issue the formal executive order allowing such emergency use.
At least 30 million to 50 million doses of COVID-19 vaccine could be available for Filipinos next year once it is rolled out abroad and in the Philippines.
Galvez earlier said currently, the task force, in coordination with vaccine experts, is continuing its evaluation on the right vaccine to procure.
Galvez said experts have ranked 17 possible sources of vaccines from other countries. Of these candidate vaccines, nine are already in the Phase 3 clinical trial.
And three of the vaccine candidates in Phase 3 will conduct trial here in December and January, Galvez said during the Inter-Agency Task Force on Emerging Infectious Diseases meeting Tuesday evening at the Malago Clubhouse on Malacañang grounds.
Galvez said the Philippines may enter into an advance market commitment through multilateral arrangement with the World Bank and Asian Development Bank as the country's finance managers for the purchase of COVID-19 vaccines.?Galvez said the government could secure advance procurement by the end of the year and proceed with the signing of loan agreements with the financial institutions.
The Chief Executive reminded Galvez that in the distribution of the vaccine the poorest of the poor should be prioritized.
The frontliners and poor and vulnerable communities, and then the soldiers and also the servicemen and essential workers shall all be prioritized.
"The soldiers include their families... For as long as one is not vaccinated, there's a contamination in the family. So if you give it to a soldier, give it to the entire family." the President said.