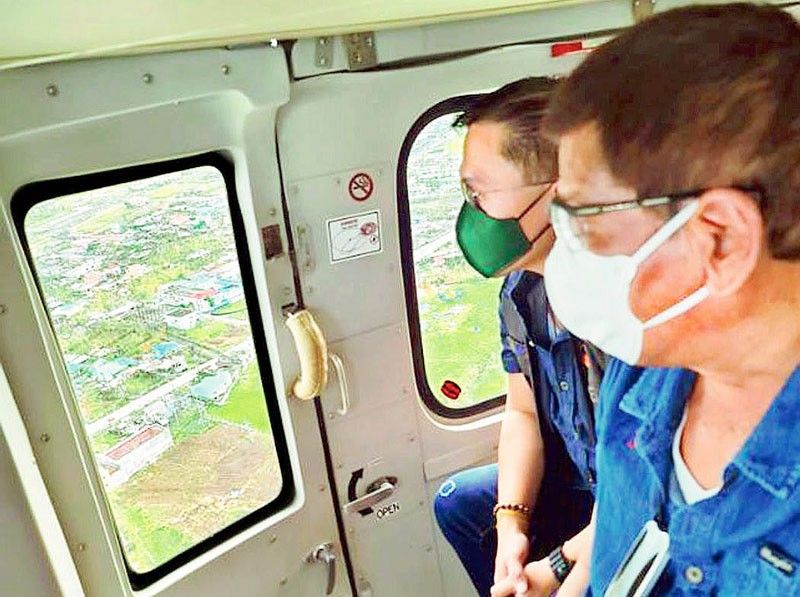 President Duterte inspects the damage from a helicopter during his visit to the town yesterday. Joining him is Sen. Bong Go, who provided the photos.
Bong Go
Duterte visits ravaged Albay town
MANILA, Philippines — Out of the public eye during the onslaught of Typhoon Rolly over the weekend, President Duterte yesterday flew out of Davao City to Luzon for an aerial inspection of areas most devastated by this year's strongest typhoon.
Duterte lashed out at those who criticized his absence at the first high-level government meeting on the typhoon, calling those who made an issue out of it "ugok" or fools.
He said he went home to Davao City to pay his respects to his departed loved ones during the All Saints' and All Souls' Day weekend, and waited for the typhoon to calm down before flying to Manila.
"We, people from the province, travel almost with regularity, vacation, All Souls' Day, so I went home. These fools complained about my absence. I was waiting for the typhoon to pass, then I flew (to Manila). If you don't have departed loved ones, it's OK. I have so I had to come home. Now I'm here," Duterte said.
He added: "To those saying I wasn't around because I was in the province, so what's the problem? You send me the papers and I sign them and send them back. It just requires the use of machines...Do you want me to stand doon on the white sand of Roy Cimatu just to show that I am here?"
Close aide Sen. Bong Go accompanied Duterte on the trip, which included meeting with affected residents of Guinobatan, Albay.
Vice President Leni Robredo also visited the Bicol region yesterday to deliver relief items and other assistance. In her radio program on Sunday, she appealed for the construction of multi-level evacuation centers and schools as well as seawalls in coastal communities.
Last seen in public when he visited the tombs of his parents last Wednesday at Davao Wireless Catholic Cemetery, Duterte was not around to oversee the government's calamity response as Rolly's ferocity forced the cancellation of his flight to Manila.
Earlier yesterday, presidential spokesman Harry Roque Jr. parried criticisms of Duterte's absence at the height of Rolly's devastation.
"While the President was in Davao, all agencies of the government were on red alert. We held a press briefing here in Camp Aguinaldo even on a Sunday and the government is functioning," Roque said.
After the aerial inspection, Go said the President instructed concerned agencies to investigate residents' complaints regarding destructive quarrying operations that may have triggered the deadly avalanche of rocks and mud across a wide swath of Albay.
The senator said Duterte had been continuously monitoring the calamity situation, especially in the Bicol region where the typhoon made its initial landfall.
"His being in Mindanao doesn't mean he has not been working. The President has been working 24/7 – and he has made sure all government agencies are ready to provide immediate assistance to areas affected," he said in Filipino, dismissing criticisms that the President was a no-show when he was most needed.
Go also reminded local government units to enforce strict social distancing and other health protocols in evacuation centers to prevent the spread of COVID-19 and other diseases.
Even while Duterte was in Davao City, officials who were with him said the Chief Executive not only "worked from home" but "commanded from home" as well, overseeing the activities of the Office of Civil Defense and the National Disaster Risk Reduction and Management Council (NDRRMC).
"The President was kept abreast of the situation on the ground as he was updated on the developments as the typhoon took place. The President did not only monitor what was happening but he also gave instructions on what was needed to be done," Social Welfare Secretary Rolando Bautista said.
The President's weekly Monday meeting with the core group of the Inter-Agency Task Force on the Management of Emerging Infectious Diseases (IATF) for COVID-19 updates has reportedly been reset for tomorrow.
Preparedness proven
Despite failing to achieve its "zero casualty" goal, Malacañang lauded agencies and local governments for their preparedness in the face of a destructive typhoon.
Roque said the forced evacuation in areas hit by Rolly had eased the impact of the typhoon.
"I think the view of the President is he would like to commend all local government units, all departments and agencies of government because we have demonstrated our preparedness. We mitigated the effects," Roque said at a press briefing
"Thank you very much to all the men and women comprising the agencies and instrumentalities of the Philippine government, including the local government units and the public in general," he added.
Roque said the government would continue to aspire for zero-casualty in the future.
"The goal should be zero casualty," Roque said, citing a pronouncement from Interior Secretary Eduardo Año. "But I think, because people evacuated, there was forced evacuation, the casualties were minimized. Next time, we will still aim for zero casualty so we still ask for the continuing cooperation of our people," the Palace spokesman said.
Año said local governments have performed well in terms of typhoon response, noting that forced evacuation of residents in high-risk areas started as early as Oct. 30. He said local executives already know how to implement pre-disaster protocols, including the activation of operation centers and the designation of search and rescue teams.
NDRRMC executive director Ricardo Jalad said local disaster management councils were functioning and there was no breakdown of law and order in affected areas.
Senators also defended the President's apparently laid back handling of preparations and responses to Rolly's onslaught.
"What can he do in Albay that he cannot do in Davao? The reason there are Cabinet members and local government officials is to be the representatives of government and the President," Senate President Vicente Sotto III said in a text message to reporters.
Sen. Richard Gordon also downplayed criticisms of Duterte's seeming absence when Luzon was being pummeled by Rolly.
"Of course we want to see the President working, but if that's his position, I respect that," Gordon told reporters in a videoconference.
When asked to comment on Roque's defense that it was a Sunday, which was why Duterte was resting, he said: "Even God says you rest on the seventh day."
"The problem is, he's compromised. I don't know what his illness is – it's not life-threatening – but it could be, if he gets exposed to it (COVID-19)," Gordon said. – Helen Flores, Paolo Romero
Related video: