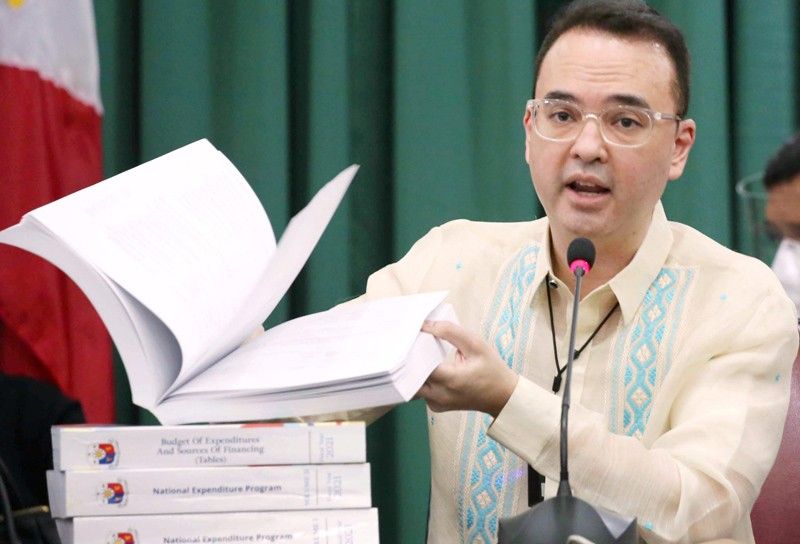 Speaker Alan Peter Cayetano presents books on the 2021 national budget during a media briefing at the House of Representatives in Quezon City yesterday.
Boy Santos
Cayetano claims support of 200 allies
MANILA, Philippines — The real showdown over the speakership begins today, according to Rep. Alan Peter Cayetano as Congress convenes in a special session to tackle the budget and possibly vote to affirm or repudiate the election of his rival, Rep. Lord Allan Velasco, as Speaker.
In a statement, Cayetano said he still has the support of 200 of the 297 congressmen, more than the 186 who voted to install Velasco as Speaker, in a voting held after a meeting of the Marinduque lawmaker's supporters at the Celebrity Sports Plaza yesterday.
"If we're going to honor that (Velasco's election as Speaker), then it's just like we're in a banana republic," a defiant Cayetano said, insisting lawmakers are no longer bound by President Duterte's brokered term-sharing agreement with Velasco.
"Paulit ulit na lang sila – palabra de honor (They keep repeating word of honor). They (Velasco group) are calling for revolutionary government," the embattled Taguig congressman stressed. Cayetano said his allies believe their rejection of his Sept. 30 resignation "rendered" the term-sharing deal "moot and academic."
He revealed that 200 House members "signed the manifesto" in his favor, which House Majority Leader Martin Romualdez of Leyte – who sits as president of the Lakas-CMD party – released.
"The 200 lawmakers said they were declaring their common desire to heed the call of President Duterte and the entire nation for the swift passage of the 2021 budget that is relevant and responsive to the needs of our people as we face this crossroads of history," he said.
"We therefore call on Congressman Velasco to respect the collective desire of his peers to allow the continuation of Speaker Cayetano's exemplary leadership," the pro-Cayetano congressmen declared in the manifesto.
Independent opposition Rep. Edcel Lagman of Albay, meanwhile, clarified that Velasco must still be "elected Speaker in plenary session, not by rump assembly."
"A Speaker must be elected when the House is in session in open and public plenary proceedings," Lagman said.
"For all intents and purposes, the assembly at the Celebrity Sports Plaza can be considered a show of force or numerical superiority of the Velasco camp. Consequently, the election of Velasco has to be legitimized by holding a nominal voting for the new Speaker during any day of the special session," he said.
The special session is until Friday.
"If either contender has the support of the absolute majority of the House, then the nominal voting will not last for more than one hour, which is a small fraction of the four-day session devoted to the consideration of the national budget," Lagman added.
Related video: