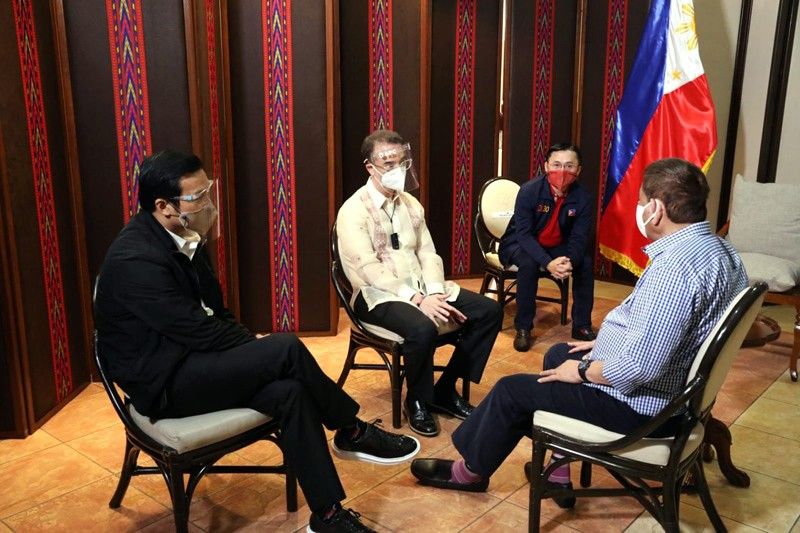 President Duterte meets with Speaker Alan Peter Cayetano (2nd from left) and Rep. Lord Allan Velasco (left) at Malacañang yesterday. Looking on is Sen. Bong Go, who provided the photo. The President had to step in to settle issues over a speakership term-sharing deal between his two allies
STAR/File
Duterte meets with speakership rivals
MANILA, Philippines — President Duterte was scheduled to meet last night with Speaker Alan Peter Cayetano and Marinduque Rep. Lord Allan Velasco to iron out their differences over the term-sharing agreement for the House leadership.
Duterte wants the term-sharing between Cayetano and Velasco to push through, with Cayetano's 15-month stint supposedly over today, presidential spokesman Harry Roque maintained.
Cayetano and his allies have refused to honor the agreement after 202 congressmen from the majority coalition presented a manifesto for Cayetano to keep his post.
Roque said the President's stance remains: that the two representatives should abide by the agreement. However, Duterte has said he could not do anything if Cayetano has the numbers.
Velasco cannot be Speaker of the House of Representatives not just due to lack of support from the supermajority but also for his inefficiency and lack of leadership skills, according to House leaders.
Deputy Speakers LRay Villafuerte and Dan Fernandez said Velasco only has himself to blame for losing support from fellow lawmakers due to his failure to prove his leadership capability.
Villafuerte branded Velasco as an absentee and tamad (lazy) congressman who "lacked the gravitas, experience and skills compared to Speaker Alan Cayetano from the start."
"He did not perform as congressman, he did not perform as chairman of the energy committee, which convinced the supermajority of his inability to lead the chamber," Villafuerte stressed. "A Speaker should have a strong voice. A Speaker should have a principled stand on major issues, which clearly Congressman Velasco does not have."
Villafuerte cited for instance the House deliberations on the anti-terror law, ABS-CBN franchise renewal and the Bayanihan 1 and 2 laws – all of which were passed by Congress without support from Velasco.
Fernandez recalled the absence of Velasco during major issues and measures they faced in Congress.
"During all those hearings and investigations on corruption, we were there in Congress. Unfortunately for Congressman Velasco, he was never there," the Laguna representative pointed out.
"What we wanted at the time is for Velasco to collaborate with the House leadership, being the presumptive Speaker that he is…We hope he was there and coordinated with Speaker Cayetano," Fernandez told reporters.
He said they understand why Cayetano is abandoning the term-sharing agreement on the speakership.
"There seemed to be a betrayal. Speaker Cayetano will follow the term-sharing agreement but unfortunately, the attempt to oust him has happened twice," Fernandez said. – Edu Punay