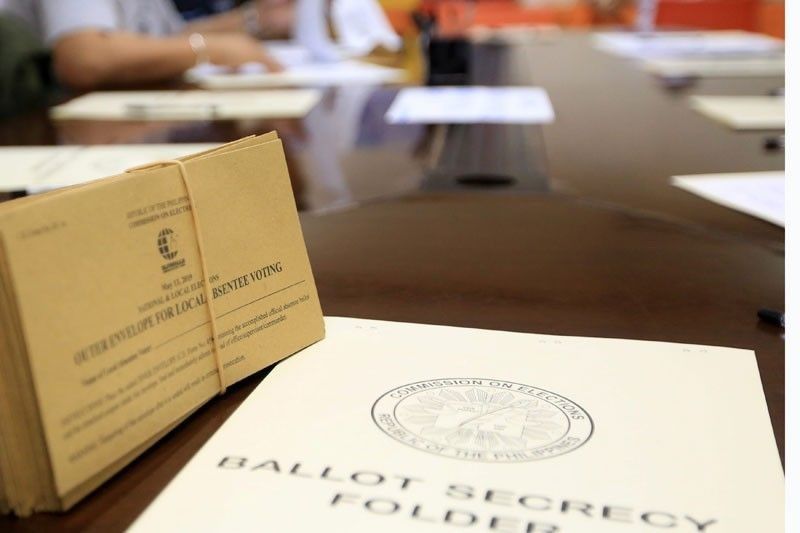 Balanga Bishop Ruperto Santos said that postponing the 2022 elections is unconsitutional, and would only prolong the misdeeds of current leaders who have shown their incompetence during the past months.
Edd Gumban
Bishops oppose proposal to postpone 2022 polls
MANILA, Philippines — Some Catholic bishops expressed yesterday their strong opposition to a proposal to postpone the May 2022 general elections amid the COVID-19 pandemic.
Balanga Bishop Ruperto Santos said that postponing the 2022 elections is unconsitutional, and would only prolong the misdeeds of current leaders who have shown their incompetence during the past months.
"It is not only against the Constitution, but not to exercise our right to vote, we are just prolonging their (leaders) misconduct and conniving with their misdeeds," Santos said. "We see who really helps and serves us without vested interest nor with selfish motives."
He emphasized that the people should just accept and admit that COVID-19 is a judgment call where people can learn many things.
Like Santos, retired Sorsogon Bishop Arturo Bastes said that he does not want to postpone the elections, at least "not under this administration" as he called on the lawmakers to follow the rules and the Constitution, and emphasized that "breaking the rules" would lead to corruption and anarchy.
Ozamiz Archbishop Martin Jumoad and Bishop-emeritus of Novaliches Teodoro Bacani said that they do not favor the postponement of the 2022 polls, as they could not find any legal basis for it.
"No to postponement of 2022 elections. No strong reason to warrant its postponement," Jumoad said.
"I think this is just a floater to prepare us for no election," Bacani added.
For his part, Manila apostolic administrator Bishop Broderick Pabillo said that the Commission on Elections (Comelec) should find a way to continue with the elections instead of thinking of deferment.
The bishops' statement came a few days after House Deputy Majority Leader and Pampanga 2nd district Rep. Mikey Arroyo floated the idea of postponing the elections due to the COVID-19 pandemic.
Arroyo said that a lot of his constituents have expressed fear for their safety if they go outside, supposedly, to cast their votes during the 2022 polls.
'No reason to postpone'
"There's no reason why we have to postpone it and this was shown to us by other countries," Vice President Leni Robredo said over dzXL yesterday.
"The Netherlands has just conducted its elections. The US will hold its elections in November. South Korea and New Zealand will also hold their elections soon. So it only shows that we can also do it," she added.
Robredo said the Comelec is preparing for the 2022 presidential elections amid a pandemic.
"The Comelec is preparing for a scenario where there is still COVID-19," she asserted.
The Comelec said it is preparing to hold the May 9, 2022 elections for two or more days if the prevailing COVID-19 pandemic has not been contained at that time.
Among the reforms that the poll body is set to implement is the reduction in the number of voters in every precinct from 12 to five.
Meanwhile, Sen. Sonny Angara is pushing for the holding of early voting for close to 10 million senior citizens and persons with disabilities (PWD) to ensure greater participation in the electoral process and to reduce the risks on their health due to the pandemic.
The senator aired his concern about how seniors and PWDs continue to be disenfranchised or are facing difficulties in casting their votes because of issues on access and the fact they have to line up with millions of other voters at the precincts.
"It would be better if our seniors and PWDs have a separate day for voting. It's already difficult for them to queue under the heat of the sun with other people, especially now there's a pandemic," Angara said, and added that the elderly are particularly vulnerable to COVID-19.
As an advocate for the protection of the rights and welfare of senior citizens and PWDs, Angara is set to file a bill that would pave the way for their early voting in the 2022 general elections.
He explained that implementing early voting for seniors and PWDs would also help in speeding up the queues at the precincts, thus allowing more voters to cast their ballots.
Apart from allowing seniors and PWDs to vote an earlier date, he said the Comelec should also look into using accessible polling places so that there will be no hindrance for them to cast their votes.
He noted how a significant number of seniors and PWDs have to climb up the stairs of public schools to cast their votes, which he said is extremely challenging for many of them.
"Comelec should study using venues such as gymnasiums and covered courts for use of our seniors and PWDs on election day. They should also work on providing people to assist them on site," Angara said. – Helen Flores, Paolo Romero