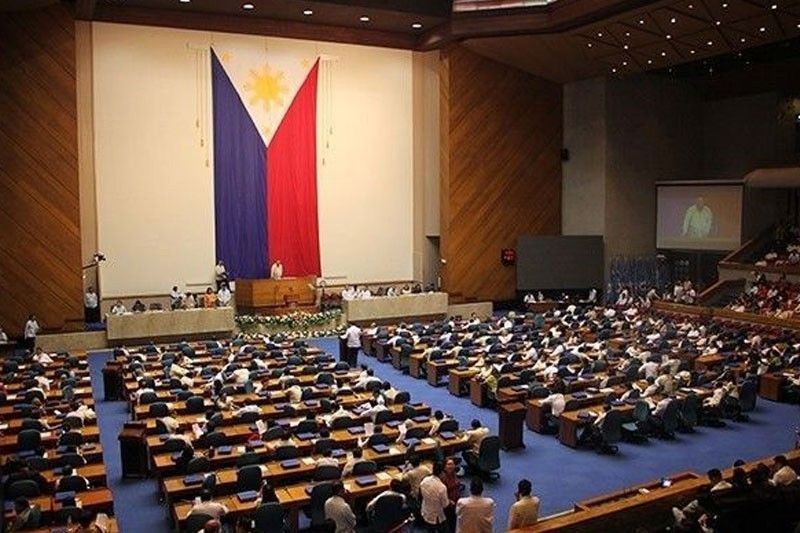 Speaker Alan Peter Cayetano currently appears to have the advantage even if his presumptive successor, Marinduque Rep. Lord Allan Velasco, should be holding the reins of power by next month, courtesy of a term-sharing agreement that President Duterte brokered in mid-2019.
STAR/File
House leadership showdown brews
MANILA, Philippines — A fight over the House of Representatives leadership is looming this week after an opposition lawmaker raised the issue of an inequitable share of billions in district allocations among legislators, especially those in power.
Speaker Alan Peter Cayetano currently appears to have the advantage even if his presumptive successor, Marinduque Rep. Lord Allan Velasco, should be holding the reins of power by next month, courtesy of a term-sharing agreement that President Duterte brokered in mid-2019.
House insiders said the Cayetano camp would have its show of force when sessions resume today, with leaders of power blocs in the administration coalition expected to throw their support behind his leadership.
Lawmakers identified with the speaker-in-waiting are silent. Duterte has not openly given any marching orders to his allies in the lower chamber, which Cayetano's allies view as a continuation of his leadership.
Duterte's son, Deputy Speaker Paolo Duterte of Davao City, confirmed rumors over the weekend that he would call for a move "to declare all seats vacant" today, owing to complaints of favoritism raised by Negros Oriental Rep. Arnolfo Teves Jr. against the current leadership.
There is speculation that Congressman Duterte himself might give the speakership a run.
The President has been in Davao City since Friday.
Sources in Congress said it is not certain if Velasco would show up at the House today as he could no longer be reached for the past days.
"The trouble now is because of Cayetano's refusal to step down as Speaker and give way to (Velasco). I already sensed it when he first assumed as Speaker that Cayetano would not give up his seat without a fight," a source told The STAR.
"I think Polong (nickname of Paolo Duterte) is also interested to become Speaker. He is the only one who could make sure that Cayetano is unseated," the same source added.
Certain sectors, however, also doubt if Congress could have a quorum in today's session which will be held through video conferencing app Zoom.
"Let us see how it can be carried out as the whole process can be technical and one would easily get disconnected," the source said.
Ungab in the picture
Another angle – the possibility of Davao City Rep. Isidro Ungab taking over the helm, if only to stop the squabbling between the Cayetano and Velasco camps – also cropped up.
Ungab is identified with Duterte's children Paolo and Davao City Mayor Sara Duterte-Carpio.
Ungab was booted out as chairman of the powerful House appropriations committee by Cayetano earlier this year in an alleged House coup, along with Oriental Mindoro Rep. Doy Leachon, an ally of Velasco who headed the House of Representatives Electoral Tribunal.
Dasmariñas City Rep. Elpidio Barzaga Jr., who sits as president of the National Unity Party, hinted that a showdown among the speaker wannabes may turn to Cayetano's favor, especially since Duterte has not issued any preference yet on who he wants to lead the chamber.
"What we are saying is that ultimately, it will always redound to the decision of the President. Although there is separation of powers between the executive and the House, his allies in Congress always heed what he wants," Barzaga said.
"Now, if the President tells who his preference is, or we get it from his body language, then it's clear. But if we don't get any directives, I think when congressmen will decide on who they will vote for, it will be a landslide win on the part of Speaker Cayetano," he added.
'Nothing to do with budget'
Davao Representative Duterte stressed that he has not dipped his fingers in the process for the budget allocation of House members, especially under the current Congress leadership.
He also said that all this time, he has stayed away from discussions on the lawmakers' budgets as he is the son of the President.
He said he is leaving it to his fellow congressmen the possibility of change in the House leadership as a result of a ruckus on the budget allocation of several congressmen.
"Over the past days, quite a number of lawmakers have called me as they expressed their disappointment and consternation over the fate of their respective allocations and budgets from the hands of the current House leadership. Although I am an ex-officio member, being deputy speaker, I have respectfully and clearly told them that their concern is something that I would rather stay away from – out of delicadeza," Duterte, the congressman, said in a statement yesterday.
He added that he is ready to accept the consequences should members decide to push for a change in the House leadership.
Being one of the deputy speakers under Cayetano, Duterte said it would make him one of the casualties should there be a shakeup in the House.
"As much as I am part of (the House) with a duty to be involved in the goings on inside, I cannot discount the fact that I am a Duterte," he added.
Anything that comes out of his actions or mouth could be "construed or manipulated" as having the blessing of his father, according to the President's son.
"And so I would rather suffer or work in silence rather than sacrifice the supposed independence of the House from the Palace. Let us work for the country and the Filipino people," Duterte said.