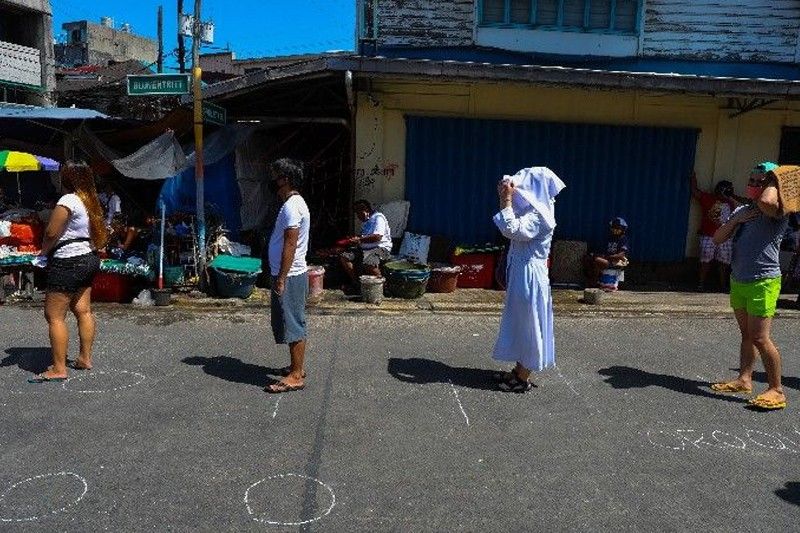 "The President decided that the one-meter physical distancing in public transport stands," presidential spokesman Harry Roque said.
AFP/Maria Tan
Duterte keeps 1-meter distancing rule
MANILA, Philippines — The one-meter physical distancing rule in public transportation remains, Malacañang said yesterday, ending the debate over the extent of easing quarantine restrictions as the government gradually reopens the economy.
"The President decided that the one-meter physical distancing in public transport stands," presidential spokesman Harry Roque said.
Malacañang had to make its position clear in the wake of criticisms over Department of Transportation (DOTr) Secretary Arthur Tugade's announcement that allowable distance between passengers of public utility vehicles would be reduced to 0.75 meters. Critics of the DOTr position said relaxing physical distancing rules would only increase the risk of COVID-19 infection.
In a statement, the DOTr promised to comply with the President's directive. "The President has spoken," it said. "We shall aggressively comply and strictly enforce the one-meter physical distancing in all public transport as envisioned and mandated."
Roque also said commuters "must adhere to health protocols, such as wearing of face mask/shield and no talking and no eating inside the public mode of transport."
He said President Duterte decided to keep the one-meter rule after weighing recommendations from members of his Cabinet and the Inter-Agency Task Force for the Management of Emerging Infectious Diseases.
Earlier, Roque joined former health chief Manuel Dayrit at a Palace press briefing in explaining the advantage of the 0.75-meter rule then being pushed by the DOTr.
Dayrit said the 0.75 meter rule could work if complemented by other measures like wearing of face masks and face shields, prohibiting talking and eating, providing adequate ventilation and proper disinfection and barring of symptomatic passengers.
Health Secretary Francisco Duque III and Interior and Local Government Secretary Eduardo Año strongly opposed the DOTr directive.
The DOTr said the one-meter physical distancing rule in all public transport would be strictly enforced in coordination with the Philippine National Police, Land Transportation Franchising and Regulatory Board (LTFRB), Land Transportation Office, Metropolitan Manila Development Authority and the Highway Patrol Group.
According to DOTr, the 50 percent passenger capacity rule for PUVs was inconsistent with the one-meter physical distancing rule.
For trains and maritime vessels, the DOTr said the one-meter distancing rule is being observed properly.
The LTFRB will issue new guidelines for stricter observance of the one-meter distancing in PUVs.
"According to various government officials and health experts, one meter physical distancing is non-negotiable. There's no sense letting one-seat apart only in PUVs and one meter physical distancing on trains and ships," Transportation assistant secretary Goddess Libiran said.
Manila's transport systems are notoriously crowded, with commutes typically enduring long queues and several changes.
Experts and medical professionals have described as dangerous and premature a reduction in distancing requirement, warning it could prolong a first wave of infections that the Philippines has been battling since March.
The Philippines has nearly 280,000 infections, more than a third of which were reported in the past 30 days, and 4,830 deaths, the second most in Southeast Asia, next only to Indonesia.
Meanwhile, Baguio City Mayor Benjamin Magalong, also the designated contact-tracing czar, said the National Capital Region has yet to reach the ideal contact tracing target ratio of 37 individuals for every COVID-19 patient.
While contact tracing efforts – especially in Baguio City – have improved, they have "stagnated" elsewhere, including in Metro Manila. Magalong said he has been coordinating with the World Health Organization (WHO) and a third party for contact tracing efforts.
"According to the WHO, latest is contact tracing efficiency ratio has improved. We started with 1:2, it rose to 1:5. Nationwide as of this date, maybe it can increase to 1:7," he said.
He also said contact tracing in Regions II (Cagayan Valley) and IV-B (Calabarzon) has improved to 1:11 ratio. In Cebu province, contact tracers were able to track down seven individuals for every infected patient from the previous 1:3 ratio. "So we can see, their contact tracing efficiency ratio is improving slowly," he said.
"The good news is with this recruitment of about 50,000 contact tracers in the next few weeks, it will be of a big help," he added.
Magalong admitted that many contact tracers have become exhausted due to overwhelming workload.
"If you're on the operational side of contact tracing, it's very exhaustive, it's very tiring, I feel sorry for them. Nevertheless this is a good development, these 50,000. I hope we will be able to fast track everything so they be deployed immediately," he said. – Richmond Mercurio, Romina Cabrera