Stalls selling 'Manila, province of China' products padlocked
August 21, 2020 | 12:00am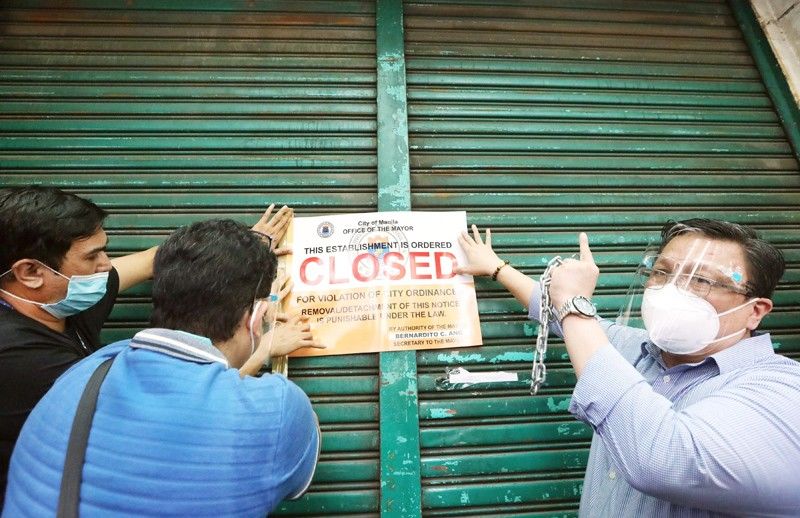 MANILA, Philippines — Manila Mayor Isko Moreno yesterday ordered the closure of four stores in Divisoria that were selling Chinese beauty products with labels that tagged Manila as a "province of China."
An irate Moreno confirmed that photos of the label of the product Ashley Shine Keratin Treatment Deep Repair, an imported hair revitalizing product from China, presented Manila as a Chinese province.
The photos went viral yesterday on social media, showing the label that listed the firm's manufacturing address as "707 Sto. Cristo St. San Nicolas, Manila Province, P.R. China. MADE IN P.R.C."
Moreno said Binondo is "not and will never be a province of China." He then ordered his men to implement the closure order.
At around 3:30 p.m., Levi Facundo, Manila Bureau of Permits and Licensing Office, Cesar Chavez, Moreno's chief of staff, and elements of the Manila Police District-Special Mayor's Reaction Team, swooped down on four stores – two inside Divisoria Mall and two others along Sto. Cristo Street in San Nicolas – and shut them down for selling Ashley Shine products.
Facundo said among the establishments' violations were misrepresentation, no business permit to sell online, and violation of certain provisions by the Food and Drug Administration (FDA) like non-inclusion of expiration dates and batch numbers on their labels.
The product is distributed locally by Elegant Fumes Beauty Products, a Binondo-based company.
Moreno did not identify the five owners of the firm that included two Chinese nationals.
"We will not allow these unscrupulous businessmen to just trample our city and our sovereignty. We will not allow these people to do business in the city and I will personally write a letter to the Bureau of Immigration to deport them and declare them undesirable aliens," Moreno said.
Moreno also called on online selling platforms Lazada, Shoppee and other delivery service providers not to allow these kind of businesses to use their firms as a conduit for illegal activities.
Rep. Jericho Nograles of the Puwersa ng Bayaning Atleta party-list yesterday recommended the blacklisting of Ashley Shine Keratin Treatment Deep Repair.
"The label clearly shows Manila, as a province of China. This incident must be investigated at the very least, and the manufacturer and importer should be blacklisted, as soon as legally permitted," he said.
"It's hard to dismiss this insult as a simple error. The mislabeling of the Chinese manufacturer could have been deliberate," Nograles said, adding that the incident should also prompt Congress to craft legislation that would penalize mislabeling of consumer products.
He asked the Department of Trade and Industry and FDA to verify the authenticity of the product.
"It has come to our attention that the Chinese manufacturer of this product printed and distributed these products with a reference that Manila is a province of the People's Republic of China," Nograles said.
"Any act to undermine our sovereignty must be taken seriously. It is in this light that we respectfully ask your Office to immediately investigate this detestable and repulsive offense against our nation, and, if legally justified, prohibit the continued distribution of these products in our country," he added.
Nograles also disclosed that based on the information received by his office, the product bearing this information was manufactured in 2018 and is still distributed throughout the country.
"Succeeding batches of this product already omitted the declaration, but the offense remains the same," he noted. — Delon Porcalla