DOJ task force set to probe activist Alvarez's killing; initial report expected in a month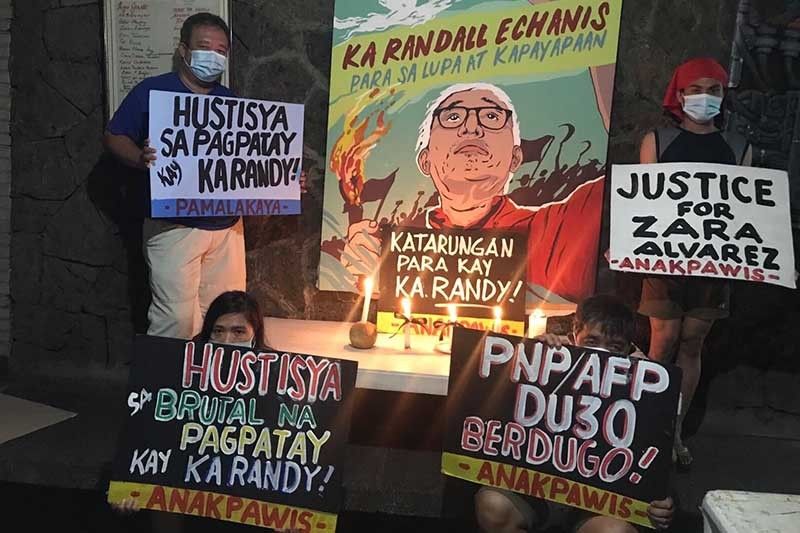 MANILA, Philippines — The Department of Justice's task force investigating politically-motivated killings is set to probe the killing of rights worker Zara Alvarez.
Justice Undersecretary Markk Perete told reporters that the Administrative Order 35 Secretariat on Thursday "recommended the inclusion of the Zara Alvarez case in the docket of the task force."
"That recommendation is now under review, after which a Special Investigating Team may also be formed to probe the case," Perete added.
AO 35 created the Inter-agency Committee on Extra-legal Killings, Enforced Disappearance, Torture and Other Grave Violations of the Right to Life, Liberty and Security of Persons, which is chaired by the justice secretary.
The administrative order was issued in 2012 to address allegations that state and non-state actors have been "silencing, through violence and intimidation, legitimate dissent and opposition raised by members of the civil society, cause-oriented groups, political movements, people's and non-government organizations, and by ordinary citizens."
Karapatan human rights worker Alvarez was gunned down in a private village in Bacolod on Monday night. Her killing came a week after the murder of peasant activist and peace consultant Randall Echanis in his rented apartment in Quezon City.
Meanwhile, the investigation into Echanis' case is already ongoing. "The composite team tasked to conduct the investigation was given one month within which to submit a report on its findings," Perete added.
The separate team that would take on Alvarez's case will also be given a month to submit a report. The team is also allowed to ask for an extension of the probe.
"Then a special oversight team will review and evaluate their report and recommend what action to take," Perete, also DOJ spokesperson, also said.
Dangers of red-tagging
Alvarez previously led campaigns against human rights violations was an advocacy officer of a community health program, and was a paralegal of watchdog Karapatan.
Karapatan pointed out that Alvarez, Echanis and peace consultant Randy Malayao—killed while sleeping in a bus in 2019—were among the 600 names reportedly included in the Department of Justice's petition for proscription that was later trimmed down to eight.
Alvarez and rights lawyer Benjamin Ramos, killed in 2018, were also red-tagged in posters that circulated in Bacolod City in 2018.
The Commission on Human Rights said the killing of Alvarez shows the danger of red-tagging as it launched a motu propio (on its own initiative) investigation into the case.