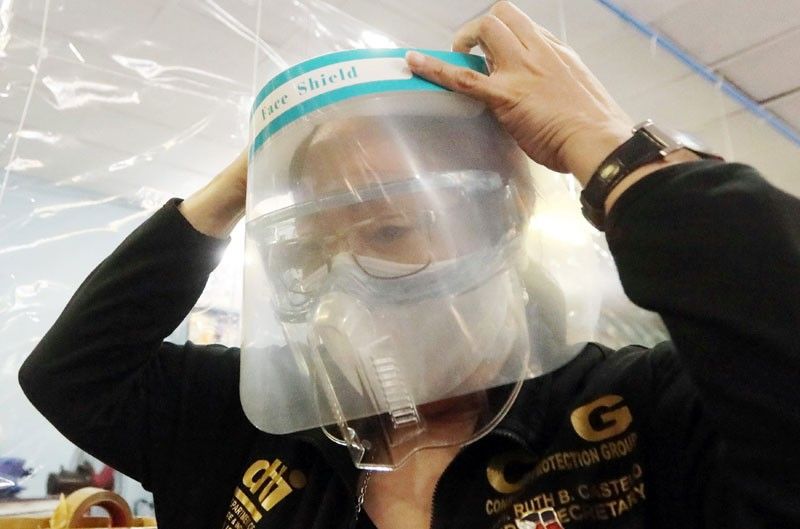 Trade Undersecretary Ruth Castelo tries a face shield during an inspection of medical supply stores in Bambang, Manila yesterday.
Edd Gumban
DOLE orders all workers to wear face shields
MANILA, Philippines — Wearing of face shields on top of face masks will be mandatory in workplaces starting on Saturday to pre- vent the spread of COVID-19, the Department of Labor and Employment (DOLE) said yesterday.
Labor Secretary Silvestre Bello III issued the announcement on the sidelines of a government event in Antipolo, Rizal, where he revealed the new guideline agreed upon by the Inter-Agency Task Force (IATF) for the Management of Emerging Infectious Diseases.
"Based on a resolution of the IATF, not only would workers be required to use face masks, but also face shields. That's the new protocol," Bello told journalists.
He said employers should provide workers with face shields: "You only have to buy it once and it doesn't cost that much."
Although penalties for non- compliance will not be harsh, Bello said employers would be held administratively liable if their offices would not observe the new rule.
Employees who have no face shields would be denied entry.
"We will not suspend or close the company. They will be reminded of the health protocol. It's excessive to shut- ter them, it would affect the employees. If there are no offices, there would be no jobs," Bello said.
The IATF also approved a new workplace policy, man- dating that only one person at a time would be allowed in smoking lounges.
"Having two or more is prohibited," he added. Government officials earlier said face shields are highly encouraged and would soon be required.
The Department of Trans- portation recently required passengers in public vehicles to wear face shields on top of face masks starting Aug. 15.
Many local government units (LGUs) nationwide have passed ordinances requiring the use of face masks when going outside.
President Duterte said de- fying the rule is tantamount to committing serious crime and merits arrest.
Several LGUs implemented "no face shields, no face masks, no entry" policy in public and private spaces such as mass transport, business establishments, isolation facilities, hospitals, workplaces and markets.
The virus can enter the body through the nose, mouth and even the eyes, prompting health authorities to advise frequent handwashing, wearing of face masks in public and physical distancing.
Vendors warned
Vendors in Manila are warned against overpricing face shields, city bureau of permits chief Levi Facundo said.
The warning was issued after the city government re- ceived reports that face shields are sold at P100 a piece.
With no suggested retail price (SRP) yet from the DTI, face shields should not cost more than P50 a piece.
Facundo said the city government will go after vendors overpricing face shields once the government releases the SRP.
Meanwhile, prices of face shields in at least two mu- nicipalities in Nueva Ecija ranged from P25 to P349 a piece, the Department of Trade and Industry (DTI) said following an inspection on Tuesday.
"No signs of panic-buying was observed as supply is adequate in both municipalities," DTI provincial director Brigida Pili said.
Based on monitoring, regular face shields with thin and thick plastic cover are sold at P50 and P75 a piece, respectively, in the town of Talavera.
High-end ones with head and thick acrylic cover are sold for P349.
In San Jose City, an ordinary face shield with thin plastic cover costs P25 while the thicker ones are sold at P50 each. – Mayen Jaymalin, Marc Jayson Cayabyab, Ric Sapnu