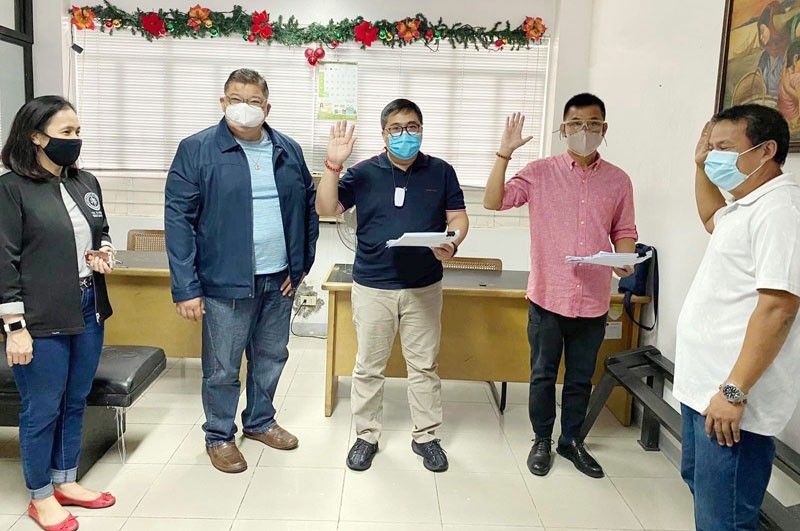 Photo shows (from left) senior deputy provincial prosecutor Gloria Marinduque-de Guzman, prosecutor Jonathan Llexdo, Mayor George Ricardo Gacula II, LLDA general manager Jaime Medina and senior assistant provincial prosecutor Severino Alforte during the filing of a complaint at the Rizal Provincial Prosecutor's Office.
Public warned of buying, selling lake shoreland areas
(The Philippine Star) - August 13, 2020 - 12:00am
MANILA, Philippines — The Laguna Lake Development Authority (LLDA) has warned the public against buying and selling of Laguna Lake shoreland areas, especially along C6 Road.
The warning was made following reports of dealings of entities and individuals representing themselves as developers of public lands along Laguna de Bay.
Earlier this year, the LLDA issued a notice to the public against these kinds of dealings after a certain group reportedly showcased the shoreland areas of the lake along C6 Road for a project that included housing facilities.
The dealings of the unscrupulous individuals or group had encouraged individuals to pay substantial amounts, usually as membership or reservation fee, for parcels of land along the lake.
"Under the law, the shoreland areas of Laguna Lake are public land which form part of the lakebed. This is not for sale," LLDA general manager Jaime Medina said.
Medina said any group or individual has no authority to sell or represent themselves as developer of the shoreland areas.
On Aug. 4, the LLDA, represented by Medina, and the Municipality of Taytay, led by Mayor George Ricardo Gacula III, filed before the Office of the Provincial Prosecutor of Rizal a complaint for grave coercion and violations of Republic Acts 7279 and 4850 against individuals selling or disposing public lands along the Laguna Lake to private individuals "through fraudulent, misleading and deceitful means."
"The LLDA denounces any act intended to defraud the public and does not and will not tolerate said unauthorized activities. The public is strongly advised to be cautious and verify the legitimacy of any sale or activities involving the Laguna Lake shoreland areas," Medina said in a statement.
"The LLDA will continue taking action to ensure that the Laguna Lake and its environs are duly protected," he said.
For information on the matter, Medina urged the public to call the LLDA at (02) 8376-5430 local 144 or email smo@llda.gov.ph.