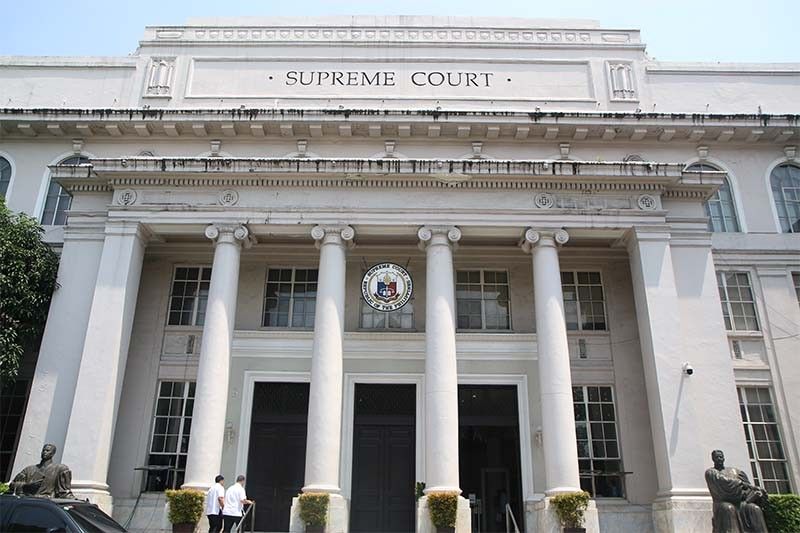 This file photo shows the Supreme Court compound in Padre Faura, Manila.
Philstar.com/Erwin Cagadas
Courts in Metro Manila, ECQ, MECQ areas 'physically closed' until August 14
MANILA, Philippines — The Supreme Court ordered the physical closure of courts in Metro Manila and other localities under stricter quarantine protocols from August 3 to 14 amid rising COVID-19 infections.
Chief Justice Diosdado Peralta on Sunday night directed courts under the National Capital Judicial Region as well as those in areas under enhanced community Quarantine or modified enhanced community quarantine (MECQ) "physically closed to all court users" until August 14.
Courts covered by the order can be reached through their respective hotlines, email addresses and/or Facebook accounts. Inquiries on transactions and requests for documents may also be coursed through these channels.
The announcement came prior to Malacañang's move to revert Metro Manila, Rizal, Bulacan, Laguna and Cavite to MECQ status from August 4 to 18, following the recommendation of the inter-agency task force on COVID-19.
This was after medical professionals and frontliners over the weekend urged the national government to reform and recalibrate its response to the COVID-19 pandemic, slamming what they called the administration's militarist approach.
Higher courts operations
The SC's essential offices and services shall continue in-court with a skeleton staff during the period.
Sessions by the tribunal as a full court and its three divisions meanwhile will be held through videoconferencing.
The Court of Appeals, Sandiganbayan and Court of Tax Appeals shall continue to receive petitions and pleadings electronically, and resolve cases pending before them. Hearings will be held through videoconferencing.
Regional trial courts, family courts and first level courts
All pleadings for civil and criminal cases shall be filed electronically to the branch where the case is pending.
Courts are also authorized to hear the cases through videoconferencing. "In-court hearings may be conducted should the judge find them to be necessary," Peralta said.
A skeleton staff, assigned by the executive judge, will attend to concerns that may not be addressed online.
Night courts and Saturday courts shall also remain suspended until August 14.
In the past four days, the Department of Health reported record high tallies for single-day new coronavirus. On Sunday, it logged 5,032 new infections, pushing the national tally to 103,185.
As It Happens
LATEST UPDATE: December 9, 2020 - 3:44pm
Metro Manila and other "highrisk" areas were placed under a modified enhanced community quarantine last May 16, which is more relaxed than ECQ, but has more restrictions compared with the general community quarantine (GCQ). Bookmark this page for updates. Photo by The STAR/Michael Varcas
December 9, 2020 - 3:44pm
The local government of San Juan Batangas orders the closure of Blue Coral Beach Resort in Laiya Aplaya following repeated violations of COVID-19 protocols.
This comes after a video of a large group partying without face masks, face shields and not observing physical distancing at the beach of the resort were sent to the Department of Tourism.
San Juan Mayor Ilderbrando Salud has issued a memo revoking the business permit of the beach resort. — Report from Rosette Adel
LOOK: A group was seen partying without face masks/face shields at a beach in Laiya, San Juan, Batangas. The individuals are also not observing the physical distancing protocols at the beach.

Video from: DOT @PhilstarNews pic.twitter.com/mlyU9DvGf7

— Rosette Adel (@rosette_adel) December 9, 2020
December 7, 2020 - 10:29pm
President Rodrigo Duterte says he will ask local government units to make necessary arrangements on vacant hotels and motels to allow COVID-19 patients to stay in their premises.
Duterte says he will ask the Congress to find a way to compensate the hotels that will accommodate coronavirus patients.
"To the owners of hotels, inns, motels to accommodate the Filipinos who are in need of help. I will assume the full responsibility of paying you pagdating ng panahon," Duterte says in a recorded speech aired late Monday.
December 7, 2020 - 4:25pm
The Zamboanga City government strongly opposes proposals of Interior Secretary Eduardo Año in allowing children to go to malls and other public places with their parents.
The local official and health authorities also disapprove of the possibility of expanding the manner of classes to face-to-face classes engagement as part of the 'new normal.'
Mayor Maria Isabelle Climaco-Salazar expresses her disapproval, citing critical observations by local health officials here about the eminent contamination from the deadly Severe Acute Respiratory Syndrome CoronaVirus (SARS-CoV) which causes the coronavirus disease 2019 (COVID-19).
"It is not still safe to allow children to go out except for medical reasons or emergency cases," Salazar says in her virtual presser. — The STAR/Roel Pareño
August 18, 2020 - 4:47pm
Sen. Bong Revilla, who earlier tested positive for COVID-19, was rushed to the hospital, according to his wife Bacoor Mayor Lani Mercado.
"He is being rushed to the hospital. His latest X-ray shows that he has developed pneumonia and isolation in a regular facility is no longer ideal," Mercado says in a Facebook post Tuesday.
August 18, 2020 - 4:23pm
The Department of Health reports 4,836 additional COVID-19 cases in the country, pushing the total number of confirmed cases in the country to 169,213.
The DOH also logs 182 new recoveries, bringing the total of recovered patients to 112,861. The national death toll is now at 2,687 with the addition of 7 new reported deaths.
Total active cases (net of COVID-19 deaths and recoveries) in the Philippines is now at 53,665.