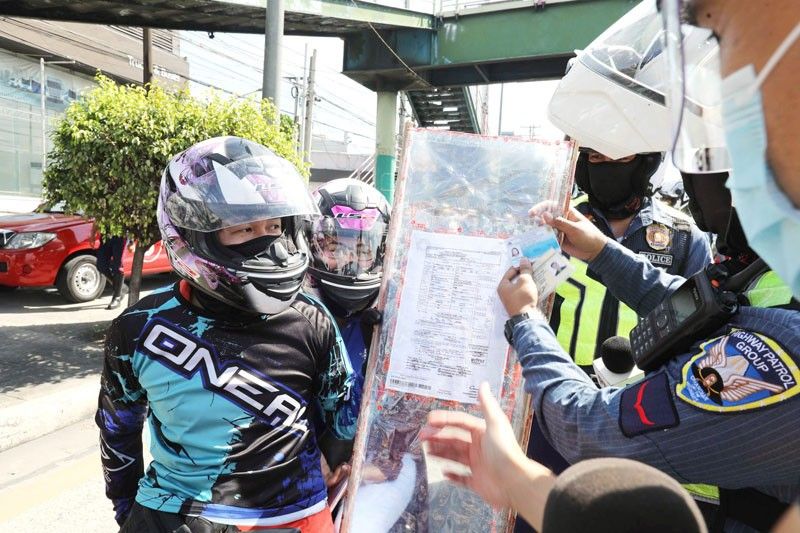 The police Highway Patrol Group verifies the IDs of a couple on a motorcycle along Commonwealth Avenue in Quezon City. Their marriage contract is inserted in a plastic divider positioned between them.
Boy Santos
DILG allays fears over motorcycle barrier for couples
MANILA, Philippines — The Department of the Interior and Local Government (DILG) has tried to allay safety concerns over the proposal to install plastic barriers or shields to allow back-riding for couples on motorcycles.
DILG spokesman Undersecretary Jonathan Malaya yesterday said that the barrier was approved to be safe by experts from the Land Transportation Office, despite criticism from the public and some sectors.
He noted that even without the barriers, motorcycles are already more dangerous to ride compared with other vehicles.
"We do not see this as a possible cause or a possible safety concern. Just have to be more cautious because even without the physical barrier accidents are more likely to happen on motorcycles compared to four wheels," he said in English and Filipino at a Laging Handa briefing.
Malaya said the government is still open to other proposals regarding the prototype for the protective barrier to separate driver from passenger, even from private companies.
He added that they are still waiting for the specific rules and regulations from the National Task Force against COVID-19 (coronavirus disease 2019) on back-riding that would thresh out guidelines.
Only couples, either married or partners who live in the same address, are allowed to back ride on motorcycles.
They may have to present proof of this, which include identification cards bearing the same surname or address, when flagged down by law enforcers.
While police have only started to issue strict warnings, Malaya said law enforcers will start apprehensions against violators soon.
Malaya said the national government will soon allow back-riding for other members of the same household if the COVID-19 situation eases.
Police deferred the issuance of traffic citations on back-riding couples on motorcycles who violated safety protocols yesterday to give them more time to comply with minimum health standard, including the installation of body shields.
Policemen just warned couples who were riding their vehicle without the body shields and advised them to have the protective equipment next time.
Philippine National Police (PNP) deputy chief for operations Lt. Gen. Guillermo Eleazar said the law enforcers opted to monitor the compliance of motorcycle riders on the first day.
The Highway Patrol Group will start apprehending and issuing citation tickets to violators of safety protocols starting today.
Año said that couples, even those not married, could ride together on motorcycles provided they are living under one roof.
Eleazar reminded couples to bring identification cards and other documents proving that they live in the same household.
The basic requirements such as wearing of helmets and face masks must also be observed at all times, he added. Emmanuel Tupas