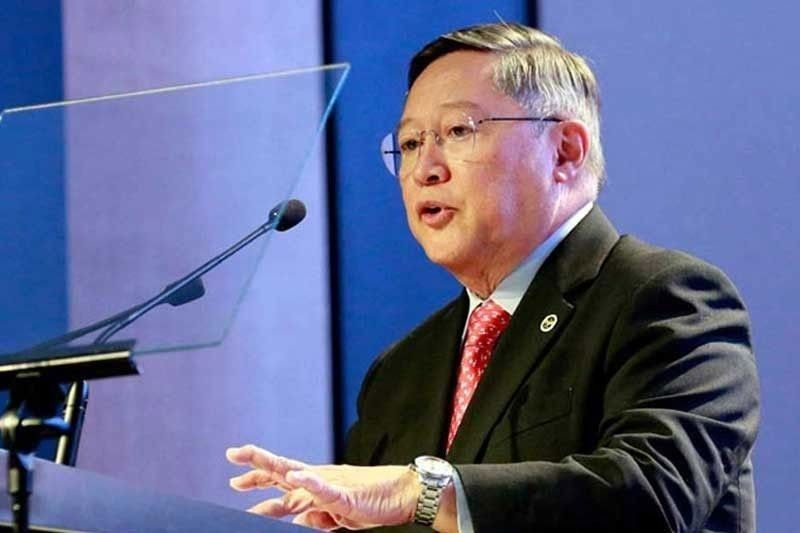 The Department of Finance (DOF) chief Carlos Dominguez III said the government should consider easing restrictions in the National Capital Region (NCR) and Calabarzon, composed of Cavite, Laguna, Batangas, Rizal and Quezon, pointing out that the two regions account for as much as 67 percent of the country's economy.
Presidential Photo/File
DOF: Relax quarantine in Metro, Calabarzon
Cebu still under ECQ, Metro Manila in GCQ
MANILA, Philippines — Finance Secretary Carlos Dominguez III has urged the government to place Metro Manila and Calabarzon under a more relaxed modified general community quarantine or MGCQ "as quickly as possible" to jumpstart economic recovery amid the coronavirus disease 2019 (COVID-19) pandemic.
"We have to face the new reality. The reality today is that the virus is not going to go away, and we will have to live with it for a long period of time... And I really believe, we really should begin opening," Dominguez said during President Duterte's televised report to the nation on the COVID situation late Tuesday night.
The Department of Finance (DOF) chief said the government should consider easing restrictions in the National Capital Region (NCR) and Calabarzon, composed of Cavite, Laguna, Batangas, Rizal and Quezon, pointing out that the two regions account for as much as 67 percent of the country's economy.
"(NCR and Calabarzon) should move more to the MGCQ as quickly as possible because people have to start working," Dominguez said.
Duterte announced that Cebu City would remain under enhanced community quarantine while Metro Manila and the provinces of Rizal and Cavite would remain under GCQ until July 15.
The President also placed under GCQ the cities of Lapu-Lapu, Mandaue, Talisay and Ormoc; provinces of Benguet, Leyte and Southern Leyte; and municipalities of Minglanilla and Consolacion in Cebu province.
Under an MGCQ scenario, Dominguez said COVID-19 monitoring should be based on the barangay or company level.
"Of course, for me... we should monitor it… maybe on a barangay level and if you know, the cases go up, just close it down. But do it place-to-place (basis), and do it also on a company-to-company basis. So if the company has a big spike, close it down also," he added.
Dominguez maintained that the Philippines started with "strong economic fundamentals" when it addressed the pandemic last March. He cited the 6.6 percent-per-year average growth and low to stable inflation from 2016-2019, among other high points.
Economic managers expect the Philippine economy to contract by two to 3.4 percent this year due to the standstill caused by the pandemic.
At a separate press briefing, Dominguez said Filipinos should be allowed to go back to work as their "savings are being severely depleted."
"If your savings are depleted and you have less money, how can you handle other illnesses that you will be subjected to, like if you have the flu or if you have diabetes or heart disease? How can you address those issues?" he said.
The DOF chief added that the Department of Health (DOH) has achieved much during the three-and-a-half-month community lockdown to improve its capacity in containing the pandemic.
"The purpose of the lockdown was to allow us to do a number of things… First, of course, is to build up our capability to address the emergency. In other words, have more beds, have more testing facilities, also to educate the public about the requirement for social distancing, using masks and generally, taking care of themselves," he said.
"And we believe that the great achievement of the health department is actually to keep the death rate down and to strengthen its capacity for addressing these issues," he added.
Dominguez also expressed confidence that Filipinos are already educated on the necessary precautions to avoid COVID-19 infection.
"I think it's important now that the people be allowed to go back slowly, little by little, to their normal livelihood," he said.
Shift to economy
Basing on Dominguez's stand, presidential spokesman Harry Roque Jr. said the government could not afford to be on strict lockdown anymore; otherwise, it would go into bankruptcy.
There is a "need now to shift from priority on health to opening the economy because unless we do so, people will simply die because of lack of livelihood," according to Dominguez.
"And that is why the new world view should be we should still be wary of the disease but with testing, tracing and treatment, coupled with minimum hygiene requirements, we can proceed and open the economy," Roque said.
Malacañang sees the gradual shift to MGCQ in the NCR and some areas in Calabarzon as the country gears up to open the economy.
"And I think that was approved in principle, and that is why for as long as the data would allow it, even if it's not fully compliant, perhaps for as long as there is substantial compliance with the data, we will allow the further downgrading to MGCQ to further open up the economy," Roque said.
Citing Dominguez's report, Roque said it appeared that even under MGCQ, the economy is not 100-percent open since there are still transport restrictions in MGCQ areas.
"(It) would actually open around 50-60 percent of the economy only… and that is why the fourth strategy recommended and approved in principle by the IATF is that we need to further open up the transport sector because unless the transport sector is fully opened up, then people simply can't get to work," he said, referring to the Inter-Agency Task Force (IATF) for the Management of Emerging Infections Diseases.
The Palace spokesman added that the economic team also urged the government to use scientific evidence to evaluate whether or not jeepneys really pose a threat to health.
MGCQ areas
Placed under the MGCQ in Luzon are Baguio City and the provinces of Abra, Ifugao and Kalinga in the Cordillera Administrative Region; provinces of Ilocos Norte, La Union and Pangasinan in Ilocos Region; provinces of Cagayan and Isabela in Cagayan Valley; Angeles City and provinces of Bataan, Bulacan, Nueva Ecija and Pampanga in Central Luzon; Lucena City and provinces of Batangas, Laguna and Quezon in Calabarzon; Puerto Princesa City and the province of Palawan in Mimaropa; and Naga City and provinces of Albay, Camarines Norte, Camarines Sur in Bicol region.
In the Visayas, areas under MGCQ are Iloilo City and Bacolod City and provinces of Capiz, Iloilo and Negros Occidental in Western Visayas; provinces of Bohol, Negros Oriental and the rest of Cebu in Central Visayas; Tacloban City and Western Samar province in Eastern Visayas.
In Mindanao, also remaining under MGCQ are Zamboanga City and Zamboanga del Sur province in Zamboanga peninsula; Cagayan de Oro City and provinces of Bukidnon, Misamis Occidental and Misamis Oriental in Northern Mindanao; Davao City and provinces of Davao del Norte, Davao del Sur and Davao de Oro in Davao region; provinces of Cotabato and South Cotabato in SOCCSKSARGEN; Butuan City and Agusan del Norte province in Caraga region; and provinces of Lanao del Sur and Maguindanao in the Bangsamoro Autonomous Region in Muslim Mindanao.
The rest of the country is under what the IATF classified as "low-risk" MGCQ.
Problem in Cebu City
Addressing the problem in Cebu City, Duterte explained that he had ordered Environment Secretary Roy Cimatu to take a proactive role as the chief implementer to plug the alleged loopholes on the campaign against the spread of COVID-19 in the city.
The Chief Executive was unable to hide his dismay with the people of Cebu for not abiding by the government's strict regulations.
"You have the highest. Cebu is now the hotspot for COVID. Why? Many are not obeying the protocols… Why? Nobody takes the lead. Many are not abiding (by the regulations)," he said.
Duterte also appealed to Cebuanos not to get mad at him if he speaks frankly.
"Look, I am here to run government. I'm not here to stay forever," he said.
Duterte said his administration has been working hard to address the pandemic, which has put many Filipino families jobless and many companies unable to sustain their operations.
"Well, for the things that we can really afford and which we had at the time of the outbreak, we are OK. But if you talk about the sheer number… Epidemic is local, it's national. Pandemic is it traverses boundaries, the whole of the planet Earth, so nobody is prepared for it," he said.
The President noted that the United States, China and even Brazil have suffered setbacks after "relapses" in the number of people afflicted with COVID-19 were reported.
He reiterated his call to every Filipino to abide by social distancing measures, wear face masks and avoid unnecessary trips outside the house, particularly for senior citizens and the nosy ones.
"Now, the only thing that can really prevent it is to stop COVID or minimize COVID. Let's hope there will no longer be further increase, and the answer is really up to you. If you want to get infected, then you go out," he said.
Duterte also cautioned hardheaded Filipinos that they might end up getting charged and being detained if they are found to be loitering outside or not following health protocols.
"I do not think I would like the idea of you being picked up and detained for just going out when it is prohibited. It is just a matter of fancy or if it is really an emergency, the law enforcement will understand it," he said.
211,000 protocol violators
Over 211,000 persons have been accosted for violating community quarantine protocols in the country, the Philippine National Police (PNP) said yesterday.
PNP deputy chief for operations Lt. Gen. Guillermo Eleazar said 211,064 quarantine violators have been apprehended since March 17.
Of the number, 22,716 were accosted when lockdown protocols were eased in Metro Manila and other parts of the country on June 1, or an average of 757 apprehensions a day this month.
Luzon island has the most number of apprehended with 134,807, followed by the Visayas with 41,376 and Mindanao with 34,881.
Eleazar pointed out that only 64,515 violators or 30.56 percent landed in jail and are facing charges.
A total of 11,582 received verbal warning while 33,967 were fined. Emanuel Tupas, Ghio Ong, Louella Desiderio, Sheila Crisostomo, Paolo Romero
Related video: