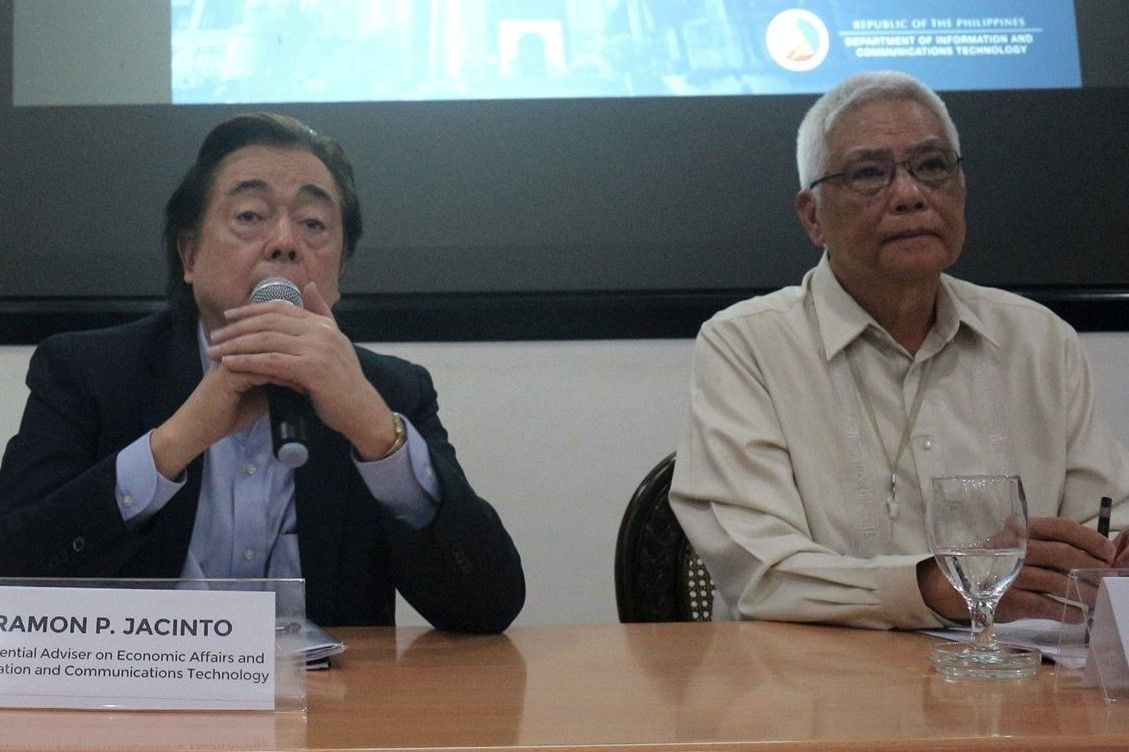 Ramon "RJ" Jacinto (left), a businessman and musician by profession, has been appointed to replace Undersecretary Eliseo Rio Jr. (right) at the Department of Information and Communications Technology. Prior to the appointment, Jacinto served as presidential adviser on economic affairs and ICT. Jacinto and Rio are seen in this September 2018 photo.
DICT/Released
RJ Jacinto named DICT usec
MANILA, Philippines — President Duterte has appointed his adviser on economic affairs and information technology communications Ramon "RJ" Jacinto as undersecretary of the Department of Information and Communications Technology (DICT).
Presidential spokesman Harry Roque Jr. expressed confidence that Jacinto would serve the DICT with dedication and integrity and contribute to achieving the department's mandate under the administration.
Jacinto accepted his appointment as DICT undersecretary, replacing Eliseo Rio Jr., whose resignation was accepted by Duterte last week.
A musician and broadcaster, Jacinto was appointed presidential adviser in 2016 to lead the common tower policy and improve the country's internet and mobile connectivity.
"I will do my best to galvanize telecoms reforms. The country needs 50,000 towers and we only have less than 20,000 after two decades," Jacinto said in a statement on Tuesday.
"The two dominant telecoms and the third telco must work together with government in improving our telecoms service, which is one of the lowest rated in speed and coverage," he added.
He said the government must support and give mobile carriers incentives and the latter must reinvest more on improving the service.
"We also need to implement the national broadband, especially in view of the pandemic threat so the government can react properly and independently by having its own connectivity," he added.
Jacinto expressed support to DICT Secretary Gregorio Honasan, whom he said he is ready to work with to achieve the goals of the department.
An economics graduate of Ateneo de Manila University, Jacinto is the founder of radio sation dzRJ.
He took law classes at the University of Santo Tomas while assisting his father in managing the family firm Jacinto Steel. He served as vice president of Security Bank, which was founded by his grandfather. — Christina Mendez