Rapid testing with PCR seen to help restart economy safely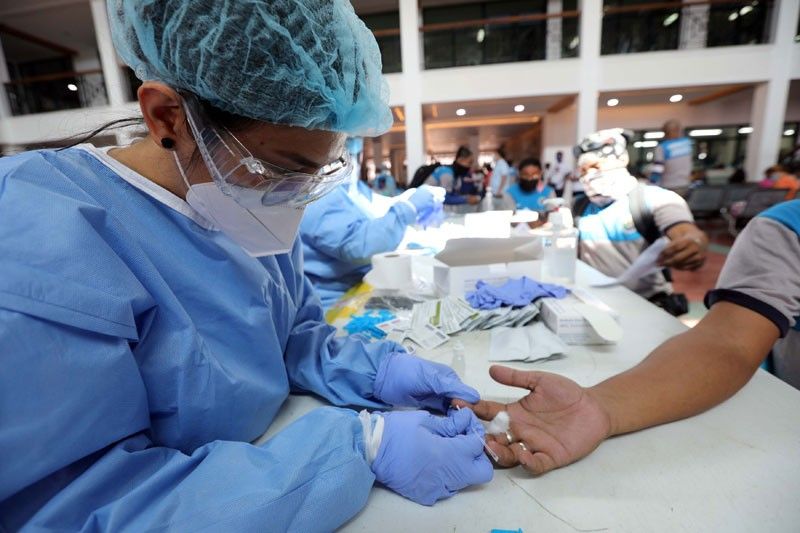 MANILA, Philippines — Private sector-led initiative Project Antibody Rapid test Kit (ARK) is pushing for the use of both rapid antibody tests and the Reverse Transcription-Polymerase Chain Reaction (RT-PCR) tests to allow the economy to safely reopen given the ongoing coronavirus disease 2019 (COVID-19) pandemic.
In a statement yesterday, the Project ARK medical team said combining both rapid and RT-PCR will enable the economy to restart while promoting safety and helping guard against a second wave of COVID-19 cases.
The Project ARK medical team is led by Dr. Minguita Padilla, a clinical associate professor at the Philippine General Hospital-University of the Philippines (UP) College of Medicine; former health secretaries Dr. Manuel Dayrit and Dr. Esperanza Cabral; Dr. Rontgene Solante, chief of the Infectious Disease Section of the San Lazaro Hospital; and Dr. Vicente Belizario, dean of the UP College of Public Health.
"We wish to find a balance. This we are trying to do through the strategic and complimentary use of reputable rapid antibody tests, combined with RT-PCR testing. It is for this reason that we are also helping government hospitals ramp up their RT-PCR testing capacities so that this can be more widely accessible and affordable," the group said.
Rapid tests use blood samples to detect presence of antibodies produced by the immune system, while the RT-PCR, considered the gold standard, makes use of nasal and throat swabs to determine the presence of the virus.
Medical groups which include the Philippine Society of Microbiology and Infectious Diseases, Philippine Medical Association, Philippine College of Physicians, Philippine College of Occupational Medicine, Philippine Society of General and Internal Medicine, Philippine Academy of Family Physicians and the Philippine Society of Public Health Physicians do not encourage the use of rapid test kits amid the possibility of false results.
Under Project ARK, participating companies are testing employees and sponsoring the conduct of tests in barangays using antibody rapid test kits.
Some companies which are part of Project ARK are also donating RT-PCR machines to hospitals.
The Project ARK medical team said during the preparation of protocol for testing, consultations were conducted with many experts including Philippine-American Academy of Science and Engineering (PAASE) president Gisela Padilla-Concepcion.
PAASE, an international professional organization, is composed of almost 400 physicians, molecular biologists, virologists, engineers and many other professionals from the field of science and engineering from various countries.
The Project ARK medical team also cited Singapore's Trade and Industry Minister Chan Chun Sing, who said rapid test kits would enable resumption of global travel and other activities requiring social interaction.
He also endorsed the use of rapid test kits given that infected people may not show symptoms.
"We're going to use the modified enhanced community quarantine to test as much as possible. This is our contribution to slowly bring back to normal our livelihood," Padilla said.
Many businesses had to temporarily halt operations as the government imposed quarantine restrictions to prevent the transmission of COVID-19.
"As we reopen the economy, we must remember to do it safely and cautiously. We must use all the tools available to us at the moment to protect the lives and livelihood of our people and to effectively fight COVID-19. I believe that extensive testing is key to protecting public health and the means to help our economy bounce back successfully from this crisis," Presidential Adviser for Entrepreneurship and Go Negosyo founder Joey Concepcion said.
Concepcion, who is spearheading Project ARK, said use of rapid tests for employees is not a waste of resources.
"It is, in fact, a way of protecting our businesses and the lives of our people. The private sector is spending more than P500 million to P600 million on this, but continuous lockdown is going to cost us much more. More testing will also enable us to more accurately monitor the true incidence of the infection," he said.
So far, Project ARK has generated over one million rapid test kits from 218 companies.
Bulk or 922,283 of the test kits will be used by partner companies, while 140,660 kits will be donated to barangays.