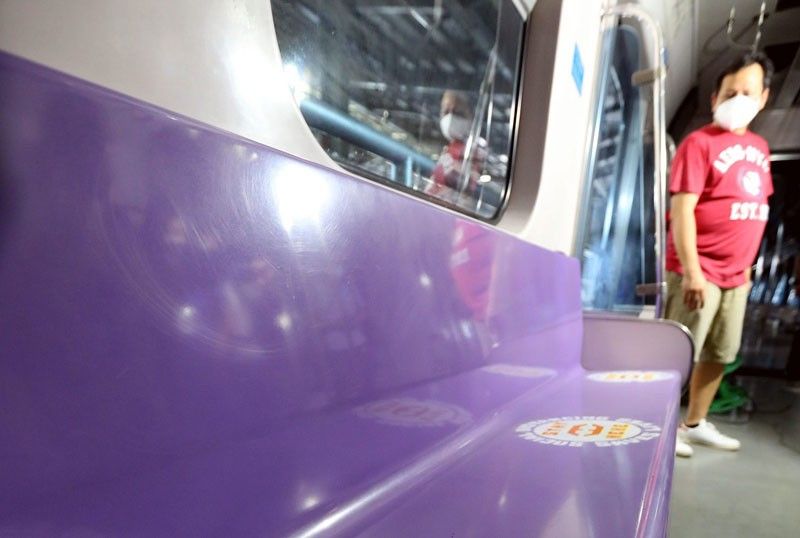 The seats of an LRT-2 coach are marked with visual cues to guide passengers on where they may sit to practice physical distancing.
Walter Bollozos
LRT readies new measures for reopening
MANILA, Philippines — Preparations are in full swing for the resumption of operations of the Light Rail Transit Line 1 (LRT-1), the Light Rail Manila Corp. (LRMC) said yesterday.
New health and safety measures would be implemented once the LRT-1 re-opens its trains to the public, according to the rail system's private operator composed of Metro Pacific Light Rail Corp., AC Infrastructure Holdings Corp. and Macquarie Infrastructure Holdings (Philippines) PTE Ltd.
LRMC said the no mask, no entry rule would be strictly implemented for all passengers, and thermal screening will be done upon entry to the stations. Those with a 37.8 degree temperature would not be allowed to enter the station.
Senior citizens, pregnant women and persons aged 20 years old and below would not be allowed to ride the trains as well.
LRMC added that physical distancing would also be strictly enforced at the stations and trains, with floor markings as guidance.
In a statement, the Metro Rail Transit (MRT) management has placed barriers on the seats of the trains to ensure the one-meter social distancing.
Information tarpaulins and posters were also placed at the stations to educate passengers on social distancing measures.
Passengers will still be requested to open their bags for inspection, but LRMC said LRT-1 security will be using a hand-held metal detector and no frisking will be conducted.
LRMC likewise encourages passengers to use stored value cards for contactless payment.
Meanwhile, it said commonly touched areas such as ticket booths, ticket vending machines, handrails, elevators, escalators, platform benches and comfort rooms would be cleaned every 30 minutes.
Trains are to be disinfected upon reaching the end of the line at Roosevelt and Baclaran stations and deep cleaned at the end of each day.
These measures are seen to ensure the welfare and protection of both passengers and employees, LRMC said.
LRMC said it is working with partners to develop innovative sanitation technologies and methods to be more efficient and effective in keeping the railway safe for passengers.
"We look forward to serving once again our passengers who rely on the LRT-1 for their daily commute. We are committed to keeping you safe and giving you peace of mind as you ride our trains and return to your routine. Now more than ever, we appeal for your cooperation as we all face this new normal," LRMC president and CEO Juan Alfonso said.
LRT-1 operations have been suspended since March 17 as a result of the government's enhanced community quarantine.
Preventive and maintenance work for the line have been undertaken during the period in accordance with the IATF's work safety guidelines to ensure improved service.
According to the Department of Transportation (DOTr), each train set of LRT-1 can ferry 12 percent or 158 passengers per trip with the implementation of a reduced capacity service once operations resume.
Prior to the health crisis, the DOTr said the LRT-1 had a daily ridership of 500,000. – Ralph Edwin Villanueva