AFP flooded with requests for quarantine enforcement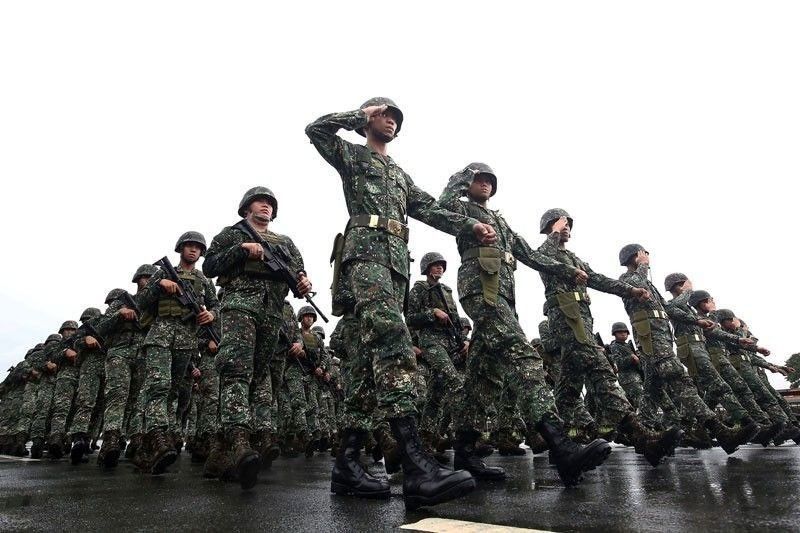 MANILA, Philippines — The Armed Forces of the Philippines (AFP) is being flooded with requests from Metro Manila barangay captains needing additional troops to help them enforce the government-declared enhanced community quarantine (ECQ) in their respective communities.
Brig. Gen. Edgard Arevalo, AFP spokesman, said local governments – in particular, Quezon City, Parañaque, Mandaluyong and the municipality of Pateros – have asked the AFP leadership for additional troops.
"If we are going to base on the requests received by AFP, we can say that barangay captains in whole of Metro Manila are asking the AFP for more troops to enforce provisions of the ECQ," Arevalo said.
Currently, he said on top of the regular troops, around 800 military reservists have volunteered to render COVID-19 duties in Metro Manila.
Arevalo said 500 of these reservists, all under the supervision of regular military members, are currently deployed in Quezon City and Manila, while 300 others are helping enforce quarantine in the cities of Parañaque and Pasay.
Aside from helping the LGUs in delivering and distributing relief goods, these military reservists are also mandated to assist barangay officials restore discipline and order in their respective communities.
The AFP likewise deployed 15 additional military vehicles installed with loudspeakers for deployment on major city streets, as well as secondary and community roads, to remind the general public to strictly enforce physical distancing and observe the enforced curfews in their respective communities so as to prevent the spread of the virus.
"This is but one of the many steps that the AFP is taking in line with an enhanced visibility of our soldiers in support of our colleagues in the Philippine National Police, apart from what our soldiers are doing in COVID-19 quarantine checkpoints," Arevalo said.
He also bared that out of 33 military personnel found positive for COVID-19, 23 have fully recovered and returned to their respective duties, with the remaining 10 are still confined in hospital.
Meanwhile, Arevalo said that while the AFP has not received any instruction from the President for the military to enforce a total lockdown, it is always prepared to carry this out if so ordered.
Addressing the country in a televised broadcast recently, the President called on the general public to strictly observe the quarantine because if not, he will be forced to call in the military and police to restore order and discipline.