PGH head nurse dies of COVID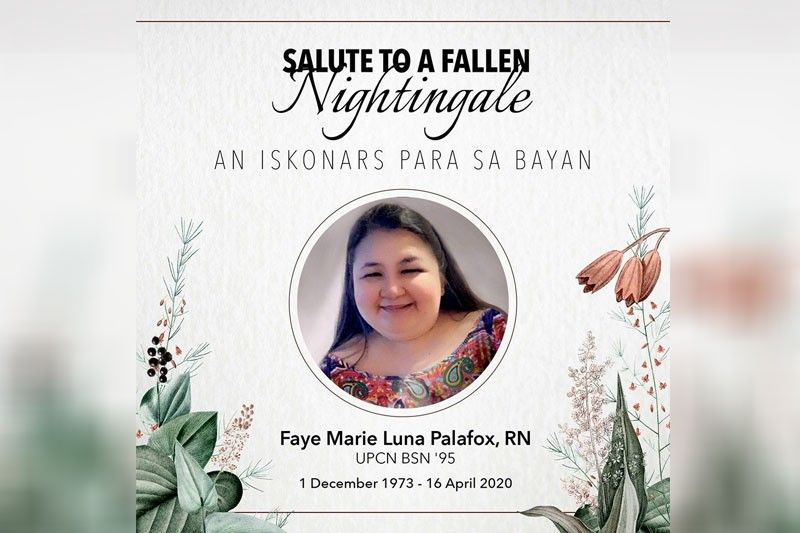 MANILA, Philippines — She was a true IskoNars Para sa Bayan.
Family, friends and colleagues are mourning the loss of Philippine General Hospital (PGH) head nurse Faye Marie Luna Palafox, one of the latest in the long list of medical workers in the country who have fallen to the coronavirus disease 2019 (COVID-19).
Palafox died on April 16, according to the University of the Philippines College of Nursing. She was 46.
"During her last seven days in PGH, she performed the role of safety officer in charge of ensuring the complete and correct donning of personal protective equipment of nurses before these nurses enter their unit," said the university.
"While we mourn her passing, we continue to celebrate her life characterized by unwavering dedication and commitment to serve the Filipino people beyond the call of duty," it added.
Palafox joined the PGH as a staff nurse in 1996. She rose up the ranks and to become the head nurse of the hospital's 5RCB1 ward.
Tributes and messages of gratitude for Palafox flooded social media, including in her own Facebook account.
"No words can describe the pain of losing someone who's been with you since the day you came into this world," her niece Ericka said in a message posted on Facebook. "She has all the love to give to this world. But God needed an angel and so He took the best. Let us all continue to pray for her soul. She is now resting in paradise. Heaven just gained another angel and they now have the best of the best."
According to the Department of Health, 22 healthcare workers in the country have died due to COVID-19. At least 766, including 339 doctors and 242 nurses, have been infected.
Aside from Palafox, UP said eight alumni have died on the frontlines since the pandemic began.
Among them are doctors Romeo Gregorio Macasaet III, Marcelo Jaochico, Raul Jara, Salvacion Rodriguez Gatchalian, Raul Eslao, Leandro Resurreccion III and Dennis Ramon Tudtud.
Registered nurse Raul Della Eslao, a graduate of the UP Integrated School and UP Diliman College of Architecture, also died while fighting in the frontlines in Michigan.
Tudtud's wife, pathologist Helen Evangelista Tudtud, also succumbed to the illness.
At least five other alumni of the university have died due to COVID-19: Nida Cortes Paqueo, Aileen San Pablo Baviera, Alan Ortiz, Prudencio Regis and Renato Velasco.
Meanwhile, Filipino nurse Donald Suelto died alone in his home in the United Kingdom, two weeks after developing COVID-19 symptoms, although officials have yet to rule on the cause of his death. He was 51.
Suelto was discovered dead inside his residence in London on April 7.
Known as Dondee to his family and friends, the Negros Island native went on quarantine after being exposed to a patient who later tested positive for the disease.
He worked in the chemotherapy department of the Hammersmith hospital.
Friends have established a fundraiser to process his remains and support his family in the Philippines.
"Dondee was a very upbeat person, happy and fun to be with. He was also very dedicated to his job as a nurse," read the crowd-funding initiative, which has so far raised over 5,400 pounds. "Dondee was also the breadwinner of his family in the Philippines for his elderly mother and niece and nephews depending on his financial support."
In an interview with British newspaper The Guardian, Suelto's niece Emylene Robertson said her last contact with her uncle was on April 2 when he told her that paracetamol was not working to address his fever.
"My uncle said to me: 'I will catch the virus, because my patient coughed in front of me and I had no mask,'" Robertson was quoted as saying in the report. She said the police found her uncle dead in his flat after days of not being able to reach him.
Robertson, who is based in Scotland, lamented difficulties in finding the remains of her uncle. The report said it took her a week before she was able to locate his body.
Foreign Affairs Secretary Teodoro Locsin Jr. expressed condolences to Suelto's family.
According to the Department of Foreign Affairs, at least 106 Filipinos overseas have died due to COVID-19.
A total of 837 cases have been confirmed, with 483 undergoing treatment. The rest have recovered.
Bello's sis dies of COVID
Labor Secretary Silvestre Bello III confirmed the death of his sister, Catherine Bello, after weeks of battling COVID.
"Just this morning, we received the news that my sister, my favorite sister Cathy, already left us," Bello revealed during yesterday's Laging Handa public briefing.
He said his sister was taken to the hospital on March 25 and later diagnosed positive of COVID-19.
His sister was already recovering, he added, but then worsened and succumbed to the infection.
Catherine served as the labor secretary's chief of staff prior to her death. – With Mayen Jaymalin