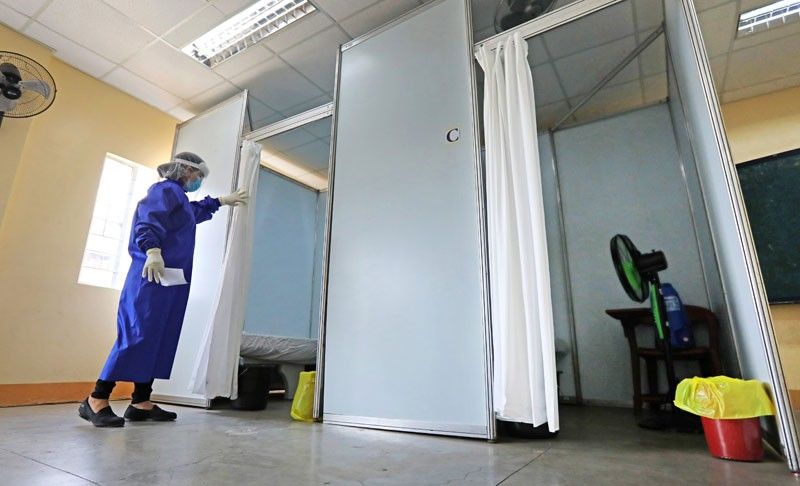 A health worker checks a temporary isolation facility for COVID-19 patients and persons under investigation at the Quezon City University yesterday.
Walter Bollozos
Quezon City care facilities give hope to COVID patients
Janvic Mateo
(The Philippine Star) - April 9, 2020 - 12:00am
MANILA, Philippines — For the people behind the temporary isolation facilities established in Quezon City, patients under treatment for the coronavirus disease 2019 (COVID-19) need more than just medical attention to recover from the illness. They also need hope.
Last week, four patients were greeted with applause as they emerged victorious after weeks-long battle with the viral disease.
Days before that, it was the medical workers of the isolation facility – aptly named HOPE – who took care of the patients and provided for their needs.
"From now on, you will forever be part of my life," wrote one of the patients in Filipino at the dedicated board at the Hope 1 facility.
"Thank you for guiding us. I hope you can help more people," wrote another patient.
Vince Mendoza, who heads the Hope 1 facility, said the discharged patients have tested negative for the virus.
They will still undergo home quarantine for 14 days and have been advised to have a follow-up examination.
"The number is still considerable – worthy of quiet applause to motivate our workforce. This is our start. This is our victory," he said.
"The road ahead will be long. Our climb will be steep. There will be setbacks and false starts but we as a people will get there," added the doctor.
Anticipating an increase in the number of COVID-19 patients in the country, the Quezon City government was among the first to open a separate isolation facility to support local hospitals.
By mid-March, Quezon City Mayor Joy Belmonte said they had secured a partnership with a hotel in the city to serve as the first isolation facility, to be called Hope 1.
"Hope 1 has 49 rooms to isolate and monitor identified persons under investigation (PUIs) and COVID-19 patients," she said. "These are individuals with symptoms associated to the virus, has history of travel in countries with confirmed local transmission or with close contact with a confirmed COVID-19 case."
While PUIs and COVID-19 patients with mild symptoms can isolate in their homes, Belmonte noted that there are residents who live in houses that would not enable them to do so.
By moving them into a dedicated isolation facility, she said the patients could receive the medical attention they need while at the same minimizing exposure of other people to the virus.
On March 31, the city opened Hope 2 at the Quezon City University to accommodate more PUIs and COVID-19 patients.
Aly Medalla, overall coordinator for Hope 2, said they currently have 23 PUIs and COVID-19 patients at the facility, which can accommodate 175 people.
They are also converting other buildings of the city-operated university to expand capacity to over 400.
Medalla noted plans to conduct mass testing in different barangays in the city, which is expected to increase the number of PUIs and confirmed COVID-19 patients.
As of Tuesday, the Department of Health said there are 625 confirmed COVID-19 cases in the city. Thirty-four have died, while 26 have recovered.
Augmenting hospitals
The idea for the Hope facilities, according to Medalla, is to assist hospitals as more patients seek treatment for the disease.
"A third Hope facility is in the works," she told The STAR. "It will also be a hotel."
It will have have 80 separate rooms for patients under investigation and monitoring for COVID-19.
A 15-bed Hope 4 facility inside the Quezon City General Hospital will also be established.
Should the need arise, Medalla said they are also considering the possibility of converting public schools deemed to be conducive for such purpose.
According to the city government, transferring those with mild symptoms to separate facilities would enable hospitals to focus on more severe cases, especially those involving the elderly.
Josephine Sabando, director of the Quezon City General Hospital, said they were able to take in more patients that require immediate attention because of the alternative isolation facilities.
Only those not considered at risk are allowed to be admitted at Hope facilities. These include those below 60 years old who are not suffering from other illnesses.
Admissions have to be endorsed by the city's health centers and hospitals.
Medalla said they have dedicated health workers at the Hope facilities to ensure that the patients are provided the medical attention and care that they need while recovering.
The frontliners serve for two weeks and undergo quarantine at a dedicated facility set up for them by the city government.
"Once they complete the quarantine, we enjoin them to go back," said Medalla, expressing gratitude to the commitment of the health workers to serve in this time of the public health crisis.