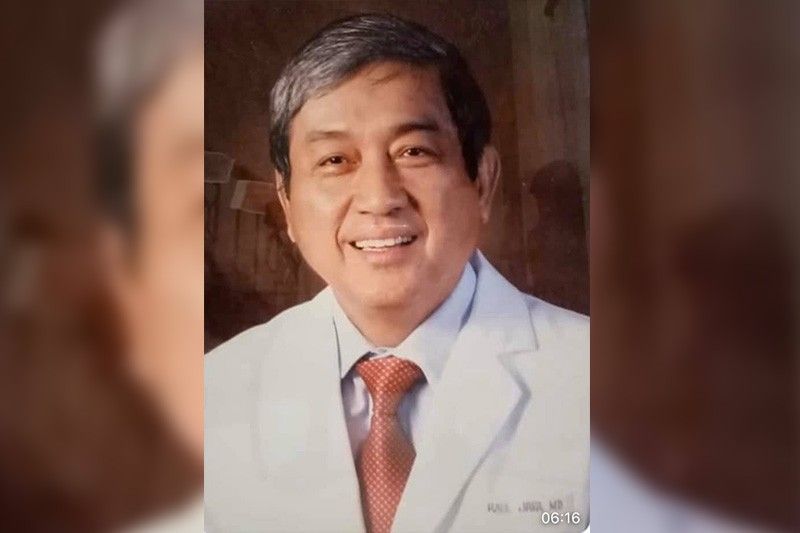 The Philippine Heart Association announced the passing of cardiologist Raul Diaz Jara due to COVID-19.
Philippine Heart Association/released
Cardiologist, a life-long learner and mentor, passes on due to COVID-19
MANILA, Philippines — The Philippines lost another of its front-liners in the fight against COVID-19 pandemic on Tuesday, as a noted cardiologist Raul Diaz Jara due to the new coronavirus disease.
The Philippine Heart Association mourned the loss of its former head, Jara, whom it fondly recalled as "one of the great pillars of Cardiology," and a "great father, teacher, mentor, poet, author, singer, colleague and friend."
PHA noted that Jara did not fail to impart knowledge and wisdom in his life, and has made trainees sweat with bullets with his questions, but left his teachings to the young professionals.
"Philippine Cardiology will not be the same without you," it added.
Jara was one of the authors of the 2013 published book, "My First Book on Echocardiography."
He was PHA's president on 1999-2000, and was the recipient of the Loyalty Award in 2008 given to those who "must have continuously served the Association in various capacities and has contributed in the furtherance of its goals."
PHA also posted a note from Jara's family, who remembered him as one who "dedicated his whole life to constant learning and teaching and molding future doctors."
"As an Internist and Cardiologist, he is passionate about the art and science of his work. He took pride in serving the Filipino people. He paid tribute to the predecessors who paved the way for medicine," his family also saod.
Jara's family also thanked the doctors, nurses and staff of the Philippine Heart Center who went beyond the call of duty and "treated him with compassion."
They asked: "We must be strong. We must live on. We must persevere. Go on with a steady heart."
COVID-19 deaths
COVID-19 infections in the Philippines breached the 500th mark on Tuesday.
The Department of Health reported 39 new infections, bringing the total number of COVID-19 cases in the country to 501.
33 have died due to the disease, while 19 patients have so far recovered.
Among those who died was an unnamed young cardiologist and anaesthesiologist Dr. Greg Macasaet, whose death was announced by Manila Doctors Hospital.
Health workers at the frontlines on long shifts are among those most exposed to the virus.
In a statement issued on Sunday, healthcare group Coalition for People's Right to Health (CPRH) called for more support to be afforded to health workers, whom the group said was among those most vulnerable and at risk amid the outbreak of the virus.
READ: Groups call for COVID-19 testing, better support and pay for health workers
"From experiencing mandatory quarantine to severe cases of respiratory distress and now even death, health professional and workers are literally giving their lives in the service of the nation and its people during this pandemic," the statement read. — with reports from Franco Luna
As It Happens
LATEST UPDATE: April 8, 2020 - 4:08pm
Follow this page for updates on a mysterious pneumonia outbreak that has struck dozens of people in China.
April 8, 2020 - 4:08pm
The Department of Health reports 106 new confirmed COVID-19 cases, bringing the tally to 3,870.
There are 23 new recoveries and five new fatalities, the DOH adds.
April 8, 2020 - 3:32pm
Voicing joy and excitement from behind face masks, tens of thousands of people fled Wuhan on Wednesday after a 76-day travel ban was lifted on the Chinese city where the coronavirus first emerged.
Previously quiet train and bus stations bustled as an exodus began from the city of 11 million, with some passengers wearing hazmat suits.
Hao Mei, a single parent from the nearby city of Enshi, said her two children had been home alone since she got stuck in Wuhan, where she works in a school kitchen.
"You have no idea! I was already up around 4 am. I felt so good. My kids are so excited. Mum is finally coming home," the 39-year-old told AFP as she waited to board a train.
"At the start of the lockdown, I cried every night. I was really miserable, because my little girl is still young, she's only 10."
Up to 55,000 people are expected to leave Wuhan on Wednesday just by train, according to government estimates. -- AFP
April 8, 2020 - 12:14pm
The National Telecommunications Commission and United Nations Children's Fund join hands with the telecommunications to ensure parents and children's security both online and offline amidst the COVID-19 pandemic.
Upon UNICEF's request, the NTC extends its support in spreading information to alleviate the situation. The telecommunications sector is sending out text blasts encouraging subscribers to visit unicef.ph and saferkidsph.org for information and tips on how to support parents and children in managing the impact of COVID-19.
April 8, 2020 - 8:02am
US President Donald Trump threatens to put a "hold" on funds to the World Health Organization, accusing it of bias toward China and performing badly in the coronavirus pandemic.
Trump tells he was "going to put a very powerful hold on" the WHO, the UN body whose biggest funding source is the United States. He gave no details about how much money would be withheld or when. — AFP
April 8, 2020 - 8:01am
The worldwide number of fatalities from the novel coronavirus rises 80,142, according to a tally compiled by AFP at 1900 GMT from official sources.
More than 1,397,180 declared cases have been registered in 192 countries and territories since the epidemic first emerged in China in December. Of these cases, at least 257,100 are now considered recovered.
The tallies, using data collected by AFP offices from national authorities and information from the World Health Organization (WHO), probably reflect only a fraction of the actual number of infections. — AFP