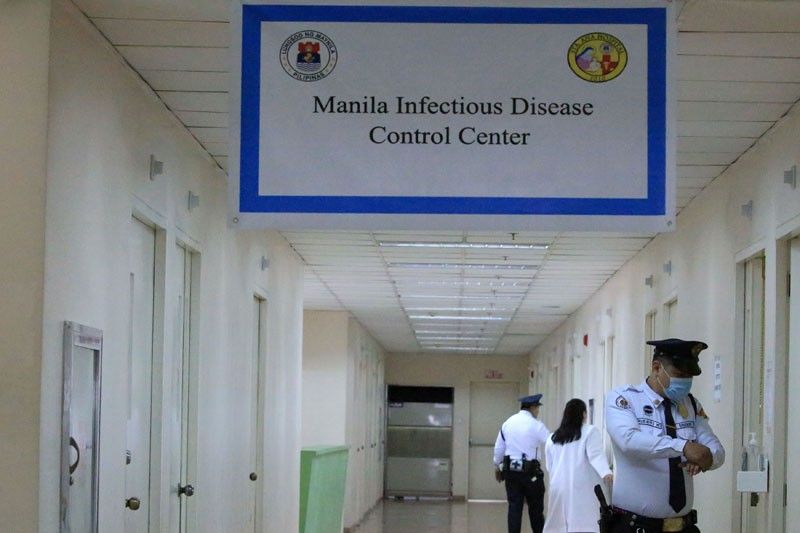 In a statement released last night, the DOH said the death of Case Nos. 6, 5 and 37 brought to five the total number of COVID fatalities in the country.
Michael VArcas/ File
3 more patients die – DOH
MANILA, Philippines — Three more people afflicted with coronavirus disease 2019 (COVID-19) have died, according to the Department of Health (DOH).
In a statement released last night, the DOH said the death of Case Nos. 6, 5 and 37 brought to five the total number of COVID fatalities in the country.
The DOH said Patient 6, a 59-year-old female, died due to severe pneumonia secondary to COVID. The patient, a known diabetic was initially admitted at the Cardinal Santos Medical Center last
March 5 and was transferred to the Research Institute for Tropical Medicine (RITM). She started experiencing difficulty in breathing and expired Wednesday night.
Patient 5, the 62-year-old husband of Patient 6, died the same night due to acute respiratory distress syndrome from severe pneumonia secondary to COVID. He was a diabetic, hypertensive and had acute kidney illness prior to being infected. The couple from Rizal have no history of travel.
Last March 6, Patient 37, an 88-year-old female, was admitted at the Philippine Heart Center and was confirmed positive for COVID on March 11. She was reported to have hypertension and died yesterday afternoon due to acute respiratory failure.
The number of confirmed COVID-19 cases in the country rose to 52 after three more people tested positive for the potentially deadly infection, the DOH said yesterday.
Local government units, it added, are conducting extensive information gathering and contact tracing on the new cases.
"So we continually ask the public to cooperate and help us in the investigation and contact tracing activities," Health Secretary Francisco Duque III said in a statement.
He advised individuals with history of known exposure to a positive patient or have traveled to areas with local transmission (either locally or outside the country) and exhibiting mild symptoms to self-isolate and be home quarantined for 14 days.
However, those with severe and critical symptoms should be immediately admitted to health facilities, he added.
The other night, the DOH confirmed the death of a Filipino (identified as Patient 35) who was infected with COVID-19, the first on record for a Filipino and second after the death of a foreign national.
It revealed that Patient 35 experienced symptoms last Feb. 29 and was admitted at Manila Doctors Hospital last March 5. She died of severe pneumonia.
"Our recent mortality had underlying medical conditions, making the patient extremely vulnerable to COVID-19. So, we reiterate that the best way to protect yourself from the disease is to keep yourself healthy and practice general preventive measures: proper hand washing, cough etiquette and social distancing," Duque said.
He also said that based on available data, the elderly (average of 66 years) and those with underlying medical conditions, such as cardiovascular disease, diabetes, cancer, chronic lung disease and immunosuppression, are vulnerable to this disease.
"We further urge those who are immunocompromised and with existing health conditions to be more vigilant and avoid crowded areas and mass gatherings," he added.
In Quezon City, Mayor Joy Belmonte confirmed that two more residents have contracted COVID-19, bringing the total of those infected in the city to six.
She said the fifth case was that of a 26-year-old male who works in a multinational company and lives in Barangay Bagong Lipunan in Crame. The man had no previous travel history but was confined at a hospital outside the city for dengue last week.
The sixth was that of the 69-year-old female who lives in Barangay White Plains, Belmonte said in an interview with radio dzBB. No other detail was provided.
Belmonte already ordered the tracing of those who had contact with the patients.
The two new cases announced by the mayor appear to be not among the 49 cases officially announced by the Department of Health (DOH).
In neighboring San Juan City, Mayor Francis Zamora confirmed that the number of infected persons climbed to eight, with the latest being a 57-year-old male resident of Barangay Greenhills.
"The patient was transferred to a tertiary hospital in Metro Manila. He is currently in stable condition," Zamora said in a statement as he reminded residents to constantly practice proper hygiene and regularly clean their surroundings.
Las Piñas City confirmed its first case. Patient 36 was described as 53 years old and confined at the Las Piñas General Hospital and Trauma Center. It also ordered contact tracing for his family and others who were close by.
A 62-year-old patient under investigation (PUI) also became the first case for Negros Oriental province after a test showed him positive for COVID-19.
Bimbo Miraflor, the provincial spokesman, said the man is in critical condition at a private hospital in Dumaguete City. He is on ventilator and is being treated for severe pneumonia.
Three other PUIs manifested mild symptoms and were placed on home quarantine.
In Cagayan de Oro City, health authorities said a patient confirmed to be positive for COVID-19 was placed in isolation as another – a patient under monitoring in Iligan City –was also confirmed to have contracted the disease.
Bulacan province also conducted contact tracing for a 58-year-old woman currently confined at a hospital in Metro Manila. The patient is said to be improving.
Meanwhile, Army chief Lt. Gen. Gilbert Gapay clarified that the military chaplain and an enlisted personnel who just arrived from their foreign trips only submitted themselves to 14-day quarantine and are not positive for COVID-19. – With Janvic Mateo, Emmanuel Tupas, Ralph Edwin Villanueva, Gilbert Bayoran, Gerry Lee Gorit, Ramon Efren Lazaro, Jaime Laude, Cecille Suerte Felipe