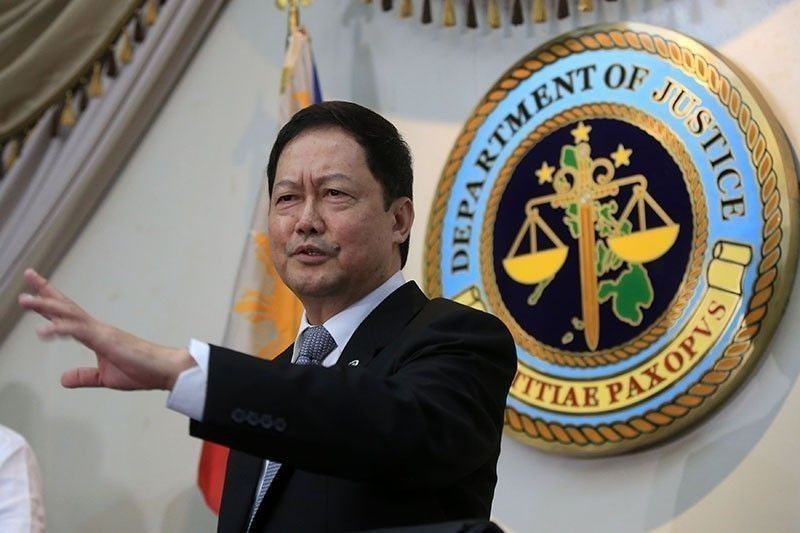 Justice Secretary Menardo Guevarra said the letter from the NTC, seeking clarification on the network's franchise, was received last Tuesday and the DOJ aimed to issue a reply next week.
The STAR/Edd Gumban, File photo
NTC asks DOJ: Can ABS-CBN operate sans franchise?
Alexis Romero
(The Philippine Star) - February 21, 2020 - 12:00am
MANILA, Philippines — As Malacañang and Congress gave different views, the National Telecommunications Commission (NTC) has asked the Department of Justice (DOJ) for its legal opinion on whether media giant ABS-CBN should be allowed to continue operating after its franchise expires on March 30.
Justice Secretary Menardo Guevarra said the letter from the NTC, seeking clarification on the network's franchise, was received last Tuesday and the DOJ aimed to issue a reply next week.
This developed as Speaker Alan Peter Cayetano gave assurance that ABS-CBN could continue operating even after its franchise expires, as long as Congress is still deliberating on its extension.
Cayetano, however, said the House of Representatives may wait until after President Duterte delivers his State of the Nation Address in July before tackling the network's franchise.
Malacañang, meanwhile, said yesterday that allowing a network to operate even after its franchise has expired is legally "questionable."
The Palace called on Congress to do its job in relation to the bills seeking renewal of the franchise of television network ABS-CBN. ??
Presidential spokesman Salvador Panelo said problems might arise if somebody questions the practice before the court. ??
"According to them (lawmakers), there has been a practice of extending the franchise. But the legality of that would be questionable. If somebody questions that before the Supreme Court, there would be a problem. But what is important, the President said, is they should do something about it. Meaning to say, do their job. If there is a pending application before Congress, then members of Congress should deliberate on it and decide whether or not to grant or to deny the extension," Panelo said at a press briefing.
The Lopez-led network is facing an uncertain fate as the House, which is dominated by allies of President Duterte, has yet to hold a hearing on bills renewing its franchise. ??
Duterte, who has accused ABS-CBN of biased reporting and swindling, has vowed to see to it that the network would be "out."
Officials, however, have claimed that the President does not interfere in the job of Congress and that his remark was just an expression of "personal displeasure" with the network. ??
Earlier this month, Senate President Vicente Sotto III said ABS-CBN might still operate after March 30 as long as there are pending bills seeking to renew its franchise. Sotto has said the network's franchise would be "deemed extended" and would only be terminated if the 18th Congress adjourns in 2022 without passing a franchise renewal bill. ??
Sotto's view was not shared by some of his colleagues, including Senate Minority Leader Franklin Drilon, who believes that ABS-CBN cannot be allowed to operate after the expiration of its franchise.??
Panelo claimed Duterte has nothing to do with the inaction on the network's franchise renewal bill. ??
"Because if you noticed, commentaries tend to blame him for the impasse and he said, 'I don't have anything to do with it. They should know my character by this time. I do not interfere with their work. Any utterance that I made before the public in relation to ABS-CBN is in connection with what I experienced with them during the elections. They cannot deny me of that'," Panelo said. "That issue is in the hands of Congress and he has nothing to do with it; do their work." ??
Asked whether the government would question moves to allow ABS-CBN to operate after March 30, Panelo said it would be up to the Solicitor General to decide on the matter. ??
"If he (Solicitor General) feels that there is any violation on any law, then he should do his job," Panelo said. "I didn't say there seems to be a violation. There is doubt of whether that is legal or not. Now, whether or not SolGen will initiate an action, you will have to ask him. That is his territory," he added. ??
The Office of the Solicitor General (OSG) has asked the Supreme Court to revoke the legislative franchises of ABS-CBN Corp. and its subsidiary ABS-CBN Convergence, Inc. saying the network was engaged in "highly abusive practices."
It also accused ABS-CBN of going beyond the scope of its franchise by broadcasting for a fee and of violating the Constitution by allowing foreign investors to take part in the ownership of a Philippine media entity.??
ABS-CBN has denied violating the law, saying all its broadcast offerings have received the necessary government and regulatory approvals and are not prohibited by its franchise. It also claimed that ABS-CBN Holdings' Philippine Deposit Receipts were evaluated and approved by the Securities and Exchange Commission and the Philippine Stock Exchange prior to its public offering. ??
Legal opinion
Guevarra said that in the NTC letter, "the main question is whether or not ABS-CBN may continue operating after the lapse of the franchise period, pending action by the Congress on the franchise renewal bills."
Justice Undersecretary Markk Perete said the legal staff is evaluating the NTC request.
But Speaker Alan Peter Cayetano guaranteed yesterday that ABS-CBN would not cease operations even if its franchise expires on March 30, giving reassurances that the House committee will start hearing its 11 pending bills by August.
Cayetano, in a chance interview in Zambales yesterday, called for sobriety among supporters and critics of the TV giant, saying the highly contentious and emotional issues can only be resolved when cooler heads prevail in a proper deliberative forum.
He noted that no less than executives of the network itself made "good pronouncements" that they will make their official stand on the merits of the bills once the House committee on legislative franchises invite them to a hearing.
Cayetano, for the first time, gave a rather specific timeline on when the committee of Palawan Rep. Franz Alvarez will take up the franchise renewal, considering that time seems to not be in favor of ABS-CBN.
He explained that House members may be pressed for time now since Congress will be taking a break on March 13, after which the resumption of sessions will be on May 3 and will last until June 5 for the sine die adjournment. The next session after that will be on the last Monday of July for the fifth State of the Nation Address (SONA) of President Duterte.
Given this, he said it would be better to hear the franchise renewal bill after the Chief Executive delivers the SONA since Congress would then resume session until October.
Cayetano also sternly reminded his former colleagues at the Senate against pushing through with the plan to take up unilaterally ABS-CBN's legislative franchise issue as this will definitely violate the 1987 Constitution, which provides that all legislative franchises shall emanate from the House of Representatives before it can reach the upper chamber.
Section 24, Article 6 of the 1987 Constitution reads: "All appropriation, revenue or tariff bills, bills authorizing increase of the public debt, bills of local application and private bills shall originate exclusively in the House."
"I'm baffled at Senator Grace (Poe) and other senators. If it is about Charter change, they don't want to talk about it. But they feel free to violate the Constitution (in the ABS-CBN case)," he said.
With obvious sarcasm, Cayetano implied how prejudiced the senators are on certain issues like the ABS-CBN franchise. – With Evelyn Macairan, Delon Porcalla, Emmanuel Tupas, Bebot Sison Jr.