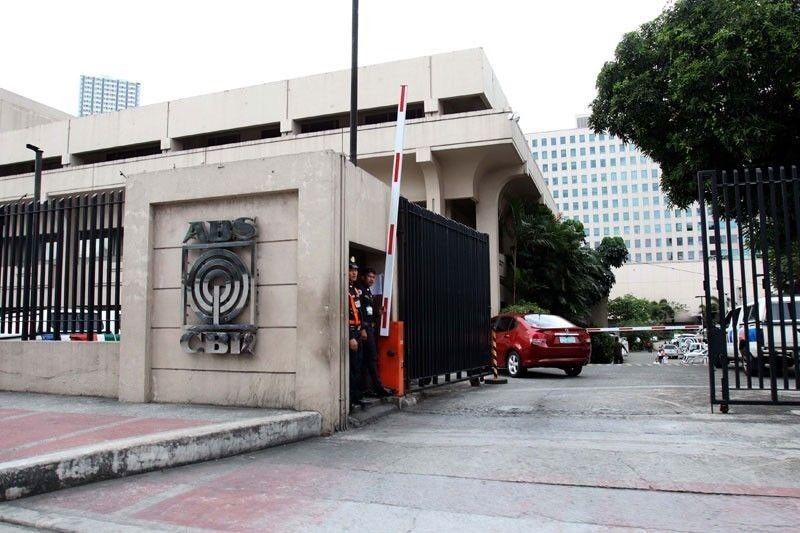 The bills that seek to renew ABS-CBN's franchise remain pending at the House committee on legislative franchises, with only a few weeks left before the expiration of the network's existing franchise.
Boy Santos/ File
Senate to give ABS-CBN fair hearing — Go
Paolo Romero
(The Philippine Star) - February 15, 2020 - 12:00am
MANILA, Philippines — Sen. Christopher "Bong" Go yesterday said broadcasting network ABS-CBN will be treated fairly if the bills to renew its franchise are approved in the House of Representatives and forwarded to the Senate.
"We will give it a fair hearing in case it reaches the Senate. For my part, I will consider the welfare of each Filipino and the welfare of the employees. Rest assured, the interest of Filipinos will be the main consideration of my decision," he added.
The bills that seek to renew ABS-CBN's franchise remain pending at the House committee on legislative franchises, with only a few weeks left before the expiration of the network's existing franchise.
Because the bills have been filed, Senate President Vicente Sotto III and Isabela Rep. Antonio Albano stated in interviews that the existing franchise is deemed extended until the end of the 18th Congress in March 2022 unless Congress makes an earlier denial of the renewal.
Go recalled a similar case involving the Catholic Bishops' Conference of the Philippines, which also runs a network, that was allowed to operate while its franchise was still pending.
Sen. Grace Poe, chair of the Senate committee on public services, earlier filed a Senate resolution to investigate the network's compliance with its current franchise requirements.
Meanwhile, AKO Bicol party-list Rep. Alfredo Garbin Jr., member of the committee of legislative franchises and one of the proponents of the grant of franchise renewal for ABS-CBN, admitted that some of his colleagues felt the pressure from President Duterte's pronouncements against the broadcast giant.
"I will not deny, there were some who got pressured," he said without identifying them. "Despite the pronouncement of the President, I still signed the resolution and co-authored the bill because it's the right thing to do, for the association to be given their chance in their proceedings, so they can prove that they are worthy to be renewed."
At least 13 lawmakers filed bills supporting ABS-CBN's application for franchise renewal. These include Deputy Speakers Vilma Santos-Recto of Batangas, Rose Marie Arenas of Pangasinan, Aurelio Gonzales Jr. of Pampanga and Johnny Pimentel from Surigao del Sur. Also for the renewal are Cagayan de Oro Rep. Rufus Rodriguez, Nueva Ecija 2nd district Rep. Micaela Violago, Albay 2nd district Rep. Joey Salceda, former ABS-CBN reporter and now Laguna 3rd district Rep. Sol Aragones, Mindoro Oriental Rep. Doy Leachon, PBA party-list Rep. Jericho Nograles, Parañaque 2nd district Rep. Joy Mira Tambunting and Mindoro Occidental Rep. Josephine Ramirez-Sato.
Albano, vice chair of the panel, denied Garbin's claim and said their officers and members have not in any way been pressured by the President's statements.
"The President has never interfered and does not intend to interfere in the business of Congress. He values separation of powers and has much respect for us to do so," Albano stressed.
Still, Albano admitted that he shares Duterte's belief that press freedom is not absolute.
"When the right to speak is used for false news and slander the inherent basic rights of any person, then the freedom of speech becomes libelous and can be curtailed by government. The President is right in saying that media has an obligation to serve the public by making sure that they don't misuse their privilege in spreading false or fake news. And that their franchise defines clearly that they should uphold true public service, will not break any laws and should not get politicized," he stressed.
"And when media entities use their privilege to side with certain candidates in violation of their duty and franchise agreement, and if media has violated any laws, contracts or broke any of the franchise parameters, then the government, including and most especially Congress, has the right to take away their franchise to protect the people from misinformation and abuse," the lawmaker added.
Duterte had repeatedly made public his opposition to the renewal of the ABS-CBN franchise. He also accused the network in April 2017 of "swindling" him for not airing his paid political advertisements during the 2016 presidential campaign.
The House panel has yet to set hearing on bills supporting renewal of ABS-CBN's 25-year franchise, which is set to expire on March 30.
Lawmakers earlier explained that ABS-CBN may continue to operate even if it fails to secure a franchise renewal after March 30 since the rules allow holders with expired franchises to continue operations within the term of the current Congress or until 2022 if they were able to file for renewal.
Not urgent
Speaker Alan Peter Cayetano explained yesterday that the matter is not a priority of the House because it is not urgent.
"This is not that urgent. Why? Because ABS-CBN can operate until March 2022," he said in an ambush interview yesterday. "If I want to grandstand, I will call for a hearing. But is it the right timing? Are we all in the right frame of mind or are we still hot-headed?"
Cayetano said the House will resolve the matter fairly even as he echoed the criticism on the network as being biased against the Duterte administration.
"There is no doubt that ABS-CBN is already an institution. There is no doubt that it has helped the country a lot. But there is no doubt that it has issues, that's why it has been dubbed ABias-CBN," he pointed out.
The National Union of Journalists of the Philippines in Bacolod, however, called on the government to stop its "coordinated attacks against the media" as it cited Duterte's tirades against several media entities. – With Edu Punay, Gilbert Bayoran