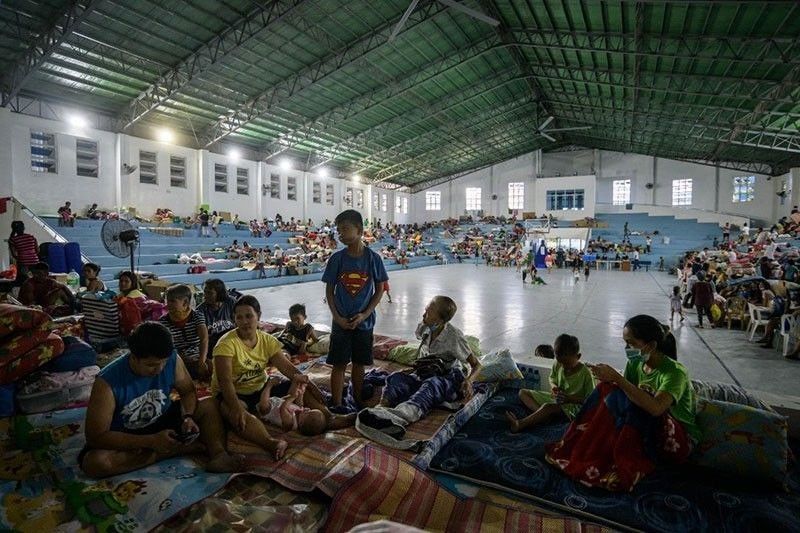 Batangas police director Col. Edwin Quilates said the psychological first aid is being given to the evacuees to fight depression at the various shelters in the province.
AFP/Ed Jones
Oplan Kalinga to ease evacuees' trauma
Ed Amoroso
(The Philippine Star) - January 22, 2020 - 12:00am
MANILA, Philippines — The Batangas provincial police has activated "Oplan Kalinga" to provide recreational activities to help heal the psychological trauma of evacuees.
Batangas police director Col. Edwin Quilates said the psychological first aid is being given to the evacuees to fight depression at the various shelters in the province.
Capt. Hazel Luma Ang-Suarez, Batangas police spokesperson, said the project aims to give a sense of normalcy, safety and security to the evacuees, especially the children.
Members of the Batangas Police Community Affairs and Development Branch in coordination with non-profit foundations set up facilities for film showing and parlor games aside from the distribution of relief goods.
Records from the Provincial Disaster Risk Reduction and Management Council as of Jan. 18 showed that 37,355 families or 162,728 individuals were staying in various evacuation centers in Batangas.
"Despite the current situation in the evacuation centers, we wanted to entertain them and ease the stress as well as to help the evacuees cope with their problems that may help facilitate emotional and psychological healing," Suarez said.
Sen. Risa Hontiveros said families affected by the Taal Volcano eruption should be given P30,000 as cash assistance by the government.
Hontiveros said the amount could be part of the P30-billion supplemental budget, which passage President Duterte has asked Congress to fast-track.
Duterte said the supplemental budget would be used to provide assistance and livelihood to displaced residents.
Hontiveros said the amount is not a loan but cash assistance to the families to help them in their daily needs inside or outside the evacuation centers.
Sen. Sherwin Gatchalian is calling for the imposition of a one-year moratorium on loan amortizations for residents affected by Taal Volcano to help them rebuild their lives amid the calamity.
Gatchalian has filed Senate Resolution No. 289 urging the Government Service Insurance System (GSIS), the Social Security System (SSS) and the Home Development Mutual Fund (Pag-IBIG Fund) to extend calamity or emergency loans to and/or impose a one-year moratorium on loan amortizations of members who are residents of the calamity areas.
He said the resolution also urges local government units to be more lenient to affected businesses on the payment of real property taxes, renewal of business permits and imposition of penalties.
Simultaneously, it calls on both private and government banks to defer loan payments of affected borrowers.
He said that the GSIS, SSS and Pag-IBIG Fund have not yet issued a moratorium with a term longer than six months on loan amortizations of their respective members and/or pensioners residing in the calamity areas, nor have these agencies extended calamity assistance or emergency loans to affected members.
The Pasig City government has allocated P12.5 million in donations to 15 towns and cities in Batangas affected by Taal Volcano's eruption.
Mayor Vico Sotto said city hall would be donating P7.5 million in cash and P5 million worth of food and non-food items for evacuees.
San Juan City Mayor Francis Zamora, meanwhile, approved the transfer of P2 million from the city's disaster risk reduction and management fund to the province of Batangas.
A total of P3 million collected from policemen was raised by the National Capital Region Police Office (NCRPO) for victims of Taal's unrest.
Brig. Gen. Debold Sinas, NCRPO chief, said the total amount came from a portion of over 26,000 personnel's combat duty and incentive pay and P3,000 from senior officers starting from colonel.
The amount would be turned over to the Philippine National Police, which earlier issued the call for its men to donate at least P10 for the affected residents in Batangas.
Sinas earlier said NCRPO personnel were encouraged to donate P100, a day's worth of combat pay. Police officers receive a total of P3,000 monthly for combat-duty pay, separate from their regular pay.
Meanwhile, the NCRPO has also given 104 of its personnel severely affected by Taal's eruption P10,000 each and relief goods, Sinas said.
The Chinese embassy has donated 7,000 pieces of N95 face masks for the victims of Taal.
The donation was turned over to the Department of Public Works and Highways' operations and technical services unit. – With Cecille Suerte Felipe, Jose Rodel Clapano, Neil Jayson Servallos