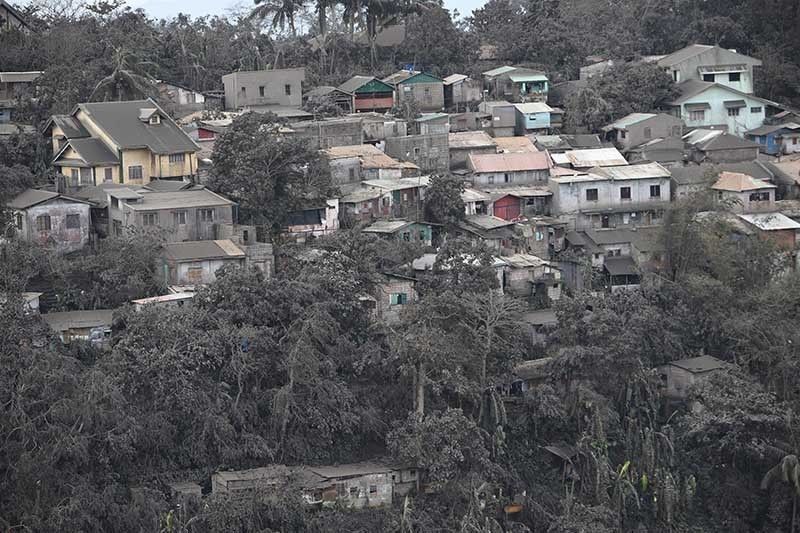 Based on PDRRMC records, 33,717 families or 149,777 individuals have moved to evacuation centers in the aftermath of the Taal eruption.
AFP/Ted Aljibe
A week into Taal unrest, almost 150,000 displaced
BATANGAS, Philippines – Almost 150,000 individuals have been displaced and forced to live in evacuation centers in Batangas, Cavite and Quezon province since Taal Volcano's Jan. 12 eruption.
This was according to data released yesterday by the Provincial Disaster Risk Reduction Management Council (PDRRMC).
Based on PDRRMC records, 33,717 families or 149,777 individuals have moved to evacuation centers in the aftermath of the Taal eruption.
The figure is more than double the figure released by the National Disaster Risk Reduction and Management Council (NDRRMC), which has pegged the number of evacuees at 70,413 individuals housed in some 300 evacuation centers in and around Batangas. The number represents 16,174 families. NDRRMC figures are lower because they have undergone verification, officials said.
The number of evacuees has reportedly ballooned after the enforcement of lockdown in the municipalities of Agoncillo, Alitagtag, Balete, Cuenca, Laurel, Lemery, Malvar, San Nicolas, Sta. Teresita, Taal, Talisay, Mataasnakahoy and in Tanauan City and parts of Lipa City.
With the development, PDRRMC chairman and Batangas Gov. Hermilando Mandanas said relief efforts should be done quickly and without fanfare to ease the suffering of the evacuees.
"Requests for help should be granted at once, and there should be no more interviews because the people are suffering," Mandanas said in Filipino.
He said the number of evacuees reported could even be higher as some affected residents may have moved to stay with relatives and friends and remain unaccounted for.
Mandanas also reminded his constituents to follow instructions from authorities on the ground, especially those implementing lockdown in their respective towns.
"Don't be stubborn, just obey authorities so you won't get hurt," he said.
Alert Level 4 remains in effect over Taal Volcano. This means that hazardous explosive eruption is possible within hours to days, according to Phivolcs.
Meanwhile, the impact of Taal's unrest has also affected residents in Quezon province, according to the Department of Social Welfare and Development (DSWD).
Latest data from the agency's Disaster Response Operations Monitoring and Information Center showed that over 7,000 people in Quezon province have been affected by ongoing volcanic activity.
These include some 6,430 who evacuated in Candelaria, Gumaca, Pitogo, San Antonio, Sariaya and Tiaong.
The municipalities are outside the 14-kilometer radius around Taal Volcano declared as danger zones.
Although outside danger zones, the areas may be affected by earthquakes and ashfall, as well as other impacts of a hazardous explosive eruption.
The DSWD said it has already provided over P7.8 million worth of assistance to affected families, particularly those in evacuation centers in Batangas.
The agency earlier said that it has almost P1 billion worth of stockpile and standby funds available for the affected residents.