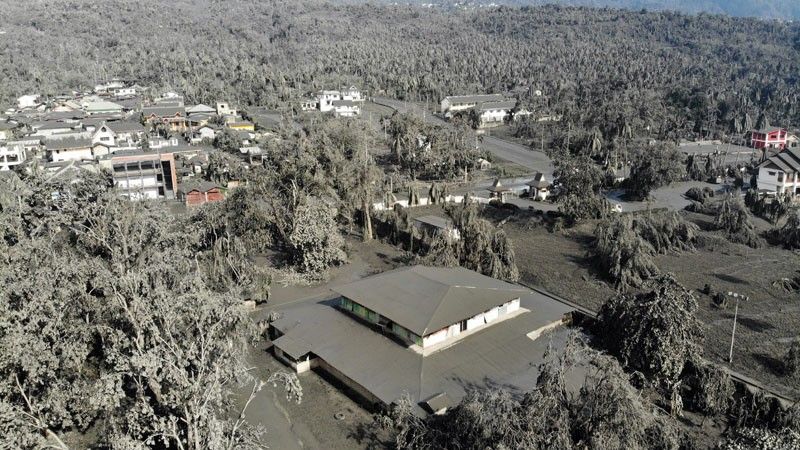 Aerial shot shows an ash-covered community in Talisay, Batangas where thousands have been evacuated following a phreatic explosion at the main crater of Taal Volcano the other day.
Russell Palma, Miguel De Guzman
State of calamity declared in Batangas
MANILA, Philippines — The province of Batangas was placed under a state of calamity yesterday, a day after Taal Volcano exploded, sending ash and debris to as far as Metro Manila and Central Luzon.
Disaster teams struggled to penetrate areas blanketed by ash to rescue or help ferry thousands of residents fleeing a potentially destructive eruption.
Near-zero visibility caused by the rain of ash has hampered the exodus of residents and tourists from many parts of Batangas.
Provincial Vice Gov. Mark Leviste said local officials made the decision to declare a state of calamity during a meeting of the Sangguniang Panlalawigan. "No need to go through the usual government processes because we are in an emergency situation," he said.
Under a state of calamity, the provincial government can now utilize P60 million in emergency funds to address the needs of people displaced by the catastrophe.
The Batangas Provincial Disaster Risk Reduction and Management Council (PDRRMC) said over 200,000 individuals have been affected by Taal's activity.
Batangas PDRRMC head Lito Castro said initial reports show that 16,780 individuals or 3,013 families in the most affected towns of Balete, Laurel, San Nicolas, Talisay and parts of Lipa and Tanauan City have initially been evacuated. He said the figure could rise to 200,000 in the event of a full-blown eruption.
Subject to mandatory evacuation were 12 municipalities and two cities within a 10-kilometer radius from Taal. These are Agoncillo, Alitagtag, Balete, Cuenca, Laurel, Lemery, Malvar, Mataas na Kahoy, San Nicolas, Sta. Teresita, Talisay, portions of Taal, Lipa City and Tanauan City.
He called Agoncillo, Laurel and Talisay "critical towns" but that neighboring towns of Taal and Tanauan are willing to accommodate them.
Interior Secretary Eduardo Año said both the Philippine National Police (PNP) and the Bureau of Fire Protection are on full disaster response status.
He said local government units (LGUs) have been directed to convene their respective local disaster risk reduction and management councils.
"The DILG will closely monitor the actions taken by the LGUs in accordance with Operation Listo protocols," Año said in a statement.
Año also encouraged the public to donate clean drinking water, emergency medicines and other essentials through the Department of Social Welfare and Development or directly to LGUs.
Defense Secretary Delfin Lorenzana, for his part, assured the public that the government has enough resources to evacuate thousands and provide for their needs like food and medicine.
At the moment, foreign help is not yet necessary, as the impact of the explosion has remained manageable, he said.
He also appealed to residents near the volcano to cooperate with authorities sent to evacuate them.
"Please leave the area. I don't think anyone would want to go there to steal your possessions. Please leave and go to safer areas," he said in Filipino, in an appeal directed at residents around the volcano.
He said he himself was surprised by Taal Volcano's sudden activity. "Unlike a storm, this is something you can't see coming," he said.
"Worst case scenario is the volcano will blow up like Pinatubo. Remember Pinatubo, the entire mountain disappeared; that's what we fear – the entire island getting into convulsion and throwing out everything. Hopefully, this will not happen. We can never predict the actions of this volcano," he said.
PNP officer-in-charge Lt. Gen. Archie Francisco Gamboa said he has ordered police units in the National Capital Region and other regions in Luzon to be ready for deployment to Calabarzon region, specifically in Batangas.
More than 2,000 policemen from the national police headquarters at Camp Crame in Quezon City were on standby and ready for deployment.
"We have a reserve force here because if personnel are severely affected, we send people from the national headquarters," he said at a press briefing.
The PNP also dispatched six trucks to assist in the evacuation of residents in Talisay, Batangas and other affected towns in the province.
Gamboa likewise asked every member of the 205,000-strong PNP to donate P10 each to displaced individuals. The money will be collected by police commanders on the ground. Generals would be required to donate more.
The Philippine Coast Guard (PCG) said it has sent at least 10 trucks and four buses to assist in the evacuation of thousands from several Batangas towns.
Gov't work, classes suspended
Malacañang yesterday suspended government work and classes in Batangas.
Work in Metro Manila and Central Luzon resumes today while the suspension of classes in these areas was left to the discretion of the local governments.
"As recommended by the National Disaster Risk Reduction and Management Council, the suspension of classes in all levels and work in government in the Province of Batangas shall remain in force today until further advice of the local government units concerned," a statement from the Office of the Executive Secretary said.
The suspension of classes and work in Batangas does not cover frontline response agencies involved in disaster response, delivery of basic and health service and other vital services.
President Duterte is set to visit the province today.
Duterte also warned traders not to take advantage of the situation by unduly raising the prices of face masks.
He said the government is ready to impose price caps on face masks and distribute them for free to those who cannot afford them. – With Evelyn Macairan, Emmanuel Tupas, Michael Punongbayan, Romina Cabrera, Ric Sapnu, Arnell Ozaeta, Ed Amoroso, Raymund Catindig, Alexis Romero