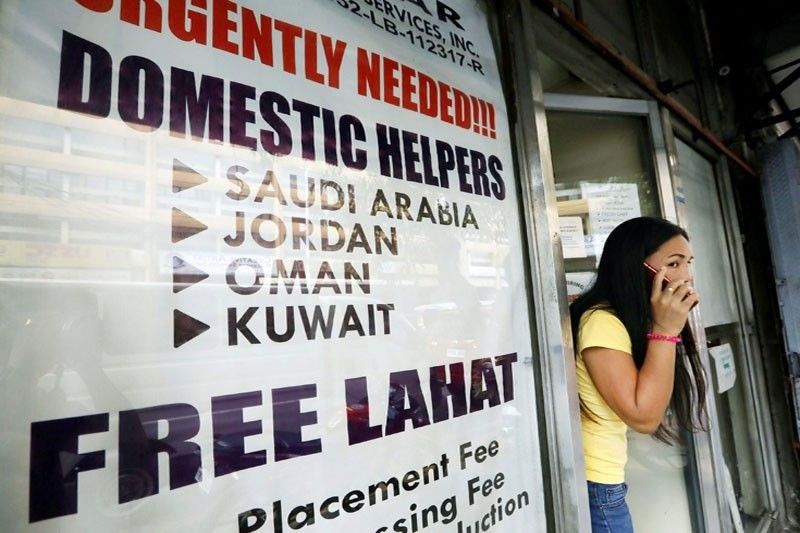 Duterte said he is not keen on ordering a total deployment ban in Kuwait.
Edd Gumban
Duterte not keen on deployment ban to Kuwait
MANILA, Philippines — Since the Kuwait government has acted swiftly to arrest the perpetrators, President Duterte said that justice has started to work in favor of Filipino migrant worker Jeanelyn Villavende whose employers have been placed behind bars for her death in Kuwait last December.
"The situation is quite different. We do not see apathy there. And the police authorities there in Kuwait acted swiftly, and they have arrested the spouses," Duterte said in an interview with ABS-CBN anchor Ted Failon aired on Friday.
Duterte said he is not keen on ordering a total deployment ban in Kuwait.
"I'm not really keen on moving people out," he said.
Labor Secretary Silvestre Bello III has ordered a temporary ban on deployment of new Filipino workers to Kuwait following Villavende's death.
The Palace earlier decried the victim's death, calling it a clear disregard of an agreement in 2018 between the two governments for the protection of Filipino workers there.
The Philippine Overseas Employment Administration (POEA) has filed an administrative case against the agency that recruited Villavende last year for allegedly failing to protect the victim.
POEA administrator Bernard Olalia said 5 Star Recruitment and Manpower Corp. had failed to assumed its responsibility to help Villevende, a domestic helper, who was beaten to death by her employers last month in Kuwait.
He said that prior to her death, Villavende had already requested her agency to repatriate her, citing the irregular payment of her salary and other forms of abuses. The agency had failed to act on this.
In an advisory in October 2019, Olalia reminded recruitment and manning agencies, including foreign employers and principals, of their responsibility to monitor and report the status or significant events relating to its hired workers.
According to Olalia, some recruitment agencies and employers were not reporting "material and relevant information about their recruits on account of data privacy and confidentiality, consequently resulting in inconclusive monitoring reports."
He said that incomplete reports are deemed as not compliant with POEA rules and other issuances, and data privacy should not be a reason for their non-compliance.
Olalia noted that the processing of personal information of overseas Filipino workers is allowed under existing laws.