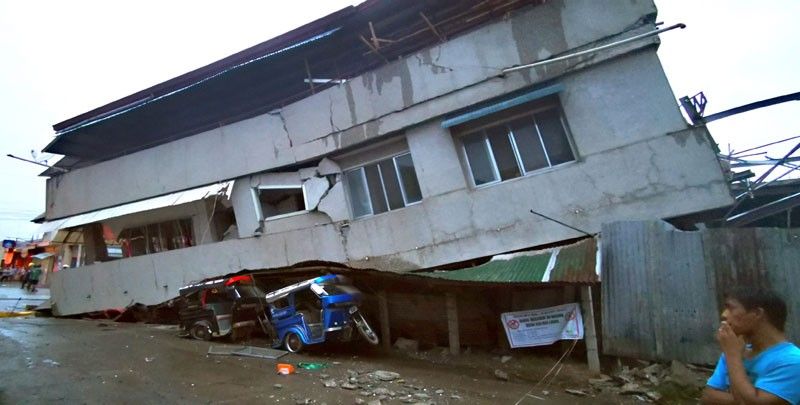 Residents look at a house that collapsed, squeezing tricycles, after a 6.9-magnitude earthquake in the town of Padada in Davao del Sur. The area is still recovering from a string of deadly quakes in October.
AFP
6.9 quake jolts Davao del Sur
Helen Flores
(The Philippine Star) - December 16, 2019 - 12:00am
MANILA, Philippines — At least four persons, including a six-year-old child, were reported killed following a destructive 6.9 magnitude earthquake that jolted parts of Mindanao yesterday afternoon.
The Philippine Institute of Volcanology and Seismology (Phivolcs) said the temblor, which struck at 2:11 p.m., was felt at Intensity 7 – classified by Phivolcs as "destructive" – in Matanao and Magsaysay, Davao del Sur.
President Duterte and his family felt the quake and were unhurt in Davao City, where his daughter, Mayor Sara Duterte-Carpio, declared the suspension of classes.
Three of the fatalities died when the three-story Southern Trade shopping center in Padada, Davao del Sur collapsed, the Bureau of Fire Protection told GMA News.
A six-year-old was also reportedly killed in the town of Matanao.
Several shoppers and employees were feared trapped in the shopping center. Four persons injured near the building were rescued at around 3:30 p.m.
The Civil Aviation Authority of the Philippines (CAAP) said the Davao International Airport sustained cracks, but its runway was not damaged.
"Recent strong aftershock resulted to cracks on the ground near Passenger Boarding Bridge #5 and International Baggage buildup area. Still verifying level of damage," CAAP's status report read.
The Philippine News Agency reported that an explosion was heard at the Gaisano Mall late afternoon in Bajada, Davao City.
Private property as well as public infrastructure were reportedly damaged in the towns of Padada and Hagonoy in Davao del Sur, according to Armed Forces Eastern Mindanao Command chief Lt. Gen. Felimon Santos Jr.
He said a bridge was reported destroyed in the neighboring town of Magsaysay, also in Davao del Sur. Magsaysay's town hall sustained cracks.
"At the moment we are just awaiting for reports to come in from the field," Santos told The STAR.
The quake was felt at Intensity 6 (very strong) in Kidapawan City; General Santos City; Bansalan, Davao del Sur; Alabel and Malapatan, Sarangani; Koronadal City; Intensity 5 (strong) in Tulunan and Matalam, Cotabato; Cotabato City; Davao City; and Glan, Sarangani; Intensity 3 in Kalilangan, Talakag and Dangcagan, Bukidnon; Intensity 2 in Impasugong, Bukidnon; Cagayan de Oro City; Dipolog City; and Intensity 1 Zamboanga del Sur.
Its epicenter was located some nine kilometers northwest of Matanao, Davao del Sur, the agency said. Aftershocks followed the quake with the strongest registering a magnitude of 4.
Phivolcs warned residents near the epicenter of the quake of possible damages and more aftershocks.
The quake had a depth of three km and was tectonic in origin, it added. Yesterday's tremor was the strongest in Mindanao since the series of earthquakes in the region last October.
The series of tremors last October left over 20 people dead and displacing 100,000 others. The quakes have destroyed close to 39,000 houses and have triggered over 2,000 aftershocks for several weeks, most of which were unfelt.
Duterte, family 'safe'
President Duterte, who was in Davao City for the weekend, and his family were safe, Malacañang said.
Presidential spokesman Salvador Panelo said Duterte and his daughter Kitty were in their house while the President's partner Honeylet was on her way home when the quake struck.
"He (Duterte) is OK," Panelo said in a text message.
Panelo said Honeylet's car was swaying when the ground trembled but she was unhurt.
Presidential Security Group chief Brig. Gen. Jose Niembra said the President's house did not sustain damage but government personnel would still check its structural integrity. He said Duterte went back to sleep after the shaking stopped.
Panelo said the executive branch is closely monitoring the situation in quake-hit areas.
"All concerned agencies of the government have been mobilized to respond to the present conditions and provide immediate assistance to those in need," the Palace spokesman said.
Malacañang urged the public to be calm but to remain vigilant for possible aftershocks and to refrain from spreading disinformation that may cause undue alarm and panic among affected communities.
A source privy to the President's situation said measures are always in place whenever incidents like earthquakes take place and that security personnel are always ready in case there is a need to evacuate the President and his family.
Response ops, class suspension
The tremor also prompted the Philippine National Police (PNP) to mobilize its forces in Davao to conduct disaster response operations in areas in the region.
PNP officer-in-charge Lt. Gen. Archie Francisco Gamboa directed Davao police chief Brig. Gen. Filmore Escobal to deploy all available officers and ensure the safety of the people affected by the quake.
Escobal has not replied when asked if they already received reports of
casualties as a result of the tremors. In Caraga region, a farmer was reportedly hurt after a concrete fence collapsed.
PNP spokesman Brig Gen. Bernard Banac said crime prevention measures are still in place in the region despite the earthquake.
"We assure the public that the PNP remains alert and vigilant to
prevent occurrence of crimes even as we attend to safety needs of the
people affected by the earthquake." he said in a statement.
Presidential daughter and Davao City Mayor Sara Duterte-Carpio also declared suspension of classes in all levels in the City.
The mayor said earthquakes of such magnitude may have damaged structural and physical damage to certain facilities of the buildings in the city.
The resumption of classes shall reportedly be on a case-to-case basis wherein it would be upon the result of the assessment of the said buildings.
Classes in all levels have also been suspended in Davao del Sur and General Santos City. Work in government offices and private institutions have also been cancelled in Davao del Sur. – Alexis Romero, Roel Pareño, Emmanuel Tupas, Ben Serrano, Edith Regalado