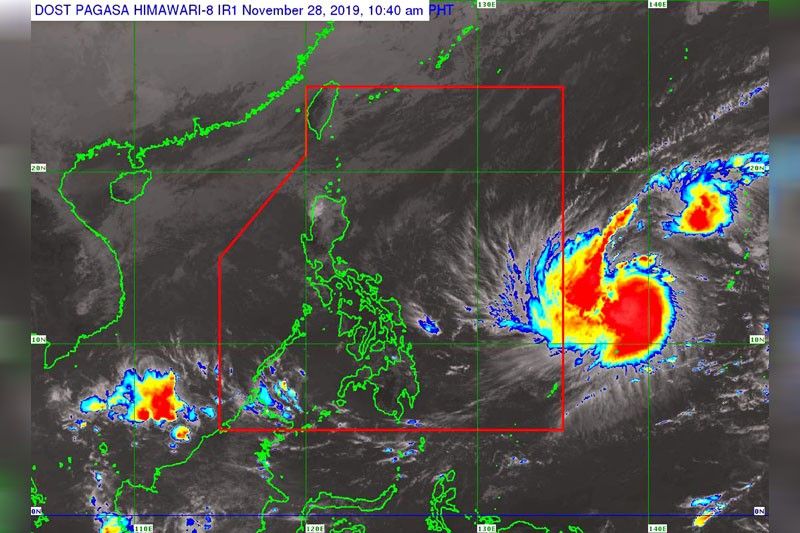 Satellite image from Pagasa dated Nov. 28, 2019 (10:40 a.m.) shows Tropical Storm Kammuri approaching the Philippine area of responsibility.
Typhoon threatens SEAG venues
MANILA, Philippines — Tropical cyclone Kammuri has intensified into a typhoon, threatening the venues of the 30th Southeast Asian Games (SEAG) with heavy rains and strong winds, the Philippine Atmospheric, Geophysical and Astronomical Services Administration (PAGASA) said yesterday.
Kammuri will be named Tisoy once it enters the Philippine area of responsibility.
PAGASA weather division chief Esperanza Cayanan said it is up to the Philippine Southeast Asian Games Organizing Committee (PHISGOC) to cancel or reschedule some games in the coming days, depending on the intensity of the typhoon.
"The decision to suspend or reschedule some games will come from PHISGOC. Our weather specialists and rainfall warning group will be providing real time information regarding the possible impact," Cayanan said.
She said there is still a chance for the track of the typhoon to change, yet it would be better for local government units in Central Luzon and Southern Tagalog to be prepared.
"If there is a need to ready the power generator sets for the SEAG activities, better prepare them now," Cayanan said in Filipino.
PAGASA operations and services deputy administrator Landrico Dalida Jr. said they have deployed five teams, composed of weather specialists and hydrologists, at the PHISGOC main operations center in Clark City, Tarlac to update SEAG officials and organizers on the typhoon.
Dalida said there is a slim chance for the typhoon to directly affect the country on Saturday, the opening ceremony of the SEAG, as it is still outside Philippine area of responsibility at the time.
"We will be monitoring the situation 24/7. We have storm chasers deployed in key areas," Dalida said.
PAGASA weather specialist Raymond Ordinario said Kammuri intensified into a typhoon at 8 a.m. yesterday, packing maximum sustained winds of 120 kilometers per hour and gustiness of 150 kph.
As of 10 a.m. yesterday, the center of the typhoon was at 1,430 kilometers east of the Visayas, outside the Philippine area of responsibility. It was seen moving west northwest at 10 kph.
Kammuri is expected to continue to intensify as it enters the Philippine area of responsibility between Saturday night and Sunday morning.
"Weakening is expected when Tisoy crosses land mass, but it may remain within typhoon category," PAGASA said.
Tisoy will be the 20th typhoon to hit the country this year. One or two more typhoons are expected to enter the country in December.
Ordinario said Tisoy is forecast to make landfall over Bicol region or Aurora on Tuesday, although its effects will be felt starting Monday.
"Starting on Monday, scattered heavy rains are expected over the Bicol region and Eastern Visayas. And by Tuesday, frequent to continuous heavy rains are expected over Bicol, Metro Manila, Central Luzon, Calabarzon (Cavite, Laguna, Batangas, Rizal, and Quezon), Mindoro, Marinduque, Romblon and Samar islands," Ordinario said in Filipino.
He said heavy rains would persist until Wednesday and if the forecast track of the typhoon would not change, Central Luzon is expected to be greatly affected.
"Crucial is upon landfall on Tuesday and exit on Wednesday. Based on its track, Central Luzon and Southern Tagalog will be the most affected, it will traverse the areas where the SEAG will be held. That's why we will conduct intense monitoring, especially next week," Ordinario said.
Tisoy is forecast to exit through Bataan coast by Wednesday morning. The weather will start to improve by Thursday.