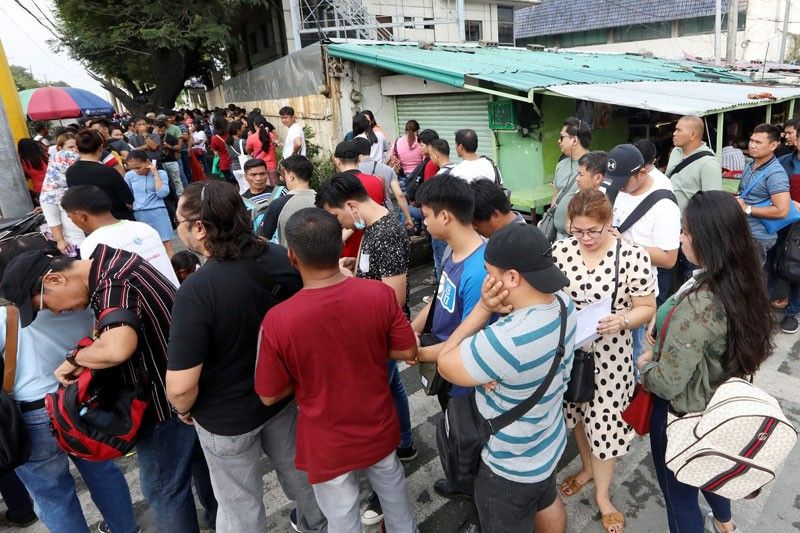 People, mostly overseas Filipino workers, line up outside the Bureau of Quarantine in Manila's Port Area yesterday for polio vaccination and certifications of vaccination as required by some countries. At least 19 countries are now requiring travelers from nations affected by polio to submit vaccination certificates before they can be issued visas or allowed entry.
Edd Gumban
More possible polio cases being monitored
MANILA, Philippines — The Department of Health (DOH) is monitoring other possible cases of polio in Mindanao aside from three children who have tested positive for the potentially deadly virus.
"There are more, probably one or two," Health Secretary Francisco Duque III said in an interview yesterday.
"You don't think that it is going to be the end now. Our surveillance is continuing," Duque added.
He said more cases have been recorded in the past months because the DOH has been actively undertaking surveillance of suspected cases of polio nationwide.
"That is why we are picking up all these. If we did not have a good surveillance, then we would not have known about this and would not have not mounted an appropriate outbreak response," Duque pointed out.
The DOH confirmed the other day that three other children under five years old from Mindanao have tested positive for poliovirus. Out of the seven cases of confirmed polio cases in the country, six came from Mindanao.
Health Undersecretary Eric Domingo said the confirmation of new polio cases in Mindanao is a concern for health authorities.
"It's a cause of concern because it means there is an active transmission of the virus within the island of Mindanao and there are children unprotected from the virus," Domingo noted.
Thus, Domingo said the DOH will be mounting polio immunization campaign in the whole of Mindanao from Nov. 25 to Dec. 7.
In the first round of mass immunization, Domingo said the DOH concentrated its efforts in Davao City and Davao del Sur because samples collected from waterways in those areas tested positive for the virus.
As this developed, DOH has linked up with McDonald's Philippines for the succeeding rounds of the Synchronized Polio Vaccination in Metro Manila and Mindanao.
DOH said Patak Polio Corners will be set up in selected McDonald's stores in Metro Manila and Mindanao for the scheduled synchronized polio vaccination.
Polio immunization will also be conducted in McDonald's Bahay Bulilit Learning Centers where children are taught basic skills in preparation for formal schooling.
Indelible ink
DOH will be using indelible marker to identify children aged five years and below who are given the oral polio vaccine (OPV) as the department embarks Monday on another round of its Mindanao-wide massive vaccination against poliovirus, according to local health officials here.
The children are marked to ensure that all of them are covered during the simultaneous and intensive vaccination campaign, according to Corazon Pagotaisidro, Zamboanga City health polio coordinator.
She allayed fears on the possible effect of the marker that will be laced into the infants' and children's pinkies which is non-toxic.
Pagotaisidro said the indelible marker is laced into the recipient to prevent repeated oral administration of dosage.
City health officer Dulce Amor Miravite said the World Health Organization provided the marker and oral vaccine.