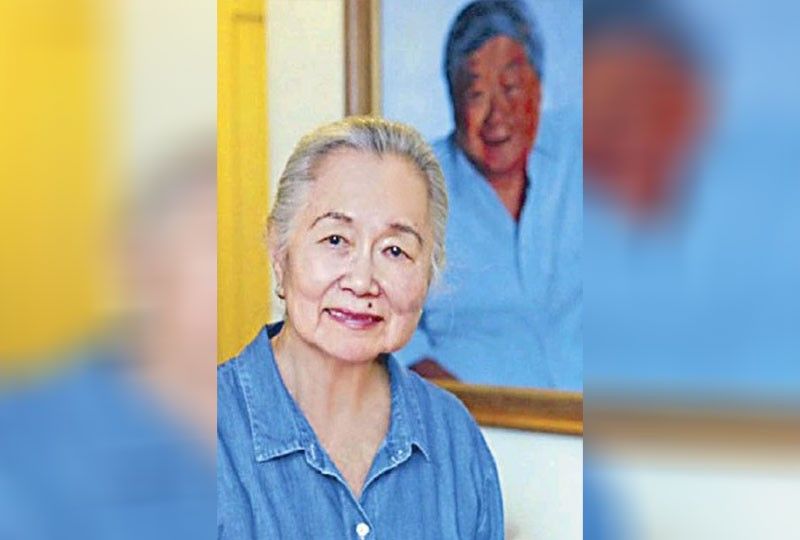 Gokongwei widow, 85, passes away
Iris Gonzales
(The Philippine Star) - November 17, 2019 - 12:00am
MANILA,Philippines — Death would separate them only for a week.
Elizabeth Yu-Gokongwei, the widow of taipan John Gokongwei Jr., died yesterday, exactly a week after her husband passed away, the Gokongwei siblings announced yesterday.
She was 85 years old.
"Our mother Elizabeth Yu-Gokongwei passed away peacefully on Saturday, November 16, 2019 one week after the death of our father John Gokong-wei Jr., her husband of 61 years," according to a statement sent by the Gokongwei siblings Robina, Lance, Lisa, Faith, Hope and Marcia.
"Private wake details will be shared with friends and family," they added.
Yu-Gokongwei is known mainly as the supportive wife of the taipan and mostly kept out of the limelight.
But in 2014, she published a book of collected recipes "My Angkong's Noodles," as a tribute to her immigrant Chinese grandmothers and great-grandmothers who had to work daily at the stove.
In an article about the book published in The STAR in 2014, Yu-Gokongwei shared her grandmothers' treasured family recipes. She also shared that she loved to cook for her husband, who loved meat in particular. She did her own marketing, usually at Farmers' Market in Quezon City.
"My husband John loves pata tim (braised pork leg) which I don't like to serve often. But then, he will order from Robina Farm and ask the maid to cook it," she said.
Her husband always praised her for always being a good wife to him and mother to their six children.
In the book "Lessons from Dad" written by Lance Gokongwei and published in 2016, the son said one of the greatest things his father taught him was to choose the right partner.
"'The most important decision you have to make in your life is whom you're going to marry. That decision will dictate the rest of your life, whether you will have a happy life or a miserable one.'
"He said I should marry someone who would be my friend and my partner in raising our children. Dad got it right when he made the most important decision of his life and married Mom. He knew she was the right one for him – she was the perfect one for him. They raised their children well. Humility aside, I'd like to think we all turned out very good. And Mom is a really good person. Everyone adores her," Lance said in the book.
Both John and Elizabeth also taught their children the value of family.
"The best lessons I learned from my parents were from being with them, observing them and listening to them at the dinner table. I learned about the importance of family, and the importance of working hard. I learned about running a business from the stories my father told us – he had so many adventures! We shared in his successes and his failures. There were many of both. Fortunately, more of the first than the second," Lance also said.
The JG Summit empire was founded by the taipan, who was the third richest man in the country with a net worth of $5.3 billion, according to Forbes. The empire spans a wide range of business from budget airlines through Cebu Pacific; retail through Robinsons Retail; hotels and property through Robinsons Land Corp.; and snack foods through Universal Robina Corp.