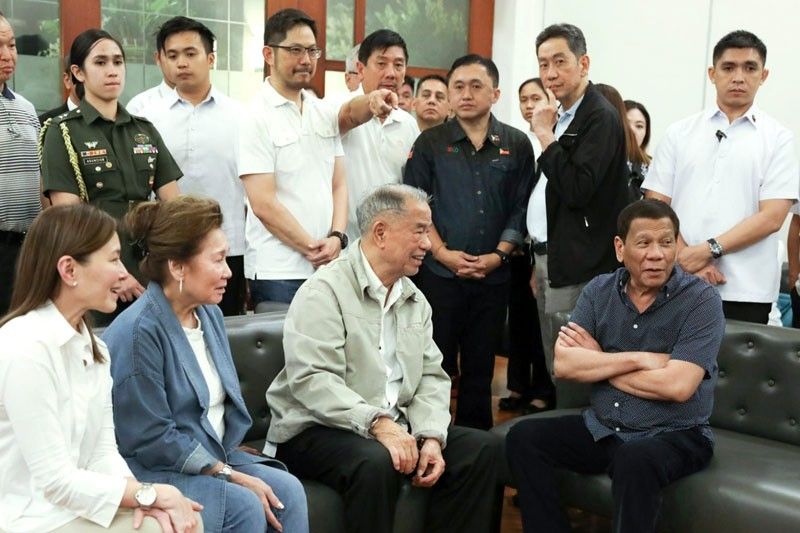 President Duterte visited the wakes of Lucio Tan Jr. and John Gokongwei Jr. at The Heritage Park in Taguig on Monday night. He is seen chatting with tycoon Lucio Tan, wife Carmen and daughter Vivienne
Bong Go Facebook Photos
Duterte visits 3 wakes before heading for Davao
MANILA, Philippines — President Duterte visited three wakes on Monday night before he flew back home to Davao City where he is expected to spend the rest of the week.
Presidential spokesman Salvador Panelo earlier declared that Duterte would take a three-day break from work to catch up on sleep.
Panelo later retracted the statement, saying the President would still work from his home in Davao City.
Photos provided by close aide and Sen. Christopher Go showed Duterte visiting the wakes of tycoon John Gokongwei Jr. and Lucio "Bong" Tan Jr., son and namesake of taipan Lucio Tan, at The Heritage Park in Taguig.
According to Panelo, the President also condoled with the family of the late defense secretary Rafael Ileto, whose relative died recently.
Prior to this, the 74-year-old leader met with Moro National Liberation Front founding chairman Nur Misuari at Malacañang on Monday night.
Panelo yesterday said the President merely wanted to stay at his home where there would be less pressure from work.
"Kasi at least sa bahay, sabi niya, 'pag tapos na ang trabaho (At home, he said after work), I can rest,'" Panelo said, quoting the President.
"Unlike here, eh talagang maraming (there are many) distraction, hindi ka makakapahinga talaga (he cannot rest). But he's still working," Panelo added.
Asked anew about the state of Duterte's health, Panelo said the President is doing well.
Instead of taking a leave of absence and assigning a caretaker of the government, Panelo said the President would just be lessening his workload.
Malacañang should state the real reasons for the President's work-from-home arrangement this week, the spokesman for Vice President Leni Robredo said on Monday night.
"I think the public deserves some clarifications because we want to know why the person we elected and chose to preside over the government, who has a great amount of responsibility on his shoulders, is now saying I have to take three days off from work," lawyer Barry Gutierrez said in an interview with "The Chiefs" on Cignal TV's One News.
Duterte is the oldest person to be elected president of the country.
No vacation leave for Duterte – Drilon
Senate Minority Leader Franklin Drilon said yesterday it was good that President Duterte did not push through in taking a leave of absence as it would raise legal and constitutional implications.
Drilon said the Constitution does not provide for a vacation leave for the president.
"In fact, I never heard a president taking a vacation leave because there are a lot of legal implications. So it is good that they retracted and said that the President is not taking a vacation leave," he said.
"The fact is that he remains the President. When he goes on a vacation leave, the question is, is he still the President during the time he is on vacation leave?" he said.
Drilon said assigning a caretaker or officer-in-charge is "a completely different matter."
Assigning a caretaker meant Duterte is still the President and the former is just there to run the day-to-day operations, he said.
'Duterte deserves break'
Senators earlier said there was nothing wrong in Duterte taking a rest.
Senate President Vicente Sotto III said it is about time Duterte goes on leave.
"His doctor has been telling him to relax even for just a few days. I'm sure he will be recharged thereafter," Sotto said.
Sen. Francis Tolentino said everybody deserves a rest, "especially the Chief Executive, considering that he will embark again on a trip to South Korea to attend an ASEAN conference."
Sen. Aquilino Pimentel III said people deserve to take some break from work.
Senate Majority Leader Juan Miguel Zubiri said Duterte also deserves a break once in a while.
"The President is not a superman who can tackle all the problems of the country around the clock. He is human, not a machine, and as a human being he also deserves a bit of rest," Zubiri said.
Sen. Joel Villanueva said, "Running the affairs of the state is no easy task. It is a 24/7 job, and this might have taken a toll on the President."
Rep. Mike Defensor of Anakalusugan party-list sees nothing wrong with the President taking a vacation leave.
"Technically he doesn't even need to designate a caretaker. The Vice President can only take over under circumstances provided in the Constitution, which in this case does not qualify," he said. – With Helen Flores, Paolo Romero, Delon Porcalla