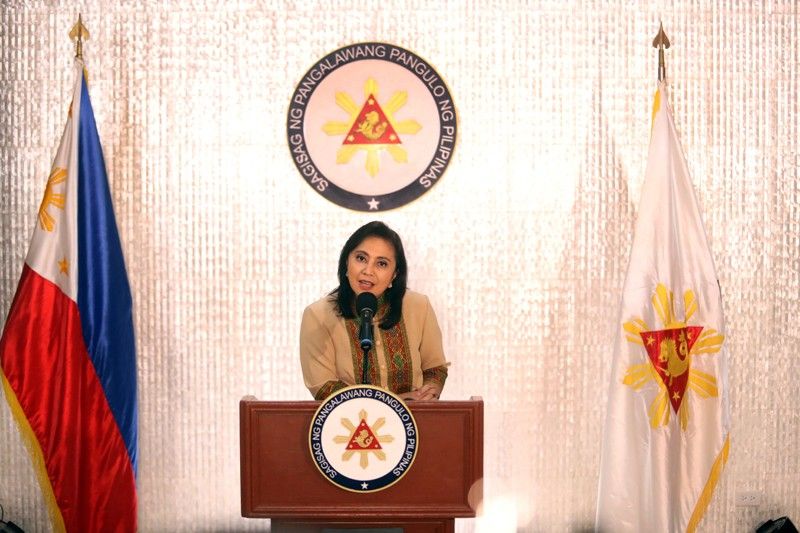 Vice President Leni Robredo announces her decision to accept the position of co-chair of the Inter-Agency Committee on Anti-illegal Drugs during a press conference at her office in Quezon City yesterday.
Robredo accepts drug czar post
Helen Flores
(The Philippine Star) - November 7, 2019 - 12:00am
'I'm ready for the task. Are you ready for me?'
MANILA,Philippines — Despite warnings from her supporters that she is being set up for failure, Vice President Leni Robredo accepted yesterday President Duterte's challenge to lead the war on drugs.
Robredo said she intended to curb drug killings and to hold accountable not only drug smugglers, large-scale traffickers and "ninja cops" who recycle illegal drugs, but also those behind rights abuses in waging the war.
The Vice President also called on Duterte to work together and use the remaining two and a half years of their term to address the drug problem.
"Even if we say that the offer was mere politicking and the government agencies will not follow me and they will do everything for me not to succeed, I'm ready to bear all of these. Because if I can save one innocent life, my principles and heart are telling me I should give it a try," a beaming Robredo told reporters at her Quezon City office.
"I am accepting the task the President is giving me," she said.
Her allies in the Liberal Party (LP) had warned her that Duterte's offer could be a mere "trap" aimed at shaming her.
Robredo stressed her appointment as co-chair of the Inter-Agency Committee on Anti-Illegal Drugs (ICAD) would not stop her from criticizing the administration's wrong policies.
"The President knows my position on the drug war, I'm against the killings of the innocent, I'm against abusive officials. He knows my criticisms. He knows what I would like to fix," she said.
"If he (Duterte) thinks I'll accept and I'll keep silent, he is wrong," the Vice President continued.
Robredo said she has always been willing to help the administration for the betterment of the nation but she would never give up her principles.
Duterte's appointment of Robredo came after her latest criticism of his controversial drug war, which has claimed the lives of thousands of suspected drug addicts.
The President challenged Robredo to be drug czar for six months. He also called on the public not to vote for Robredo in the next presidential elections.
The Vice President, meanwhile, dared her critics to be ready as she takes the helm of the anti-narcotics campaign.
"This issue (drug war) is not something to be taken lightly. This is a serious matter as lives are at stake here. They asked me if I'm ready for this job, I'm returning the question to them, are you ready for me?" she said.
Robredo said she did not criticize Duterte's drug war to get a position.
She submitted yesterday a letter to Malacañang, indicating her acceptance of the post, according to vice presidential spokesman Barry Gutierrez.
He said the Vice President will immediately start her work as the country's drug czar.
Gutierrez shrugged off presidential spokesman Salvador Panelo's remark that Robredo's appointment as co-chair of the ICAD is a "ladder to the presidency."
"As far as VP Leni is concerned, the reason why she is accepting the designation of Duterte is so she can act on what she wants to do in relation to the drug war – she wants to stop the killings of the innocent, give justice to the innocent people who were killed and stop those abusive officials. So that is what she will be focusing on," he said.
"I think VP Leni let go of politics here to focus on what she thinks she can do as an advocate," he said.
Gutierrez, however, said Robredo has yet to receive an official invite from Malacañang to attend the next Cabinet meeting.
Senators vowed to support the Vice President and asked concerned agencies and the public to do the same, saying it would strengthen the war against drugs.
"It's very good news, as a matter of fact, the Vice President can start with some of the important concerns like prevention and rehabilitation. She can focus on that right away," Senate President Vicente Sotto III told reporters.
Senate President Pro Tempore Ralph Recto said Robredo can now articulate a drug war policy that respects human rights and provide a new perspective.
Sen. Francis Tolentino expressed hope that Robredo, now being part of the anti-drug campaign, "would acquire the right historical perspective – seeing the magnitude of the problem as well as accepting that the policy choices made by the President were done for the good of the country."
Sen. Sonny Angara wished Robredo well and expressed hope she succeeds in helping solve the menace of drugs which destroys lives and communities.
Sen. Panfilo Lacson lauded the Vice President for accepting the daunting challenge and called on all concerned to give her the support she needs.
Sen. Christopher Go also welcomed Robredo's acceptance, telling reporters, "We want her to succeed. Who among us Filipinos don't want that? We only have one aim. We only have one objective."
Senate Minority Leader Franklin Drilon expressed confidence that she can carry out the task.
"This is an enormous task… I call on the Filipino people and government instrumentalities involved in the campaign against illegal drugs to rally behind the Vice President. Her success is the success of our nation," Drilon said.
Sen. Ronald dela Rosa said he was gladdened by Robredo's move, saying, "We will be victorious on this war as a nation, undivided by political colors. I'm happy."
Other lawmakers welcomed the Vice President's decision, with members of the LP voicing "cautious optimism" but expressing "great pride in the courage and sincerity" of their party's chairperson.
"If she is given the tools and is empowered by the administration, we can now altogether prove: the war on drugs can be part of the war against poverty – and not a war against poor people," the LP bloc in the House said in a statement read by Quezon City 6th district Rep. Kit Belmonte at a press conference.
Party-list lawmakers also supported Robredo's decision, with Ako Bicol Rep. Alfredo Garbin Jr. saying in a statement, "We are optimistic that this appointment would bear a more holistic approach in the war against illegal drugs," and ACT-CIS Rep. Nina Taduran adding, "In solving complex problems like illegal drugs, sometimes what is needed is a fresh perspective, and this is exactly what the Vice President is bringing to the table."
Philippine Drug Enforcement Agency (PDEA) director general Aaron Aquino said he is ready to brief Robredo on the accomplishments of ICAD of which he currently sits as chairman.
While admitting he feels "awkward" about having the second highest official of the country as his co-chair, Aquino nevertheless welcomed the development.
"We will just wait for her call. For sure she will ask me for a briefing," Aquino said in a video message.
Dangerous Drugs Board (DDB) chairman Catalino Cuy welcomed Robredo's decision, saying they are open to suggestions the Vice President can offer to improve the government's anti-illegal drugs campaign.
Interior and Local Government Secretary Eduardo Año, for his part, informed the Philippine National Police (PNP), Bureau of Jail Management and Penology, anti-drug abuse councils, peace and order councils and local government units to provide all the necessary assistance to Robredo.
The PNP likewise expressed readiness to work with Robredo.
"The PNP commits to support her and give her all the cooperation for the anti-illegal drugs campaign to be successful," PNP spokesman Brig. Gen. Bernard Banac said.
Justice Secretary Menardo Guevarra dispelled Robredo's fears regarding alleged efforts to make her fail and said she could not fail on her own as the anti-illegal drug campaign is an effort of a group of agencies that are members of ICAD.
The DOJ is a member of the ICAD along with the PNP, National Bureau of Investigation (NBI), PDEA and other law enforcement agencies.
"How can she fail if she is a member of an entire committee? Her failure will be a failure of the entire committee," Guevarra told reporters yesterday.
"The intent of the government is to win, at all costs, this anti-illegal drug campaign. And we are bringing in the Vice President in this overall campaign. So, how can this be treated as a trap when the intention is to win?" he added.
In an interview on The Chiefs on Tuesday night – just before Robredo's acceptance of the ICAD position yesterday – retired Supreme Court associate justice Antonio Carpio warned that Robredo should not accept the designation under the terms of implementing PNP circulars that are "not working" and are a "failure."
"The polices that the President crafted – the Operation Tokhang, Operation Double Barrel – that's embodied in PNP circulars, these circulars are not working. They're a failure. So what the President is doing is telling that the Vice President take over and implement these circulars," Carpio said.
"It has been shown – and as admitted by the President – it has been a failure. So, I don't think Vice President Leni should accept that designation under that term," he said.
Carpio said Robredo may accept the designation if she will be given a free hand to craft her own strategy and withdraw "tokhang" and "double barrel" circulars. – With Manny Tupas, Edu Punay, Robertzon Ramirez, Pia Lee-Brago, Paolo Romero