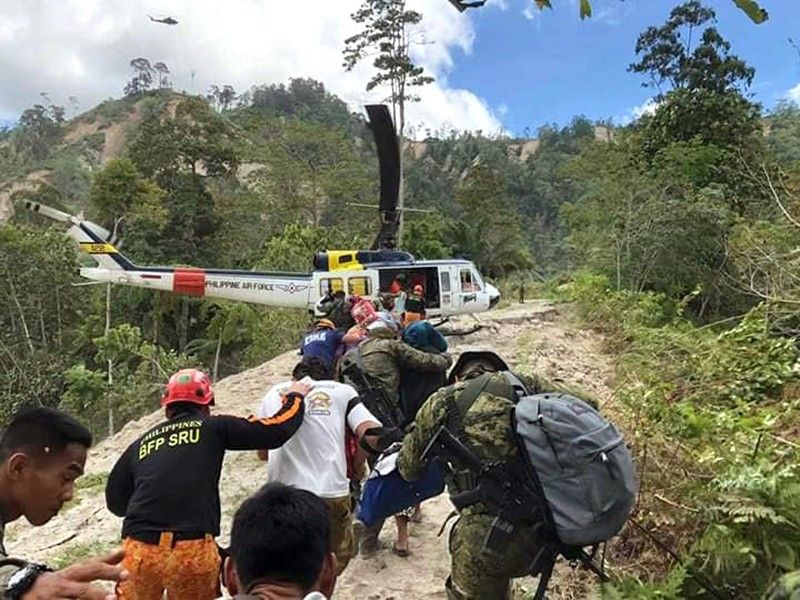 In an undated photo released by the government yesterday, rescuers and soldiers evacuate villagers to a helicopter after they were trapped in their mountaintop homes in Makilala town, North Cotabato due to landslides triggered by earthquakes in the last two weeks.
Quake-hit Mindanao in humanitarian crisis
MANILA, Philippines — With fearful residents still experiencing aftershocks and thousands temporarily housed in evacuation centers, Defense Secretary Delfin Lorenzana admitted yesterday that there is a humanitarian crisis in earthquake-hit areas of Mindanao.
"It is now a humanitarian crisis. Many homes are either destroyed or the owners have left due to numerous aftershocks and fear of structural collapse. There are also landslides that have destroyed many homes. They are all at evacuation centers in need of assistance," Lorenzana said.
The defense secretary's declaration came after strong earthquakes on Oct. 29 and 31 resulted in 21 deaths. As of yesterday, those injured rose from 331 to 432, with two persons reported missing.
Another series of temblors with magnitudes of 3.2, 3.7 and 3.9 occurred yesterday, with epicenters located within 11 to 22 kilometers around Makilala, Cotabato.
Lorenzana gave assurance that the national government is on top of the situation, noting that immediately after the earthquakes, Provincial Disaster Risk Reduction and Management Councils (PDRRMCs) were activated while all agencies under the National Disaster Risk Reduction and Management Council (NDRRMC) are now providing relief assistance.
"I have also directed the army to set up checkpoints on all roads leading to the disaster area to insure that there is order, and that only accredited and legitimate relief groups or individuals are allowed in the area. This will also prevent the kibitzers and curious bystanders from getting in," he said.
Lorenzana said there are sufficient relief goods at evacuation centers, citing reports from DND Undersecretary and NDRRMC executive director Ricardo Jalad.
"It just needs proper management of the distribution system to insure that everyone is served. What has happened lately was that the people were rushing the relief vehicles and getting everything they can to the detriment of others," he stressed.
Further appealing to a more orderly system of distributing relief goods, the Eastern Mindanao Command of the Armed Forces of the Philippines (AFP) called on those sending help for earthquake victims to properly course their relief items to Incident Command Posts put up in every affected locality.
Enough relief supplies for quake victims. The Department of Social Welfare and Development (DSWD) on Saturday established mobile logistic hubs in Kidapawan City to speed up distribution of relief assistance to earthquake victims.
"DSWD assures that it has enough relief supplies to augment the resources of local government units in Central and Southern Mindanao," the agency said in a statement.
Two mobile storage units, one from the United Nations World Food Program, were in place since Saturday at the provincial grounds of North Cotabato in Amas to speed up the distribution of relief assistance. Each logistic hub can store up to 1,600 cubic metric tons of goods.
A community kitchen was also set up by the social welfare regional office in region 12 in barangay Masilasa in Makilala town on Saturday.
The regional office is also coordinating with the Philippine Air Force for the transport of relief goods to remote areas, especially in communities that are impassable due to landslides.
Private airlines Cebu Pacific and Air Asia are extending their help in transporting, for free, relief supplies from DSWD.
As of Saturday, the agency said it has also provided more than P6 million worth of assistance to a total of 29,349 families, or 146,745 persons from 149 barangays in the two regions. The DSWD has coordinated with the AFP in transporting additional relief supplies to affected regions.
"On Nov. 1, troops from the units of Eastern Mindanao Command unloaded cargoes sent by DSWD and Department of Health which were carried by a C-130 at the Davao airport," it added.
Various DSWD field offices also provided relief augmentation support to counterparts in affected regions in the form of hygiene kits, mosquito nets, blankets, towels, malongs and food supplies.
Also on Saturday, DSWD Field Office VII coordinated with the Coast Guard for the transport of relief supplies to the two regions.
DSWD Bicol has sent 20,000 blankets, 20,000 malongs, 300 tents, and 200 rolls of laminated sacks good for 2,000 households.
In coordination with the LGUs, social welfare workers are also providing psycho-social interventions to help the victims cope with the trauma.
The city government of Marikina on Saturday donated some 100 modular tents to Cotabato City. A tent can accommodate at least seven people.
Ormoc City Mayor Richard Gomez sent a 14-man team with emergency vehicles, equipment, hygiene kits, and trauma personnel to help in the relief efforts at Makilala, Cotabato yesterday. This is on top of the P1 million that Gomez said the Ormoc LGU will donate to the earthquake relief and rehabilitation fund of Mindanao.
The Philippine Navy announced yesterday that it stands ready to aid quake-battered Mindanao as personnel and assets are now on standby to provide humanitarian assistance and disaster response.
Prices of local goods remain stable
Jalad said markets in the affected regions are functioning, and there is supply of food for those who can afford it. The only problem is with those who do not have money.
Sources from the North Cotabato provincial office of the Department of Trade and Industry-12 and intelligence units of the Police Regional Office-12 said Sunday there was no increase in the prices of commercial goods in Kidapawan City.
Assuring that there is no supply problem, Jalad added that there is no need to appeal for assistance from the international community as "we still have enough resources."
China signified its intention of giving assistance to quake victims, according to Sen. Christopher Go. However, it could not be ascertained yet what form of assistance China will be extending. – With Edith Regalado, Non Alquitran, Janvic Mateo, Art Dumlao, Lalaine Marcos, Helen Flores, John Unson