Water interruptions start
October 25, 2019 | 12:00am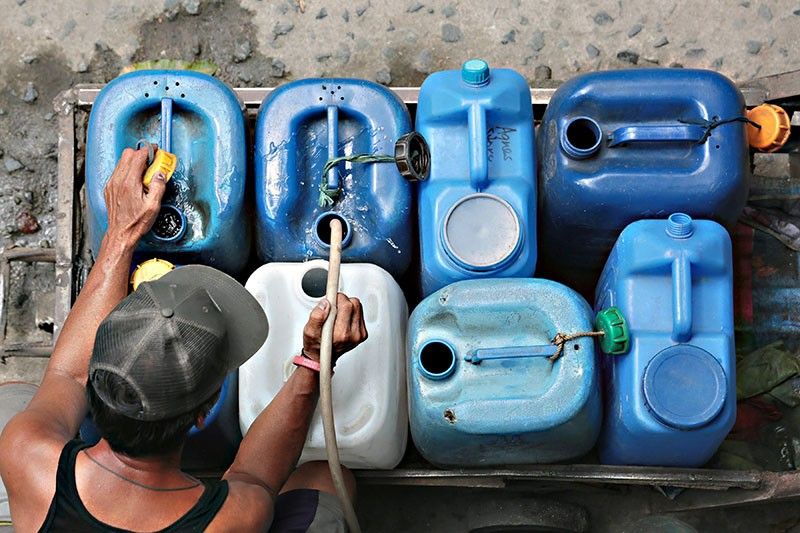 MANILA, Philippines — People waited in line to fill up water containers while hospitals and other establishments stored water as Maynilad Water Services Inc. and Manila Water Co. Inc. began rotational service interruptions yesterday.
The service interruptions were re-implemented in some portions of the concession areas due to the decreasing level of Angat Dam, the main water source for Metro Manila.
Maynilad-affected areas are Navotas, Muntinlupa, Manila, Malabon, Makati, Las Piñas, Caloocan, Parañaque, Pasay, Quezon City and Valenzuela.
It will also impact Bacoor, Kawit, Imus, Noveleta and Rosario in Cavite and Meycauayan in Bulacan.
For Manila Water, affected areas are Makati, Mandaluyong, Manila, Marikina, San Juan, Taguig, Quezon City, Pateros, Parañaque and Pasig.
Angono, Rodriguez, Cainta, Binangonan, Antipolo, San Mateo, Taytay, Teresa, Baras and Jalajala in Rizal are also included.
"As we have consistently warned since last week, since the water level at Angat Dam continues to decline, Manila Water will begin implementing rotational water service interruption," the firm said.
"This is necessary because we want to ensure that the still-limited raw water supply will last even beyond the summer of 2020 since Angat Dam may not reach its ideal 212-meter level by the end of 2019," it added.
As of Thursday morning, Angat Dam was at 185.87 meters, slightly below the 186.23 meters the other day. Angat's normal level is at 180 meters.?There has been scant rainfall at the Angat and Ipo watersheds over the past days, resulting in the continuous decline of raw water levels in the Angat and Ipo dams.?Since raw water allocation from Angat Dam for Metro Manila and adjacent provinces is still at the reduced level of 40 cubic meters per second (cams) versus the normal allocation of 48 cms, the volume of raw water entering its treatment facilities is short by around 250 million liters per day.?Both concessionaires called on their customers to use water wisely and responsibly.?They encouraged consumers to store water when available, at amounts enough to serve their needs during hours of service interruption.
Concessionaires slammed
Sen. Imee Marcos said Maynilad and Manila Water should be held accountable for the water crisis being experienced by over 15 million customers in Metro Manila and nearby provinces, pointing out that the concessionaires should have prepared for the situation to protect their clients from inconvenience.
"Because of this water crisis, poor families and small businesses that use water every day have to suffer," said Marcos.
Maynilad announced that the implementation of 18 hours of rotational service daily from Oct. 24 as the water levels in Angat and Ipo dams continue to go down.
Manila Water, on the hand, pointed out that the water allocation from National Water Resources Board (NWRB) has dropped by a sixth from normal.
The Philippine Atmospheric, Geophysical and Astronomical Services Administration (PAGASA) reported a 187.53-meter water level of Angat Dam, which is 7.53 meters higher than the normal level while Ipo Dam remains at 100.76 meters, slightly lower than the 101-meter maintaining level.
Last March, President Duterte threatened to scrap the concession agreements of water concessionaires Manila Water and Maynilad after millions of their customers were left waterless.
Duterte also warned Metropolitan Waterworks and Sewerage System (MWSS) officials that they would get fired if he was not satisfied with their actions to address the water shortage.
"President Duterte already admonished and warned them that he would terminate concession agreements last March because of their failures, but now they still don't have a solution to the water crisis. They already know the shortage of water supply, why do the people need to bear the brunt of this problem?" Marcos said in a mix of English and Filipino.
Marcos added that the Senate could again look into the concession agreements of the two water companies, which were given exclusive rights to operate and maintain water utilities for several years.
She said that the agreements spelled out the duties and responsibilities of the concessionaires to the government and to their customers.
Militant groups, meanwhile, said that given the frequent water supply interruptions being experienced in Metro Manila and nearby areas, water concessionaires should no longer be allowed to collect the remaining rate hike.
"It appears that since the water crisis broke out in March 2019, there has been no significant improvement in the sourcing of water aside from that which comes from Angat Dam," said Bagong Alyansang Makabayan (Bayan) secretary general Renato Reyes.
"Both private concessionaires should explain what steps they have taken to address the apparent shortage. Manila Water at the time was being pressed to bridge the deficit in its supply through the operation of the Cardona plant. We wonder what is the status of this," he added.
Both Maynilad and Manila Water were given substantial water rate hikes since October last year.
"Are they now saying that the service interruptions are expected to last until summer? Is this now a permanent water crisis? What is the real status of alternative water sources?" asked Reyes.
The MWSS, meanwhile, said that the interruptions are necessary because they need to preserve the main water source until summer next year.
Reyes also noted that "Manila Water is set to jack up its rates by P2/cubic meter by January 2020. Maynilad will also impose a P1.95/cubic meter increase by January of next year. These increases are unconscionable given the massive service interruptions."
"We demand for them to return the rate hike collected in 2018 and bar the private concessionaires from collecting increased rates in January 2020," Bayan said.
Cloud-seeding
The NWRB, meanwhile, is looking into the possibility of having cloud-seeding operations over the Angat Dam reservoir to help replenish its dwindling water level.
Sevillo David Jr., NWRB executive director, said in a text message to The STAR that they would discuss with the MWSS the possibility of reactivating cloud-seeding over the Angat, Ipo and La Mesa watersheds.
The dam provides more than 90 percent of Metro Manila's domestic water use.
The meeting will be scheduled soon and will be made in consultation with PAGASA of the Department of Science and Technology and the Bureau of Soils and Water Management (BSWM) of the Department of Agriculture, David added.
On April 10 this year, the BSWM started cloud-seeding over the Angat and La Mesa dams to help replenish their dwindling water levels, but this was halted in July as the typhoon season started.
On the other hand, Emelita Lingat, the provincial environment and natural resources officer in Bulacan of the Department of Environment and Natural Resources, said that several factors are affecting the fast dwindling water elevation in the watersheds of Angat, Ipo, Bustos and La Mesa.
These include the increasing population of Metro Manila leading to the increase of water demand and climate change, Lingat noted.
Environmentalists, mountaineers and outdoorsmen groups also blamed illegal logging operations and charcoal-making activities within the watersheds as primary reasons for the fast receding water level in the reservoirs.
To correct the problems, Lingat said the government has embarked on a national greening program, particularly in watershed areas to help maintain their water-holding capacities.
To provide alternative livelihood to informal settlers usually involved in illegal logging operations within watershed areas, Lingat said DENR in Bulacan will be pushing for the planting of bamboo species.
Bamboo helps increase the water-holding capacity of the watershed and at the same time eliminate carbon dioxide in the atmosphere that can help mitigate the worsening climate change in the country, Lingat noted. – With Ramon Efren Lazaro, Cecille Suerte Felipe, Rhodina Villanueva