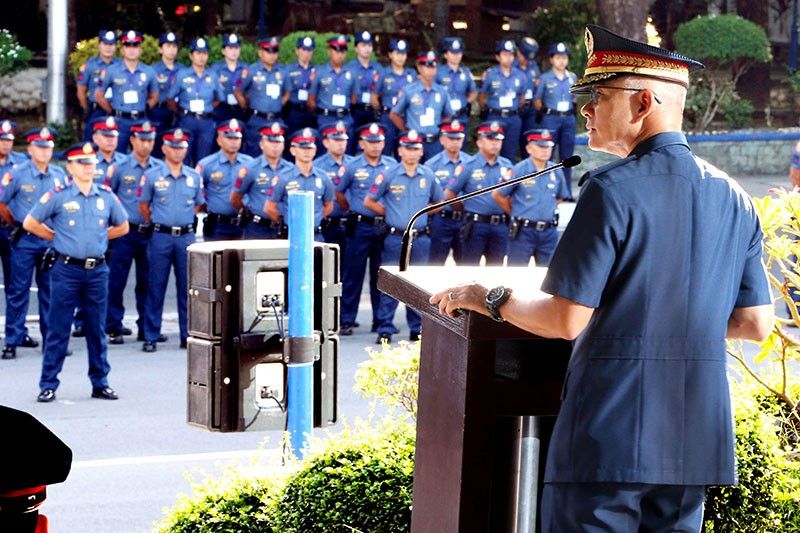 Philippine National Police chief Gen. Oscar Albayalde addresses PNP members during a flag-raising ceremony at Camp Crame yesterday, announcing he was relinquishing command ahead of his retirement.
Boy Santos
Albayalde bids PNP goodbye
'Carry on, don't be demoralized'
MANILA, Philippines — Linked to illegal drugs by former colleagues just days before his retirement, Philippine National Police chief Gen. Oscar Albayalde yesterday bade goodbye to the PNP, exhorting its members to "carry on in the service" and not get demoralized by controversies.
Albayalde formally announced his decision to relinquish his post at a flag-raising ceremony at the PNP headquarters at Camp Crame amid allegations he was a protector of "ninja cops," the term for policemen engaged in recycling seized illegal drugs.
As then Pampanga police chief, he reportedly tried to intervene in the case of his men accused of keeping part of illegal drugs confiscated in a drug raid in 2013.
Albayalde, who is set to retire on Nov. 8, submitted his "letter of intent" to go on "non-duty status" or terminal leave to Interior Secretary Eduardo Año over the weekend.
He said he was able to talk to Año about the alleged "agaw bato" or recycling before he submitted his letter of intent.
"After careful thought and deliberation, I have come to the decision to relinquish my post as chief, PNP effective today and go on a non-duty status. I have submitted my letter of intent to Secretary Año which he accepted and favorably endorsed to the President," he said in his final speech.
Año said Albayalde's quitting his post was a personal decision and voluntary – and not in any way due to pressures from him or the President.
But Sen. Christopher "Bong" Go, who is known for his closeness to Duterte, told reporters yesterday that the President had discussed the controversy with Año. The two agreed that going on terminal leave for Albayalde was the best option, Go said.
He added that Duterte no longer talked to Albayalde. Instead, it was Año who discussed the course of action with Albayalde, Go said.
Albayalde continued to claim innocence over the "ninja cops" issue, now being investigated by the Senate, the Department of the Interior and Local Government (DILG) and Department of Justice.
He noted that he was never charged, even if he was administratively relieved from his post as provincial director of the Pampanga police in 2013 over the now controversial anti-illegal drug operation by his men.
"In light of those circumstances, the charges before the Senate and the testimonies given were apparently inspired by the publicity which has accompanied the Senate investigation," he added.
"My last command as your chief PNP is for you to carry on in the service of our fellow Filipinos so that all of us may live and work in peace. Do not let these challenges demoralize or stray you from your path," he said.
He also thanked President Duterte for giving him the opportunity to lead the PNP as its 22nd chief, serving for a year and six months.
Despite his premature exit, Albayalde will receive full compensation and retirement benefits due a retiring four-star general, as no formal charges have been filed against him yet.
Año said in a radio interview that only a decision or resolution on possible criminal or administrative charges would affect Albayalde's benefits or cause the cancellation of his pension altogether.
"That's due process kasi yun naman kinasuhan ka yan meron kang karapatan magdepensa (because you still have the right to defend yourself if you get charged). Still just allegations and complaint, subject to investigation and then later on if it reaches the court and goes on trial there's still due process," he added.