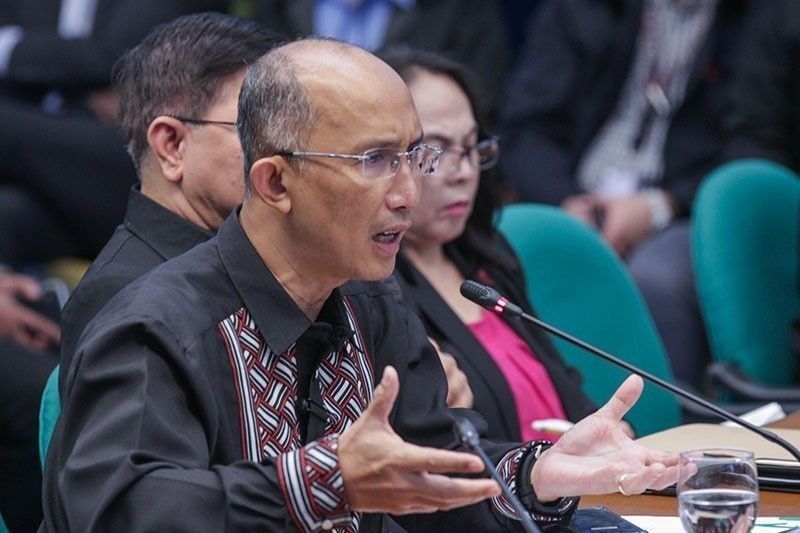 Magalong said Albayalde has the legal right to file charges amid the controversy over the PNP chief's alleged protection of ninja cops.
The STAR/Geremy Pintolo, File
Magalong willing to be jailed 'for telling the truth'
MANILA, Philippines — Baguio City Mayor Benjamin Magalong said he is willing to be jailed for telling the truth regarding his acusations against Philippine National Police (PNP) chief Gen. Oscar Albayalde, who has threatened to sue him and other retired police officials who have linked the police chief to the so-called "ninja cops" or policemen who sell seized illegal drugs.
Magalong said Albayalde has the legal right to file charges amid the controversy over the PNP chief's alleged protection of ninja cops.
Magalong, however, said he was just telling the truth.
"Hypothetical na kami ang makulong, mas marami syang pera sa amin. Kung matalo at makulong kami (if we are jailed, he has more money than us. If we lose and go to jail), so be it. Alam ng tao
nakipaglaban kami para sa katotohanan (The people know we will fight for the truth)," Magalong told radio dwIZ.
"Lagi ko sinasabi (I always say) that this is a fight between good and evil, between right and wrong," said Magalong, a former chief of the PNP Criminal Investigation and Detection Group (CIDG) who investigated the ninja cops case.
Albayalde reportedly sought the legal opinion of veteran lawyer Estelito Mendoza on what possible charges he could file against Magalong and another retired police general, Rudy Lacadin, for linking the PNP chief to the operations of the ninja cops and the questioned anti-illegal drug operation that led to his relief when he was still Pampanga's police director.
"These people have to be made responsible for their actions. They should know better than make false accusations. Someone here is lying and it is definitely not me," he added.
Lacadin claimed that Albayalde told him during a phone conversation that he might have received a share of the money from an operation where 13 Pampanga policemen allegedly "recycled" 160 kilos of shabu worth P650 million that were seized during a raid in Mexico, Pampanga on Nov. 20, 2013.
Magalong accused Albayalde of protecting the policemen implicated in the raid and intervened to change their dismissal order to demotion.
Albayalde pointed out that, although he was relieved from his post as Pampanga police provincial director, he has never been charged formally in court. Thus, there is no reason to link him to any illegal activities.
Magalong said Albayalde can file any charge against him.
Magalong said he is counting on the strength of the truth. "Mas malakas naman ang pinanghahawakan namin (What we are holding on to is stronger)," he added.
Magalong said it is Albayalde's right to file charges against them, since his best defense would be to say that they were lying. But, he added, it is the public and the senators who would decide on who is lying.
He, however, appealed to Mendoza to assess the facts before accepting the case.
In the event cases are filed in court, Magalong said the process will help them expose the truth.
The Senate Blue Ribbon committee has yet to conclude its investigation into the ninja cops operations and the Good Conduct Time Allowance (GCTA) law scam involving prisoners who are allowed to avail of early release for good behavior.
Sen. Richard Gordon, chairman of the Senate Blue Ribbon committee, said he has instructed the Land Transportation Office (LTO) to provide the Senate with records of vehicles said to be registered under the names of policemen linked to the ninja cops' operations.
Albayalde insisted there is no proof that would show he was ever involved in illegal drugs, saying these allegations were based on insinuations.
The internal probe led by Magalong indicated that the policemen seized over 200 kilos of shabu with an estimated street value of nearly P700 million during the raid in Mexico, Pampanga, but the arresting officers declared only 38 kilos.
The suspected drug dealer, identified as Johnson Lee, reportedly paid P50 million and was replaced with another Chinese suspect supposedly arrested in Clark Field, Pampanga.
What senators found suspicious was Albayalde's phone call to then PNP Region 3 chief Aaron Aquino, who is now director general of the Philippine Drug Enforcement Agency (PDEA), sometime in the last quarter of 2016 asking about the case of his former subordinates, led by intelligence officer Supt. Rodney Baloyo, who were ordered dismissed in 2014 following Magalong's internal probe.
Albayalde was ordered relieved as Pampanga provincial police director owing to command responsibility following the raid but no administrative or criminal charges were filed against him.
Aquino admitted that he indeed received a call from Albayalde asking him not to implement the dismissal order. At that time, Albayalde was chief of the National Capital Region Police Office.
Aquino said he later transferred the 13 policemen to Mindanao.