Ham shortage this Christmas? Won't happen, say hog raisers
September 22, 2019 | 12:00am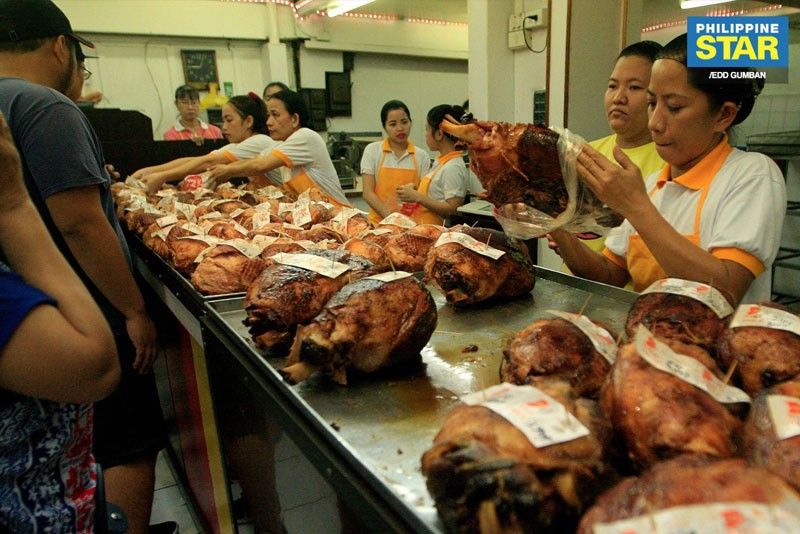 ROSALES, Pangasinan, Philippines — Will there be a shortage of ham this Christmas?
Local hog raisers say it's not true as they will produce backyard raised and locally sourced hams this season, in response to the statement of processors that they will cut 15 percent of their annual production.
Samahan ng Industriyang Agrikultura (SINAG) chairman Rosendo So said, "We will source our pork from our backyard raisers and not from tainted imports."
SINAG, which is composed of 33 agricultural organizations across the country, assured the public – amid the current Asian swine fever (ASF) scare gripping the country – that "there is no shortage of our favorite Christmas hams."
The organization said they will not succumb to the empty threat of the processors.
SINAG cited the Bureau of Customs figure which showed pork processors only imported P9.3-billion from January to July this year.
"What happened? If they say that they are a P300-billion industry, but only import P9.3 billion, then it is a mere three percent of their industry," SINAG said. "So, why import? What's the real score?"
SINAG said the country is 105 to 110 percent pork sufficient "so, all the more reason for the processors not to import."
"In this age of global pandemics, it appears they're the only ones who want to import," the organization said.
The SINAG chair told The STAR that if Pinoys are consuming less pork, as producers claim, "that means there will be an increased pork surplus."
So said there will be no shortage of hams "if they only patronize the local hog industry," adding that SINAG is urging the Philippine Association of Meat Processors Inc. to invest locally.
Cebu, Bohol urged to allow pork transports
Agriculture Secretary William Dar called on Cebu Governor Gwendolyn Garcia and Bohol Governor Arthur Yap to re-allow the transport and trade of ASF-free hogs, pork, pork products and processed food items to and from the two Visayan provinces.
"While we wish to protect our respective borders, we should not limit the movement of goods, most particularly food," Dar said.
"We call on our political leaders from Cebu and Bohol to reconsider their strong stance to restrict trade," he added.
Dar made the appeal after the officials of the two neighboring provinces issued separate directives, banning the entry of pork and processed pork products, amid the ASF outbreak in small backyard swine farms in Rizal and Bulacan.
Bohol and Cebu are huge markets for pork, processed meat products and food items as the two provinces are major tourist destinations in the country.
Dar said that such a hard position "may create repercussions where other provinces may retaliate by cutting off the food lines to and from Cebu and Bohol. We would not like that to happen, isolating and depriving each other of the basic right to food."
"Efforts to protect borders against the dreaded disease should not limit the movement of goods and food supplies and that ban should be carefully studied," he added.
Meanwhile, authorities seized 340 kilos of pork skin – suspected to carry the ASF virus – left rotting and unclaimed at a bus terminal in Laoag City, Ilocos Norte last Friday.
City meat inspector Shiela Rapatan de Leon said the meat products came from Sampaloc, Manila and consigned to a certain Alfred Rambaud of Paoay, Ilocos Norte.
De Leon said they immediately poured disinfectant and buried the seized pork products and are trying to locate the consignee to shed light on the matter.
No risk to humans
The DA continues to assure the public that the situation is under proper management, working with LGUs and private swine industry leaders to manage, control and contain the threat of ASF.
While the disease does not pose any hazard or risk to humans and other farm and domesticated animals, the ASF virus is infectious among pigs and can easily spread from one farm to another if not properly managed.
The DA is also reminding consumers to buy only pork with the seal of the DA-National Meat Inspection Service, and from reputable meat shops. – With Raymund Catindig