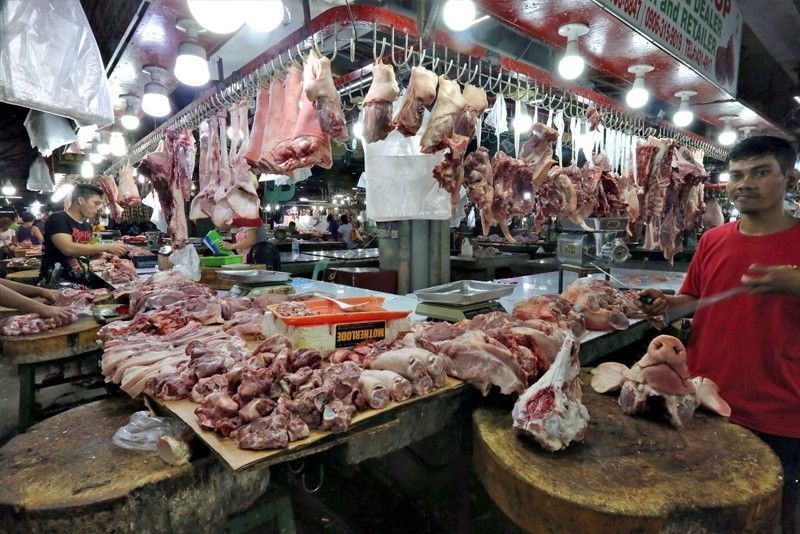 "We call on LGUs to ease the total ban of pork products in their areas and allow certified pork products except those from identified areas in Rizal and Bulacan," Trade Secretary Ramon Lopez said yesterday.
File
LGUs asked to ease ban on pork products
MANILA, Philippines — The Department of Trade and Industry (DTI) is urging local government units (LGUs) to ease the total ban on pork products in their respective areas by allowing products – except from Bulacan and Rizal which are affected by the African swine fever (ASF) – into their areas as the agency gave assurances that raw pork certified by the government and processed pork by trusted brands in supermarkets are safe for consumption.
"We call on LGUs to ease the total ban of pork products in their areas and allow certified pork products except those from identified areas in Rizal and Bulacan," Trade Secretary Ramon Lopez said yesterday.
The call to LGUs was made as Lopez cited Agriculture Secretary William Dar, who has stated there is no national ASF outbreak.
While there is an outbreak of ASF in the provinces of Bulacan and Rizal, he said the Department of Agriculture (DA) is taking steps to contain the virus.
As Lopez issued the call to LGUs, he also assured the public it is safe to consume certified pork products.
ASF is a virus that is contagious among pigs, but does not pose risk to human health, according to the World Organization for Animal Health or Office International des Epizooties.
During the price monitoring activity conducted by the DTI with the DA and the National Food Authority at Farmers Market, Mega Q-Mart and Kamuning Public Market in Quezon City yesterday, the agencies found the prevailing prices of pork to be at P200 to P220 per kilogram.
Vendors said fear of the ASF virus has resulted in lower demand for pork.
While Lopez said it is safe to consume pork, he also said consumers have to make sure they only purchase raw pork that have been certified by the National Meat Inspection Service (NMIS) and processed pork products manufactured by trusted brands.
Lopez likewise advised consumers who shop in wet markets to ask vendors to present their NMIS certificates.
"These certificates are proof that these pork products have been tested and found free of ASF," he said.
He added that consumers should also thoroughly cook pork and other meat products to ensure all bacteria and viruses are removed before serving.
As for pork products like canned goods and hotdogs found in supermarkets and groceries, he said such are safe for consumption as these are certified by the Food and Drug Administration and are produced by member-companies of the Philippine Association of Meat Processors Inc. (PAMPI).
PAMPI members use raw materials certified by the Veterinary Quarantine Certification of the NMIS.
Lopez said the DTI would continue to work with the DA to monitor the situation and make sure there are available choices for consumers.
Clarification
Meanwhile, Sen. Francis Tolentino asked Health Secretary Francisco Duque III to issue a statement clarifying that hogs affected with the ASF pose no threat to human health.
Tolentino made the call after he grilled Duque during the Senate's scrutiny of Department of Health (DOH)'s proposed budget for 2020.
"What's the possible effect if you eat pork with the ASF? Because the US government issued a statement that we can't control this sickness of the pigs. So what's the effect if you eat this?" the senator asked Duque in Filipino.
Duque replied, "Nothing will happen."
"There's no evidence to how the ASF can cause disease in human health," he said in Filipino.
Tolentino suggested it would be best for the DOH to issue a statement regarding the issue, to avoid public scare and confusion that might lead to misunderstanding.
Senate Majority Leader Juan Miguel Zubiri had earlier called on the DA, Bureau of Customs, NMIS and other government agencies to move faster to contain the spread of ASF.
"I told you so as early as March of this year that we should impose a total ban of pork importation from abroad," Zubiri said, referring to the DA and other government officials during a hearing of the Senate committee on agriculture.
Zubiri presided over the hearing of the committee on ASF last March, where he asked agencies not to let their guard down because of the "havoc and economic losses the ASF could bring into the whole country if ever this epidemic will reach our shores."
"Most of our hog raisers are backyard growers whose losses will be devastating. Let's save our hog industry, especially the backyard raisers," he said. – With Paolo Romero, Ramon Efren Lazaro, Gilbert Bayoran