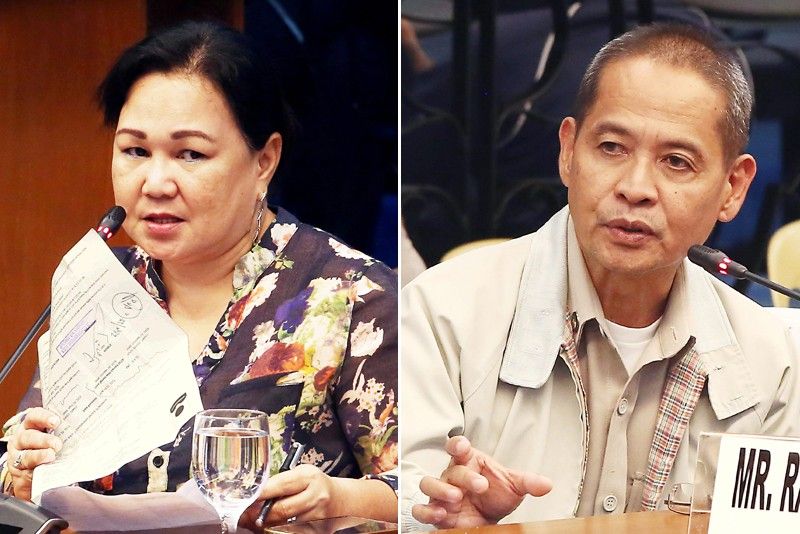 Yolanda Camilon (left) narrates to senators the other night how she shelled out P50,000 to a group of Bureau of Corrections officers, led by documents division head Staff Sgt. Ramoncito Roque, for the early release of her imprisoned husband.
Miguel de Guzman
Paolo Romero
(The Philippine Star) - September 7, 2019 - 12:00am
'BuCor group asking up to P1.5 million for good conduct release'
MANILA, Philippines — More witnesses are expected to surface at an ongoing Senate inquiry on Monday to shed light on an alleged racket in the New Bilibid Prison (NBP) where convicts are released by tampering with their good behavior records in exchange for large sums of money.
This developed after Yolanda Camilon, common-law wife of a minimum security inmate at the NBP in Muntinlupa, surfaced late Thursday to give a first-hand account of the alleged racket involving ranking Bureau of Corrections (BuCor) officials.
"GCTA FOR SALE: So far, we have discovered and will pursue to validate (gather evidence as well) a price range of P50K to P1.5M per prisoner. At least 8 are known to have paid up to P100K each. It is also well organized. Let's see where it leads us," Sen. Panfilo Lacson declared in his Twitter account yesterday.
Sources at the Senate said another witness who was also supposed to testify was a ranking BuCor official who backed out after learning that his erstwhile boss, Nicanor Faeldon, had rushed to the committee on Thursday afternoon to face the inquiry.
Senate President Vicente Sotto, who first exposed the racket, indicated that at least two more individuals are expected to testify.
The Senate Blue Ribbon committee is investigating what the Department of Justice (DOJ) and President Duterte described as the erroneous implementation of Republic Act 10592 or the Good Conduct Time Allowance (GCTA) law that led to the release of 1,914 heinous crime convicts.
Sotto earlier said the assassination of BuCor official Rupert Traya Jr. could be linked to the racket.
Traya, who was gunned down by unidentified men in Muntinlupa on Aug. 27, was the BuCor official reportedly instrumental in the release of several inmates under GCTA.
He was said to have handled the release documents for rape and murder convict Antonio Sanchez, who remains confined at the NBP.
Other sources, however, said Traya's death was linked to illegal drug deals in the days before he was transferred to the NBP.
Senators said several inmates who had already paid for their release would be tapped as possible witnesses in the inquiry.
Sen. Joel Villanueva said Camilon's testimony "is a manifestation of how corruption rears its ugly head once again to render worthless a law with noble intentions."
"It seems a handful of BuCor personnel used their enterprising ways all for the wrong reasons to continue trampling on the dignity of persons deprived of liberty (PDL)," Villanueva said in a statement.
Villanueva urged the DOJ to immediately prosecute those behind the racket.
Sen. Richard Gordon, chairman of the committee, strongly doubted Faeldon's claim that he did not know of the racket Camilon had alleged.
"I find it hard to believe him (Faeldon). First he has a lot of power (as BuCor chief). Officials there can pin inmates, who are helpless," Gordon told reporters.
He said Faeldon sent word early Thursday that he would not be able to attend. But the fired BuCor chief surfaced at the Senate in the afternoon, saying he thought the hearing would be later in the day as originally scheduled.
Gordon expressed hope that Camilon's testimony would encourage others to testify.
Senators have been skeptical of Faeldon since the start of inquiry last month and had called for his resignation. They believe Faeldon had a prior arrangement with Sanchez's family for his release.
"When I heard the testimony, I wanted to cry because I worked every day to fix the bureau. I wanted to cry in anger," Faeldon told reporters.
Camilon said yesterday she did not believe Faeldon had a hand in her husband's case.
Money for nothing
Camilon told the committee that she was approached by a certain BuCor Maj. Maribel Bansil last February who offered to have her husband freed in exchange for P50,000, which can be paid in installments.
Bansil, whose mobile phone was ordered by the committee to be confiscated, then brought her to SSgt. Ramoncito Roque, who heads BuCor's documents office.
Camilon said she gave an initial P10,000 to Roque at his residence at the NBP, and paid P20,000 twice within the month to complete the payment for her husband's freedom last March.
She was also introduced to another BuCor official identified as Veronica Buno.
However, her husband was not freed as promised. The release was scheduled for April, then June and deferred further to September. As Camilon was pressing for the release, she twice met Traya, who was introduced to her by Roque as his subordinate.
During one of the meetings, Camilon inquired about Traya, to which Bansil replied that the latter already received death threats and will soon die.
Since her husband was due for release this October anyway, she pressed Roque and Bansil to return the money, to no avail.
Roque, who was present at the hearing, denied Camilon's allegations, saying it was she who pressed payment of the money to him.
Roque testified he repeatedly tried returning the money but found no time since he was also busy, a claim Sen. Francis Tolentino found dubious.
Tolentino said Camilon and Roque lived relatively close to each other, and the money was given to him last February, so it was suspicious that in the last eight months he did not find a chance to return the cash.
A rush job
BuCor spokesman Eusebio del Rosario said they will look into the allegations of Camilon.
Del Rosario gave assurance that sanctions would be levied on Roque.
"There will be an investigation. So far, we cannot pronounce anything, but for sure there will be actions to be undertaken, for further investigation," he said.
"Upon conduct of the investigation, due process will be looked at," he said.?Del Rosario added he will not comment on the extortion racket issue until the Senate investigation is finished. ?As far as Justice Secretary Menardo Guevarra is concerned, he is convinced that there was a racket of selling GCTAs in the BuCor.
"I do not have the facts before me, but I tend to believe that it is a very real possibility," Guevarra said. "I'll react now as I reacted yesterday: high probability."
Guevarra pointed out the issue is already in the Senate through its inquiry on the GCTA mess in the BuCor, which stemmed from reports over the possible early release of Sanchez.
And as far as the DOJ is concerned, Guevarra said they will also conduct an investigation to determine irregularities in the computation of prisoners' GCTA after they have completed the new implementing rules and regulation of the law.
"So further investigation is being done to validate the existence of the so-called GCTA for sale," he said.
Guevarra said he will order the new officer-in-charge of BuCor to suspend the officials who were dragged in the so-called GCTA for sale as soon as an acting chief of the bureau is appointed.
Guevarra has yet to name a temporary replacement of sacked BuCor chief Faeldon.
President Duterte has ordered the relief of Faeldon amid the wholesale release of convicts.
Duterte also ordered the Philippine National Police (PNP) and the Criminal Investigation and Detection Group (CIDG) to recommit the 1,914 convicts who were erroneously released under the GCTA law.
Guevarra said the DOJ and the Department of the Interior and Local Government (DILG) have started working out a new set of implementing rules and regulations (IRR) of the GCTA law which will focus on the exclusion of recidivists, habitual delinquents, escapees and those charged with heinous crimes.
DILG Secretary Eduardo Año said there were ambiguities in the IRR crafted by the previous administration of the GCTA law.
This has led to different interpretations amid the controversies on the release of heinous crime convicts, he said.
Año agreed with the observations made by several lawmakers that the IRR was a rush job.
"I had the impression that the IRR that was crafted during the time of secretary De Lima and secretary Roxas was not thoroughly scrutinized," Año said, referring to former justice secretary and now detained Sen. Leila de Lima and former interior secretary Manuel Roxas II.
He said the IRR should have been itemized and specified how to implement Republic Act 10592 or the Expanded GCTA law.
He cited the conflicts between Sections 1 and 3 of the IRR, particularly on the provisions on the exclusion of convicts of heinous crimes.
Año said BuCor should have asked the Supreme Court or higher authorities regarding the conflicting provisions of the IRR instead of creating the problem.
Año also supported calls to have Sen. Ronald dela Rosa and other former BuCor chiefs investigated for possible violation of GCTA law.
He said Dela Rosa should not be spared from the probe as he also released prisoners convicted of heinous crimes.
Dela Rosa has admitted to signing the release orders of about 120 crime convicts when he was director general of the BuCor from April to October 2018. – With Romina Cabrera, Robertzon Ramirez, Ralph Edwin Villanueva