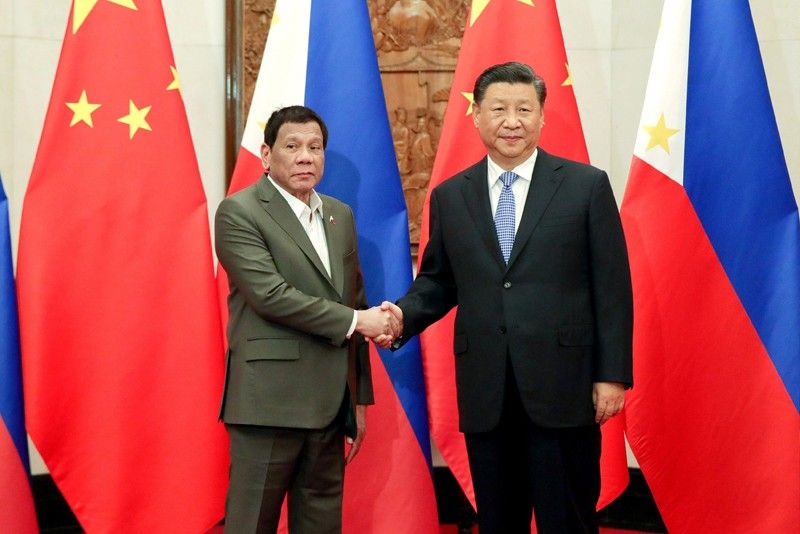 President Duterte and Chinese President Xi Jinping shake hands at the start of their bilateral meeting at the Diaoyutai State Guesthouse in Beijing yesterday.
Philippines, China sign 6 agreements
BEIJING – The Philippines and China have signed six agreements to further strengthen their relationship, which is being put to the test by the longstanding dispute over the West Philippine Sea.
President Duterte and Chinese President Xi Jinping witnessed the exchange of the signed agreements, which took place after their much-anticipated bilateral meeting yesterday here.
Among the agreements signed were a memorandum of understanding on higher education cooperation between the Commission on Higher Education of the Philippines and China's Ministry of Education; MOU on science and technology cooperation between the Department of Science and Technology of the Philippines and China's Ministry of Science and Technology; and a cooperative arrangement between the Bureau of Customs (BOC), which is under the Department of Finance (DOF) of the Philippines, and China's General Administration of Customs on the implementation of the intergovernmental agreement regarding cooperation and mutual assistance in customs matters.
The BOC and the Chinese Ministry of Commerce also signed an implementation contract on the China-aided container inspection equipment project.
The DOF and China International Development Cooperation Agency exchanged notes on the cooperation procedure for the availment and utilization of a concessional loan under a renminbi-denominated loan facility.
The DOF and the Export-Import Bank of China also signed a preferential buyer's credit loan agreement of project management consultancy for the Philippine National Railways South Long Haul Project.
Malacañang has yet to release details of the issues discussed during the bilateral meeting.
In his opening statement, Duterte urged Xi to reaffirm the value of their personal and official relationship as well as the trust and respect.
"To be sure, there had been challenges. Yet you are living up to our commitment to define our ties as a comprehensive strategic cooperation," Duterte said.
"The channels for dialogue fully opened, agreements signed and projects underway, there is a clear path of partnership and convergence," he added.