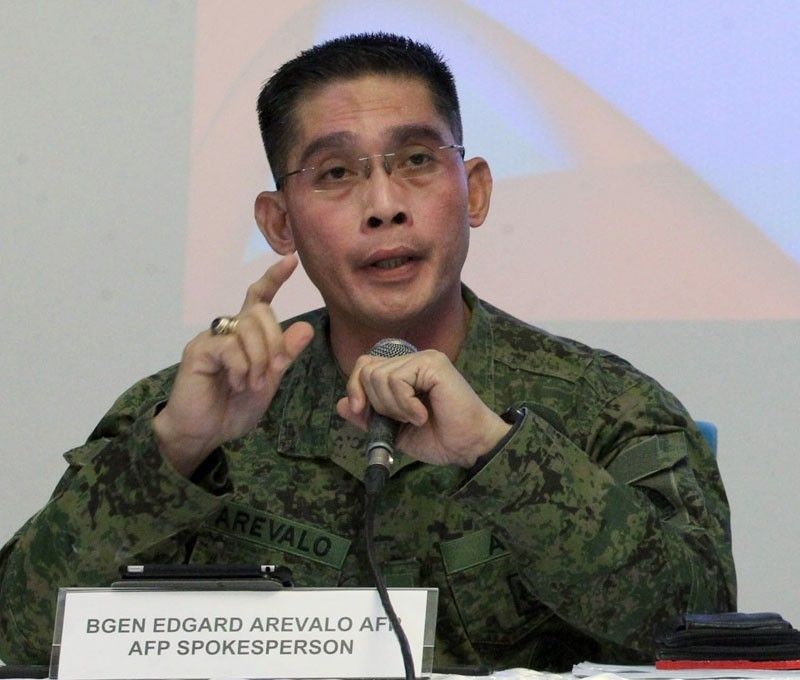 Military spokesman Brig. Gen. Edgard Arevalo said the proposal to send soldiers to campuses will only be confined to communication engagements.
Boys Santos/File
AFP says no basis for campus militarization claim
Jaime Laude
(The Philippine Star) - August 25, 2019 - 12:00am
MANILA, Philippines — The military dismissed yesterday claims made by critics that sending soldiers to school campuses is a form of militarization aimed at curtailing academic freedom.
Military spokesman Brig. Gen. Edgard Arevalo said the proposal to send soldiers to campuses will only be confined to communication engagements.
"We do not find basis in the accusation that giving access to military personnel in schools is militarization and will translate to curtailment of academic freedom," Arevalo said.
If those opposed to the proposal invoke academic freedom, they must define what constitutes curtailment, Arevalo said.
He said troops have no business interfering with students and faculty members from speaking their minds.
He added the soldiers' presence in campuses will not curtail academic freedom because the AFP has no intention of intervening or influencing any classroom teachings and how these will be delivered to their students-audiences.
"But we draw the line between that of a valid exercise of such freedom and that of corruption the minds of students, especially minors using a premeditated and system process of instilling hatred ad indoctrination, taking advantage of their idealism and social imperfections until they take up arms to overthrow the government through rebellion or insurrection where many of them die," Arevalo said.
Authorities have reported that several schools have become recruitment hubs of the New People's Army (NPA), a claim slammed by various student organizations, particularly of the University of the Philippines and the Polytechnic University of the Philipines.
Several witnesses, who were former NPA members, recently confirmed before a Senate inquiry that the NPA is actively engaging in campus recruitment.
"They confirmed the recruitment in schools because they were student-recruits and student-recruiters themselves. Curtailment of academic freedom is when members of the faculty leave students no choice but to attend rallies and demonstrations," Arevalo said.
Meanwhile, the National Union of People's Lawyers (NUPL) has described the effort of the PNP as "absurd" when it tagged its chairman former Bayan Muna party-list representative Neri Colmenares of being involved in the recruitment of minors to join leftist groups.
NUPL president Edre Olalia said the PNP's charges against Colmenares is only part of the government's effort to get back at critics as he questioned how the former lawmaker could be involved in what he called "inane and contrived charges."
"Not all scripts of comical persons in authority are funny. How in heaven's name could someone like Neri be even remotely involved, connected or liable for such inane and contrived charges that have been debunked? Totally absurd," Olalia said.
The PNP's Criminal Investigation and Detection Group (CIDG) has filed a complaint against Colmenares and eight others for violation of the Republic Act 10364, or the Anti-Trafficking in Persons Act of 2003. – With Robertzon Ramirez