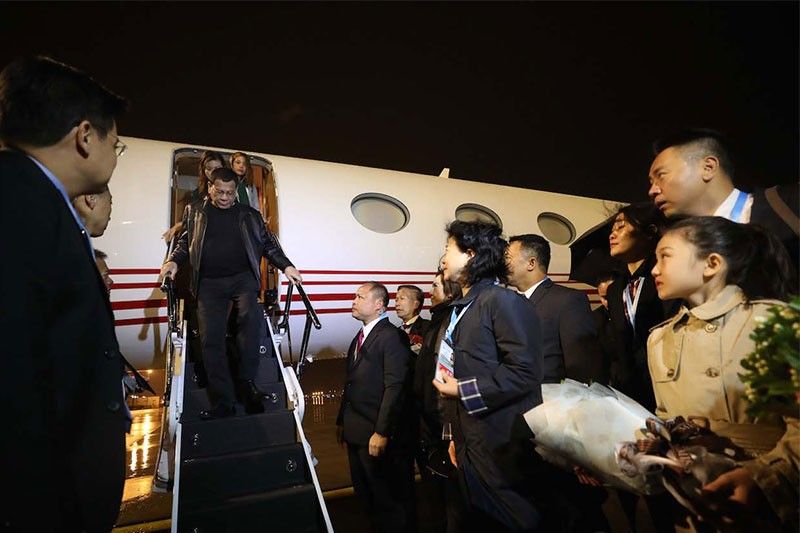 In this April 24, 2019 photo, President Rodrigo Duterte arrives at the Beijing International Airport in China.
Presidential Photo/Ace Morandante
Duterte postpones trip to China's Fujian province
(Philstar.com) - August 23, 2019 - 12:31pm
MANILA, Philippines — President Rodrigo Duterte will no longer go to Fujian province as his trip to China has been cut short, a Foreign Affairs official confirmed Friday.
The president earlier announced that he would visit the province in the southeast coast of China to attend the inauguration of school named after his mother Soledad in Fujian Normal University on September 2.
Foreign Affairs Assistant Secretary Meynardo Montealagre said that the trip has been postponed since it is not the appropriate time to visit Fujian yet.
The president's fifth visit to China is scheduled from August 28 to September 1.
"It was just postponed for more appropriate period in the future," Montealegre said in a press briefing at Malacañang.
Chief of Presidential Protocol Robert Borje said the decision to leave out the trip to Fujian went through a vetting process of concerned government agencies.
Duterte's trip to China was initially supposed to be for eight days bit has been cut short to just five.
The STAR earlier reported the trip would shortened to just four days.
"Sometimes the window shortens for reasons that are maybe logistical in nature, somtimes it's substantive... sometimes it's also due to domestic issues," Borje said.
Borje said the decision to postpone the visit to Fujian was more of a logistical issue.
While in China, Duterte will hold a bilateral meeting with Chinese President Xi Jinping to discuss accomplishments between the two countries.
The president will also be receiving a call from Chinese Vice President Wang Qishan to discuss ways to strengthen cooperation.
Duterte will also go to Guangzhou province to watch the game of Gilas Pilipinas in the 2019 FIBA World Cup against Italy on August 31. — Patricia Lourdes Viray