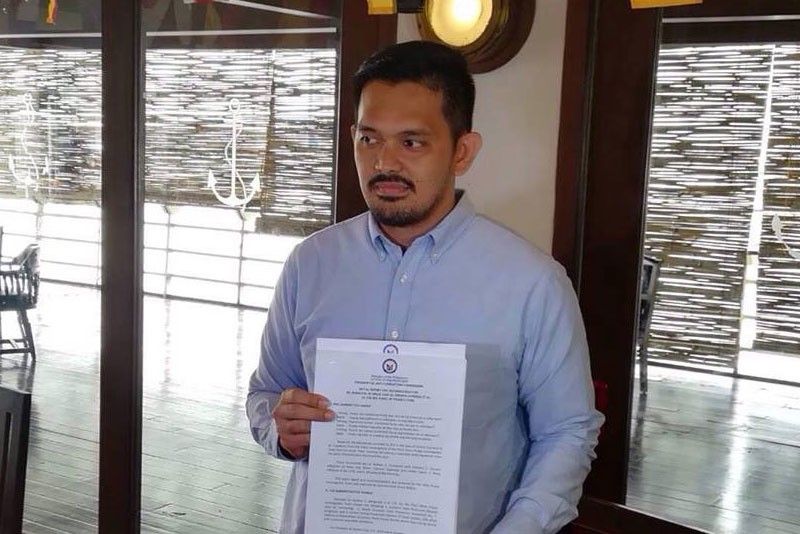 Commissioner Greco Belgica and his interviewers were discussing what is an "insignificant" amount of cash gift a government official or employee could receive.
File
Greco Belgica may be earning more than P100,000 a month
Jess Diaz
(The Philippine Star) - August 23, 2019 - 12:00am
MANILA, Philippines — Commissioner Greco Belgica of the Presidential Anti-Corruption Commission (PACC) may be getting more than the P100,000 he claimed he is receiving in monthly salary during an interview on "The Chiefs" on Cignal TV's One News last Friday.
Belgica and his interviewers were discussing what is an "insignificant" amount of cash gift a government official or employee could receive.
Replying to TV5's Ed Lingao, the PACC official said, "Kunwari ako, sir, commissioner po ako, ako po na nakakuha (For example, I as commissioner was able to receive). That's my salary sir. For me, the P100,000 is just to get me by, so it's really not a significant amount to me because that's how much I get paid a month."
But Rep. Carlos Zarate of Bayan Muna said a P100,000 cash gift given to a government official or employee "is not an "insignificant amount and is definitely a bribe."
"Even a much smaller amount, say P1,000, is a bribe. P1,000 given every day amounts to P30,000 a month. P100,000 given 10 times is P1 million. If that is not bribery and corruption, I don't know what is," he said.
Under the Code of Conduct for Public Officials and Employees, acceptance of anything of value is prohibited, he stressed.
The STAR also reviewed relevant documents on government compensation and discovered that Belgica, a former Manila councilor, may be receiving more than the P100,000 in basic monthly salary.
Under Executive Order 43, issued by President Duterte in October 2017 to create the anti-corruption body, the chairman of the commission (Dante Jimenez) has the rank of Presidential Assistant 11 while its four commissioners, including Belgica, have the rank of Presidential Assistant 1.
The Department of Budget and Management Manual on Position Classification and Compensation assigns Salary Grade 31 to officials with the rank of Presidential Assistant 11 and Salary Grade 30 to those with Presidential Assistant 1 positions.
Officials with Salary Grade 31 include Cabinet members, senators and members of the House of Representatives, except the Senate president and Speaker, whose basic monthly salary is one grade higher.
Among those with Salary Grade 30 are undersecretaries and justices of the Sandiganbayan and Court of Appeals.
Under EO 201, Salary Grade 31 pays a basic salary of between P257,809 and P295,191, which should be the amount Jimenez is getting. On the other hand, Salary Grade 30 entitles its holder to a salary range of P175,184 and P196,206, the amount Belgica should be receiving.
Former president Benigno Aquino III issued EO 201 in February 2016, four months before he stepped down from the presidency, as the legal basis for the latest salary increase program in the bureaucracy.
The last annual installment this year completes the program. Aquino received P120,000 a month. In contrast, his successor, President Duterte, is getting about P400,000.
Meanwhile, a lawmaker representing public school teachers said yesterday that the planned salary increase for more than one million government workers for next year would just be a small sum.
"Though there is a P31-billion lump sum for compensation adjustment, this will equate to a paltry pay hike for the 1.2 million civilian government employees and is a far cry compared to the P64 billion for just the first tranche of salary increase for military and uniformed personnel," Rep. France Castro of party-list group Alliance of Concerned Teachers said.
He claimed the proposed salary increase is not a priority of President Duterte and was not even mentioned in the budget message that accompanied the proposed P4.1-trillion spending program for 2020, which Malacañang submitted to Congress last Tuesday.
Another party-list representative, who did not want to be named, said if P31 billion were to be divided among 1.2 million government officials and employees, each would get an average of less than P3,000.
Castro described the spending proposal as a "militarist budget."
She pointed out that funds for the Philippine National Police would increase to P185 billion and those for the military to P146.5 billion, including P25 billion for its modernization program.
"The Duterte administration's solution to attain 'lasting peace' is 'by combating criminality and terrorism in all its forms' instead of solving the roots of worsening poverty and continuing armed conflict. This is how the administration defines lasting peace – the peace of the grave," she stressed.
She said people should thus expect "rising number of deaths, red-tagging, threats, and harassment of civilian activists, human rights defenders, educators, environmentalists, youth, farmers and workers."
"If the Duterte administration truly wants a 'peaceful and progressive' Philippines, it should prioritize the budget for health, education, housing, and other social services, including the increase of salaries of civilian government employees," she said.
President Duterte has repeatedly promised to increase pay for public school teachers and government nurses after he doubled the basic salary of soldiers and policemen.
The lowest-paid teacher and nurse get P20,754 a month, while police and military personnel receive about P30,000.