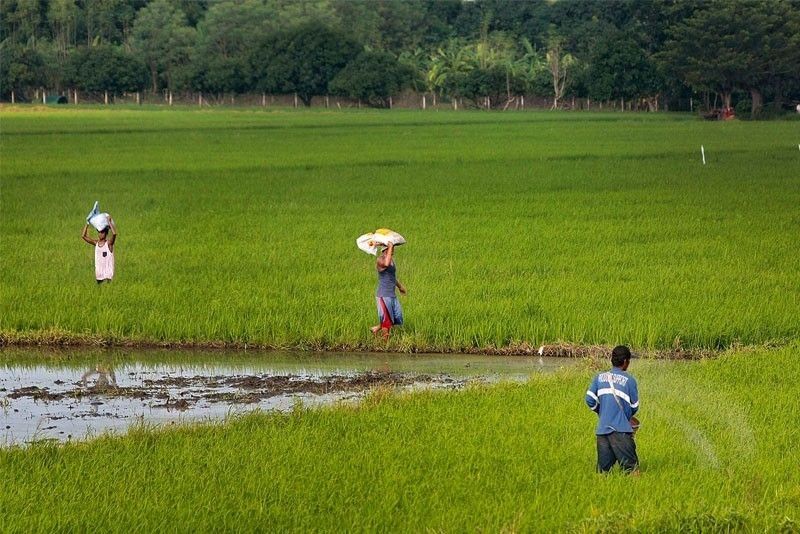 The senator also disclosed that the law also allocated P100 million to PhilMech to be used for training on farm mechanization and farm machinery servicing and maintenance.
File
947 rice-producing towns to get P5-million aid
Paolo Romero
(The Philippine Star) - August 20, 2019 - 12:00am
MANILA, Philippines — Some 947 rice-producing towns in the country will receive P5 million worth of farm equipment and machinery annually to assist farmers under the law creating the Rice Competitiveness Enhancement Fund (RCEF), Sen. Cynthia Villar said yesterday.
Villar, chairperson of the committee on agriculture and food, said there is a P5-billion RCEF for the procurement of farm equipment through the Philippine Center for Postharvest Development and Mechanization (PhilMech), which will be divided among rice-producing municipalities.
She said Republic Act 11203 or the Rice Tariffication Law mandates programs designed to protect farmers and improve their competitiveness, and the distribution of farm equipment such as tillers, tractors, seeders, threshers, rice planters, harvesters and irrigation pumps to eligible rice farmer associations and registered rice cooperatives.
The machinery will be used for land preparation, crop establishment, harvesting and threshing, drying and milling. In the absence of farmer associations, the local government unit will manage and maintain the equipment.
"Mechanization of farm labor is our solution in reducing the cost of producing palay in the country, which is pegged at P12 per kilo compared to Vietnam, which produces a kilo of palay at P6 only," Villar said.
Experts have analyzed the cost difference between two countries and found out the biggest difference of P3.40 as labor cost, according to the senator.
"We hope to bring down labor cost through mechanization. Under the RCEF, our rice farmers will receive as grant-in-aid P5 million worth of farm equipment annually for the next six years. And they will be trained on how to operate and maintain them," she said.
The senator also disclosed that the law also allocated P100 million to PhilMech to be used for training on farm mechanization and farm machinery servicing and maintenance.
P1.5-B loan package welcomed
Meanwhile, Sen. Francis Pangilinan yesterday welcomed the Department of Agriculture's P1.5-billion loan package for rice farmers affected by the influx of cheaper imports, but he said the rice farmers had lost at least P60 billion and they need immediate cash assistance.
"We thank Agriculture Secretary William Dar for acting swiftly for the benefit of our farmers. This loan package is a big help," Pangilinan said.
"The blow of the Rice Tariffication Law is so devastating that a one-time loan to farmers will definitely not suffice. Our farmers need urgent cash assistance. They are suffering, we should listen to their cry for help," he added in Filipino.
Dar had announced that affected rice farmers tilling at most one hectare of land may avail themselves of a one-time, zero-interest loan amounting to P15,000 payable up to eight years under the Expanded Survival and Recovery Assistance Program for Rice Farmers (SURE Aid).
On the sidelines of a forum on hybrid rice on Friday, Dar said SURE Aid, which will start on Sept. 1 this year, will replace the P5,000 conditional cash transfer he had announced earlier; the conditional cash transfer would cost the government about P6 billion to benefit about 1.1 million rice farmers.
One of Pangilinan's proposals to ease the suffering of rice farmers was for a P25,000 zero-interest loan under SURE Aid.
Dar also said the National Food Authority will buy the produce of rice farmers who would avail themselves of the loan assistance under the SURE Aid program. – With Cecille Suerte Felipe